Wondering how to cut tiles, or where to start with a DIY tile job? When you're tiling a floor, a wall or even a kitchen backsplash, it's likely that you'll have some awkward gaps to fill along the way – mainly when you get to the edges.
If you're a seasoned DIYer, this won't faze you and you'll have your wet saw out ready and waiting to cut tiles to the size you need. However, if you're new at this and have no idea where to start using tools, or if you actually want to avoid using wet saws and other electric tools at all when cutting tiles – rest assured, you can still learn how to cut tiles without a tile cutter too.
The best kitchen tiles can be pricier than your bog standard basic porcelain plates and ceramic slates. So the last thing you want to do is perform a sub-standard job when you're dealing with premium products. So we'll show you how to dress your scheme, so that you can reclaim your cooking space but in an instant.
And, no one wants an out of order restroom either, so by doing the job yourself (rather than hiring a laborer), it means that you can have your comfort breaks without inconveniencing the employed help.
So from subway tiles in running bond layouts to less forgiving Herringbone and Chevron arrangements, we lay down the foundations for scoring tiles successfully.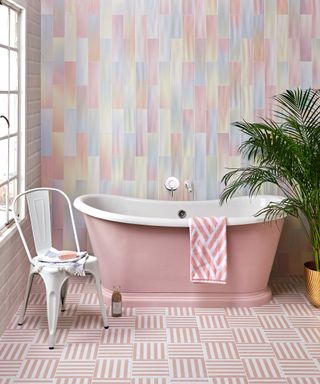 How to cut tiles
Philip Ash, founder of Pro Paint Corner says, 'You can most definitely cut all types of tiles yourself, it's just about having the correct tools for the job, trusting yourself to be safe with sharp machinery, and being detail-oriented to ensure you cut them correctly.'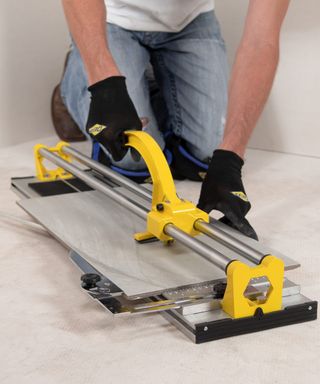 How to cut tiles with a manual tile cutter
A manual cutter is used for straight cuts, they take longer to use than power tools but they are a cheaper alternative and simpler to use if you're just starting out and learning how to tile a wall or just replacing a few damaged tiles. They have a handle which runs on a rail, allowing you to make a smooth cut, much like with a paper guillotine.
As well as the horizontal rail variant, you can find cutters that work like those you may have seen at high school) where one blade is pushed down from above.
You will need:
How to:
To measure where the tile needs to be cut, place a tile on top of the last full tile, and mark with a pencil where the overlap is, this is where you need to cut.
Make sure you leave enough room for the grout joint and movement joint. Movement joints must not be grouted, the use of a sealant would be recommended.
Place the tile in the tile cutter, square it up to the plate and get the cutter and pencil mark in line.
Press down firmly on the handle of the cutter, and push forward across the tile to score a line.
Press and apply pressure on each side of the tile and it will snap into two pieces. Some cutters will have an all in one breaker built in, just put the clamp part on the tile and push down on the handle to snap the tile.
If the cut isn't clean and the edges are slightly rough, use a file or rubbing stone to smooth the edges.
For smaller or curved pieces, use tile nippers to cut small pieces off to achieve the correct size or shape required.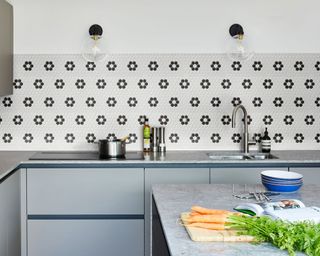 How to cut mosaic tiles using a manual tile cutter
Mosaics seem like the scariest of all tile patterns to tackle as they are dainty and beautiful looking however, no matter whether your are plain or fancy, you should be able to get a good clean cut on smaller tiles using a manual cutter also. No wet saw in sight.
They're a great idea for a kitchen backsplash to add color, and the more abstract designs can hide saucy stains and mask marks on your wall. So if you want to start on this small area, we've got a 10-step tutorial on how to tile a backsplash.
Some designs (like Ca' Pietra's Mono Hex Porcelain Daisy pictured above) can save you lots of time (and your sanity) by creating a mosaic-like look without chopping up individual hexagonal shapes.
How to:
Place the tile in the cutter and score the row of tiles down the center. We like to start with the second row in.
Start the cutting wheel at the bottom, applying pressure with the handle as you run up the row, bottom to the top.
Once scored you want to use the handle to add even pressure to the tile to snap.
If the handle is too thin you can use a small piece of wood underneath it to keep the pressure even.
Snap one tile at a time, taking your time for a clean finish.
Finish off the job by scoring the back to release the backing.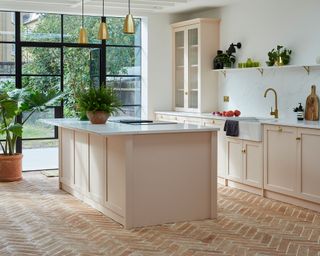 The same dirt-disguising benefits apply to kitchen floor tile ideas, so if you want to give it this more advanced job a go (once you've built a bit of DIY confidence up) – we can break down how to tile a floor step-by-step too.
These Marlborough Terracotta Parquet tiles by Ca' Pietra can help add a classic touch to a contemporary kitchen with modern kitchen ideas. A really versatile tile that'll blur old and new styles wonderfully when accessorized alongside Terracotta planters and wooden accessories.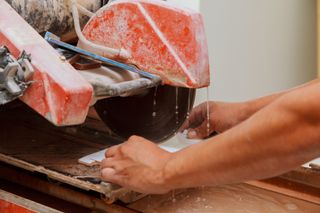 How to cut tiles with a wet saw
For experienced DIYers, a wet saw will make cutting tiles easy. Wet saws/electric cutters are used for right angles, curved or beveled edges and thicker tiles such as porcelain and natural stone. You can use it indoors but outside use is less messy.
The RYOBI 7 in. 4.8 Amp Tile Saw with Stand, exclusively available at Home Depot is a great candidate for more complex home improvements and comes with attractive features to help you achieve flawless results.
The anti-slip rubber feet on the stand creates a stable surface, while the splash hood allows you to see exactly what you're doing, without the water getting in the way.
How to:
Make sure the electric cutter has water in the tray as the blade will overheat; it also reduces the amount of dust produced when cutting.
For curved edges, mark with a pencil the area that needs to be cut, and mark several lines up to the curved mark. This is because a tile can't be turned whilst being cut.
Using the electric cutter, cut the number of lines up to the curved mark so it looks like a comb.
Draw round the curved mark with a tile scribe to score and cut into the glaze.
Using a tile nipper, break away small bits at a time up to the curve, and file down until smooth.
What is the easiest way to cut tiles?
'This will depend on the type of tile you are working with,' says John Geraghty, tiling expert, MyJobQuote.
'For example, more delicate tiles such as porcelain will need a wet-saw tile cutter, whereas a ceramic tile is more versatile and various tools can be used.'
So if you've experienced broken tiles in the past, and wondering why they keep cracking, you could be using the wrong type of tool.
What is the best tool to cut tile?
'There are many different types of tiles, and many different machines that will work on them.' says Ash.
'In my experience though, a wet table saw is an invaluable tool for cutting most, if not all types of tile, as these types of saws cut very straight and smooth. It can be used for ceramic, glass, porcelain, and natural stone tiles.
'You can rent a wet table saw for your specific project or choose to purchase one, but if you pick the latter option keep in mind that these saws come in multiple sizes, depending on the tile size you will be cutting.'
Ready to rent a tile saw? They're available at your local home improvement stores including Home Depot and Lowe's.
You can use a manual cutter, available from Amazon for straight cuts on porcelain and natural stone/slate tiles, then an electric cutter for more complex designs such as right angles and curves in mosaic tiles or a tile scribe for small, thin tiles.
Geraghty adds: 'A tile cutter is designed to carefully cut ceramic and porcelain to reduce the risk of shattering. This is a great tool to use as it is available in either manual, or powered variants to best suit your needs.'
Safety notice: With all tile cutting methods be sure to wear safety goggles and utility gloves, both of which you can buy on Amazon. Do not touch the blade and keep fingers away from it. Ensure any hazards are not present, do not wear loose clothing and keep children away also. Finally, go at your own pace.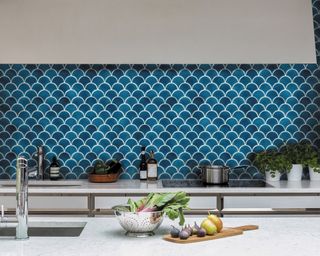 Can you cut tiles yourself?
'Yes, with the right equipment and correct measurements, cutting your own tiles can be incredibly simple,' assures Geraghty.
'Before starting, make sure you do have the correct equipment for your tile type, and do not assume a multi-functional tool will work for all, especially for more delicate tiles.'
'For example, if you're cutting such as porcelain, then you should only use a wet-saw cutter as anything else will be too tough. A multi-tool can replace the need for a tile nipper, used to make circular cuts in a ceramic tile, however they cannot replace a manual tile cutter.'
'Then, ensure you have the necessary protective wear, including goggles and gloves, as tile cutting will create a lot of dust.'
Can you cut tiles without a tile cutter?
If you want to cut tiles without a wet saw or even a tile cutter you can use a glass cutter/scribe or carbide-tipped pencil, both of which you can buy on Amazon. Cutting tiles with a scribe can be done successfully on thinner glass tiles especially.
Geraghty says: 'For simple trimming, mark on top of the tile, where you would like to cut. Using a glass cutter, score the tile on the cut line. Then, place the tile on a solid surface with a wire clothes hanger under the score line. Press down and break the tile along the line and smooth the cut if necessary.'
'For a round cut then you can use an angle grinder [like this Black + Decker product on Amazon], which is a handheld power tool that can be purchased from any good hardware store. Firstly, draw out the rounded shape or edge onto the front of the tile, ideally with a tile marker although a lead pencil should be perfectly sufficient too.'
'Then, secure the tile to a flat workbench, using a clamp, with the edge of the tile you intend to cut handing off the side of the bench. Finally, using a continuous rim blade on your grinder, slowly pull the angle grinder along your cut line. Do not rush this as this can cause jagged edges.'
As a stable place to sever tiles, this 2x4basics 90164MI Custom Work Bench is one of the cheapest we've found on Amazon, and comes with over 6,000 reviews. It's a great garage storage idea that's fab for keeping your finished tile-work tidy and organized.