Is there an easier and cheaper way to update your space than getting creative with a bit of paint? Sure, you could paint a whole room, or go for the feature wall, but why not try something a bit different?
Just check out these five super simple ways you can use paint to give your home a quick, quirky update (that we promise won't take longer than a weekend)…
1. Paint an ombre wall
First, for anyone's who's missed it, the ombre paint effect is where one tone gradually fades into another tone of the same colour. The effect creates a big impact but it's actually easy to paint your own ombre wall – and you don't need much more than a few cans of paint, some paint brushes and a roller…
For the full low down to how to DIY an ombre wall, check out our step-by-step guide.
2. Go crazy with stencils
With a load of different patterns and designs available, stencils are a surefire way to add a ton of interest to an otherwise plain wall (or floor even). Plus they are super cheap and you usually don't need too much paint, if you looking for a budget friendly update. Check out @fwmadebycarli who used stencils on her hallway flooring to give the effect of tiles. Nifty!
Find out more about painting floorboards in our guide.
3. Upcycle and revamp furniture
Paint needn't be restricted to the walls. Giving tired looking furniture a new lease of life with a lick of paint is one of the oldest tricks in the book. Just check out these ideas for some inspiration…
Just before you get started make sure you check out our step-by-step guide to how to paint furniture to make sure you get the best results.
You could go all out and paint an entire piece of large furniture to add plenty of interest to your space…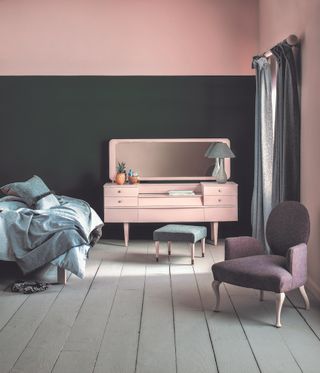 Or why not just add a splash of colour by painting sections of your furniture. We love what @grillodesigns has done with this basic TV console. So simple but super effective.
You could even paint your furniture the same colour as your walls, this is a nifty trick for stopping larger pieces overwhelming a small room.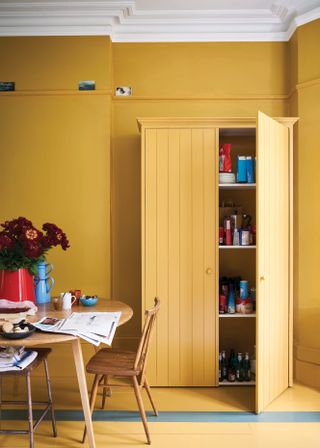 4. Paint a feature ceiling
We definitely have a tendency to ignore our ceilings when it comes to paint: we play it safe, painting them in various hues of greige. But we reckon we should start being a bit bolder by painting them in a bold colour, or even just a different colour to your walls.
Inspired to give your fifth wall some attention? Read our guide to how to paint a ceiling.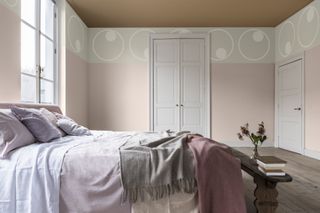 5. Experiment with colour blocking
Simply put, colour blocking is the pairing of two or three totally different colours to make a bold statement. You can do it on any scale and customise it to suit any colour scheme. Just look at these inspiring ideas below and check out more colour blocking design ideas in our gallery.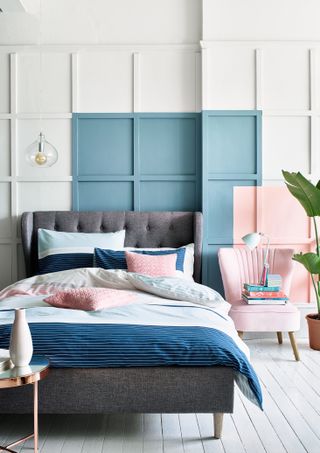 Colour blocking needn't always be super out there, here Farrow and Ball India Yellow has been combined with a touch of black and a bright clean white to create an alternative feature wall.
You could use the colour blocking effect to feign the look of panelling, by painting a quarter of the way up your walls...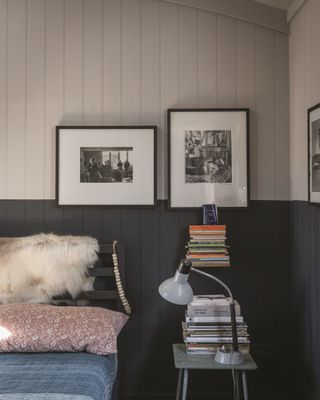 Want more painting and decorating advice?