Looking for modern dining room ideas that are going to make your space feel chic and contemporary but still warm and welcoming? Well, lucky for you you are in the right place. A successful modern dining room scheme needs a couple of key considerations - less clutter, texture and some shapely furniture. If you love a simple feel but with modern furniture then this look is for you. And it needn't be stark either, you can add in as much color as you want and don't forget there are some great wallpapers that totally suit modern schemes.
Keep scrolling for our favorite modern dining rooms, and head over to our dining room ideas feature for more inspiration.
1. Add a bold wallpaper to a contemporary dining room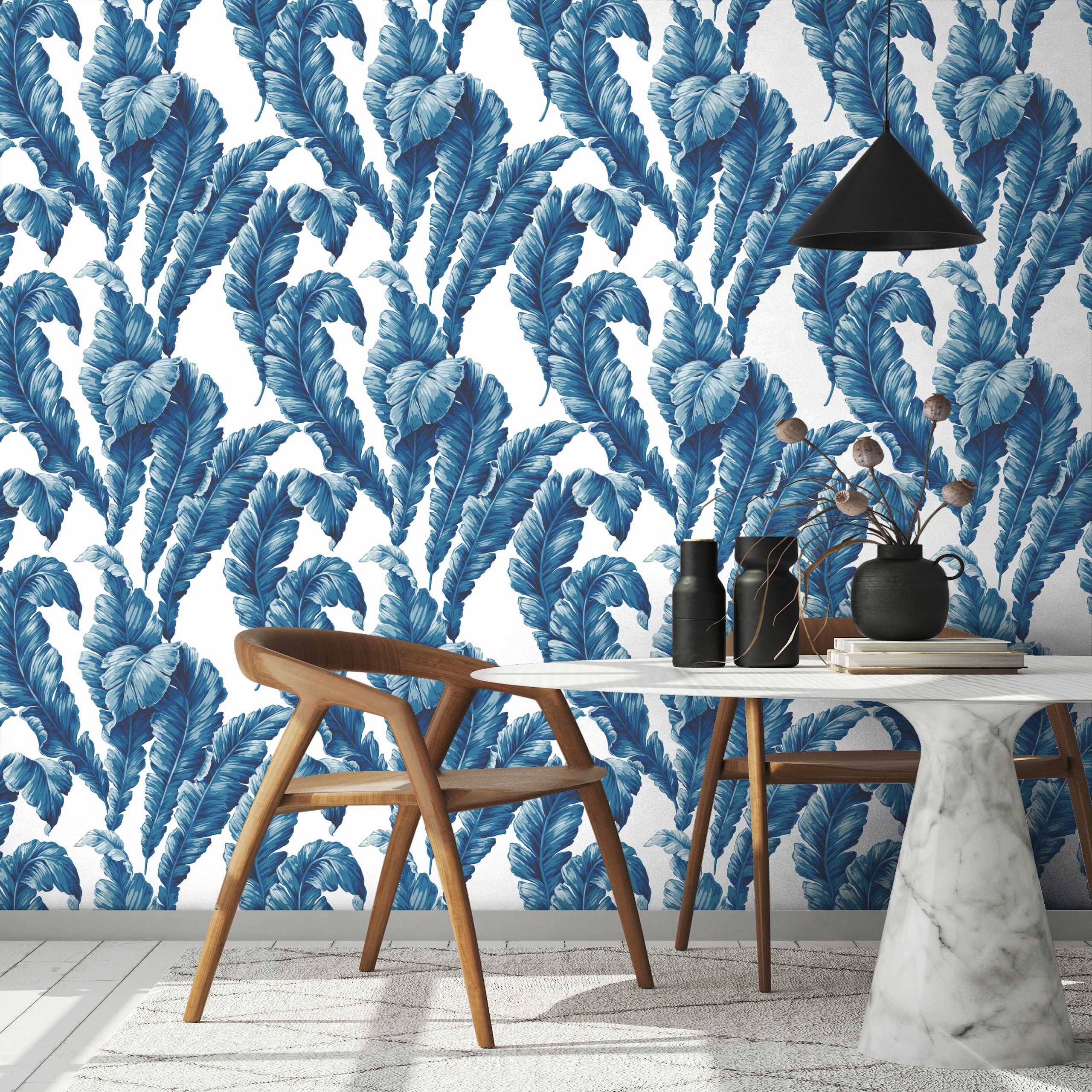 To wow your guests as soon as they walk into your dining room, how about popping up a beautiful wallpaper as a focal point? It's a great modern touch and if you pick a design that's a single color it will be even more striking. Allow it to be the star of the show by keeping your furniture and tableware simple, and that goes for your colors too, the black vases and light are great additions to this simple yet effective scheme, and the stylish wood chairs add warmth to the overall look.
2. Use dark walls as a back drop to modern furniture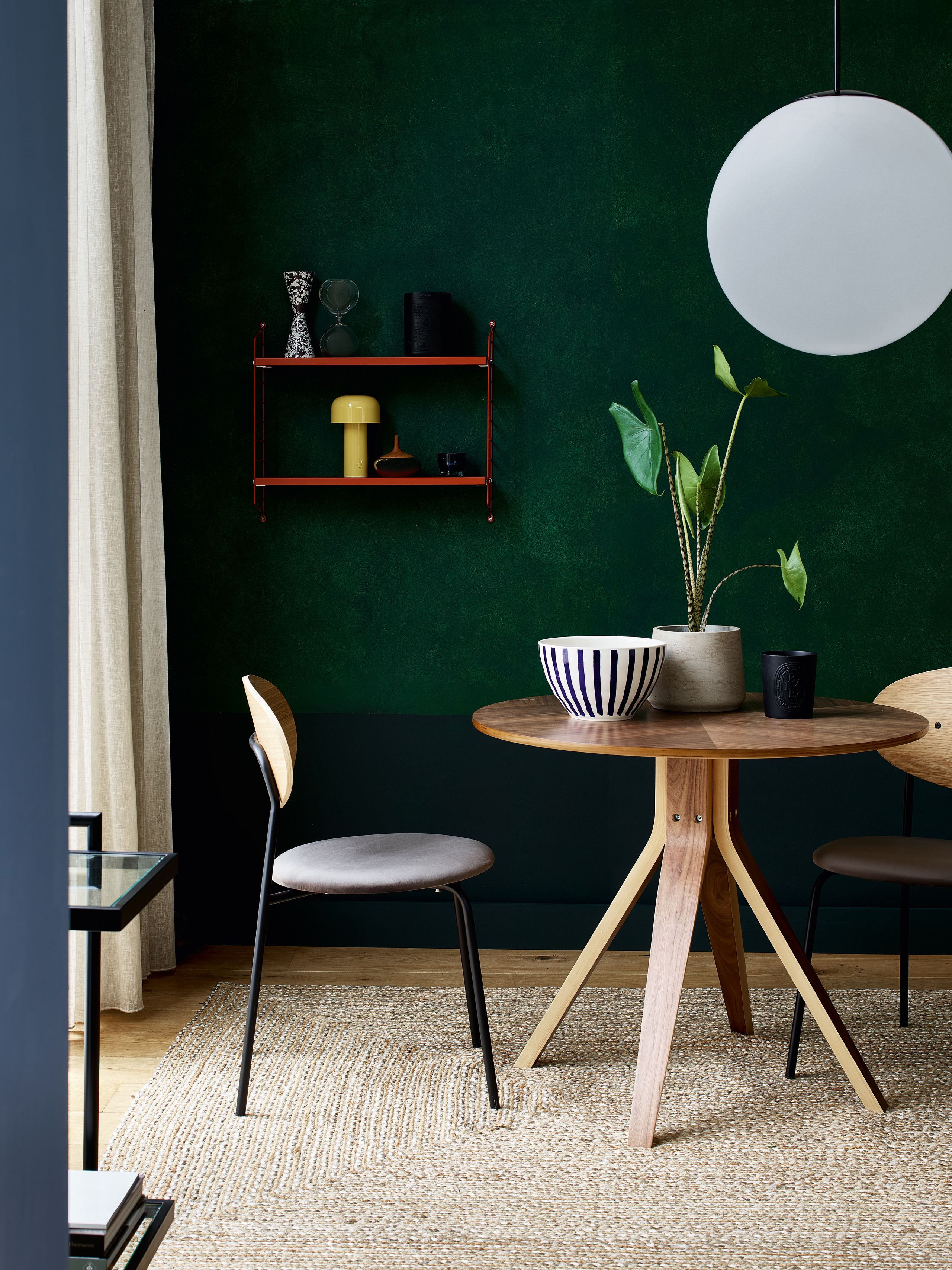 This fabulously dramatic wall provides the ideal backdrop for this contemporary dining room. We love how the wall has been split into two, with the black skirting and wall painted around the bottom and the bottle green textured effect above. The bright red shelving adds a splash of color and you can change the accessories on it to add in more pattern and bright shades as and when. Opt for interesting shapes like this modern table and chairs - especially that table, and we love the globe light!
3.Create a modern dining room that's clutter free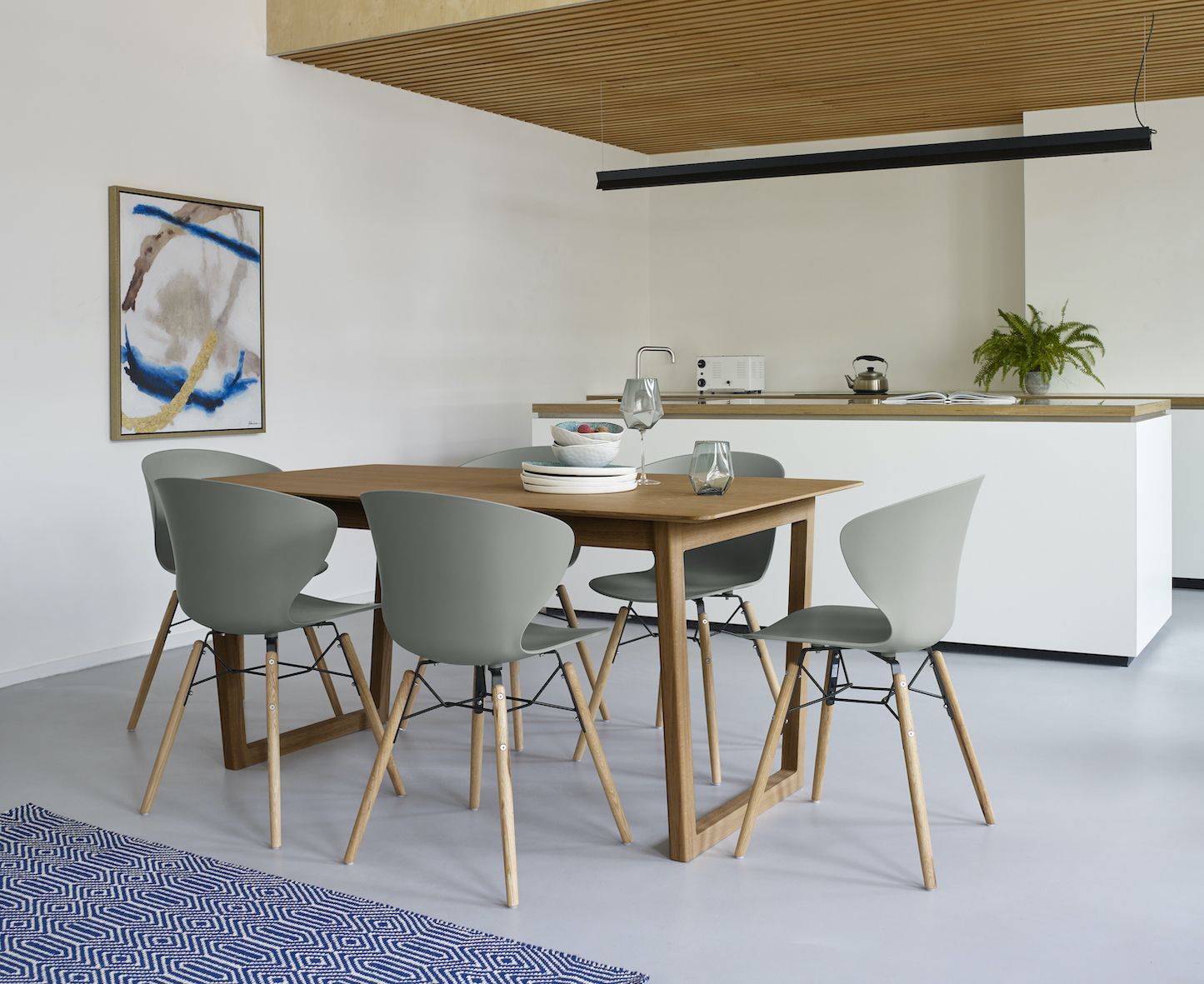 Modern means minimal essentially, and so you need to keep clutter-free as much as possible! To prevent the look from becoming too clinical you it's worth bearing in mind the furniture that you pick - mid-toned wood works wonders for this and in this dining space the modern table and Eames chair legs all visually link to the kitchen worktop and ceiling panels. The patterned rug and artwork add a decorative touch and consider the shapes – the curvy chairs and glasses make the overall look much more interesting and less angular.
4. Keep things relaxed... in a contemporary way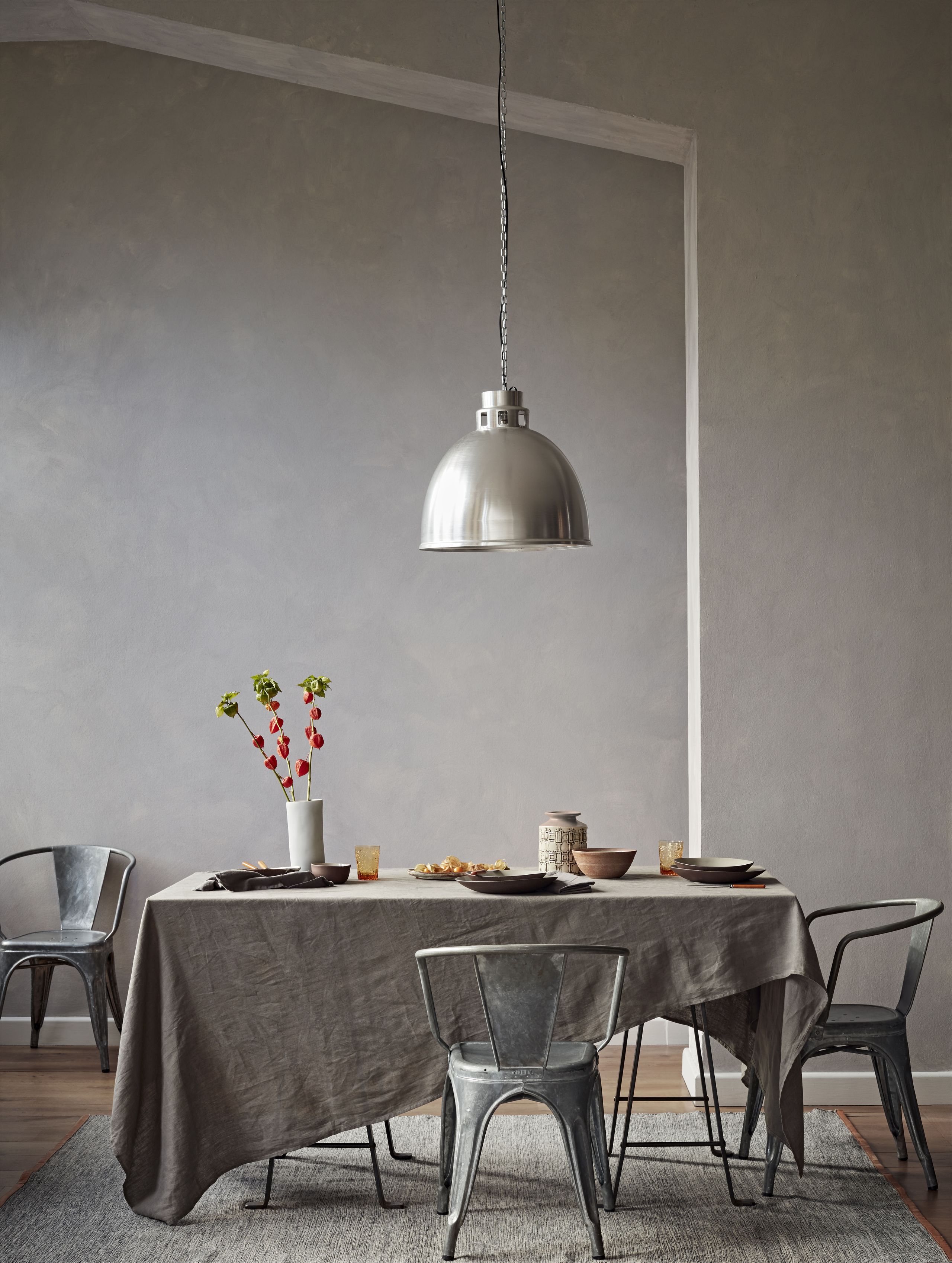 Modern interiors often can get a bad press, they can be thought of as stark and angular. This relaxing scheme has a hint of both industrial and modern styling. It is minimal in terms of 'things', the table is contemporary yet softened by the linen tablecloth and the chrome pendant and galvanized chairs give a modern feel. The earthenware adds character and gives an organic element to the room together with the textured rug. This look would work with flat bare walls too.
5. Go for an all-white color scheme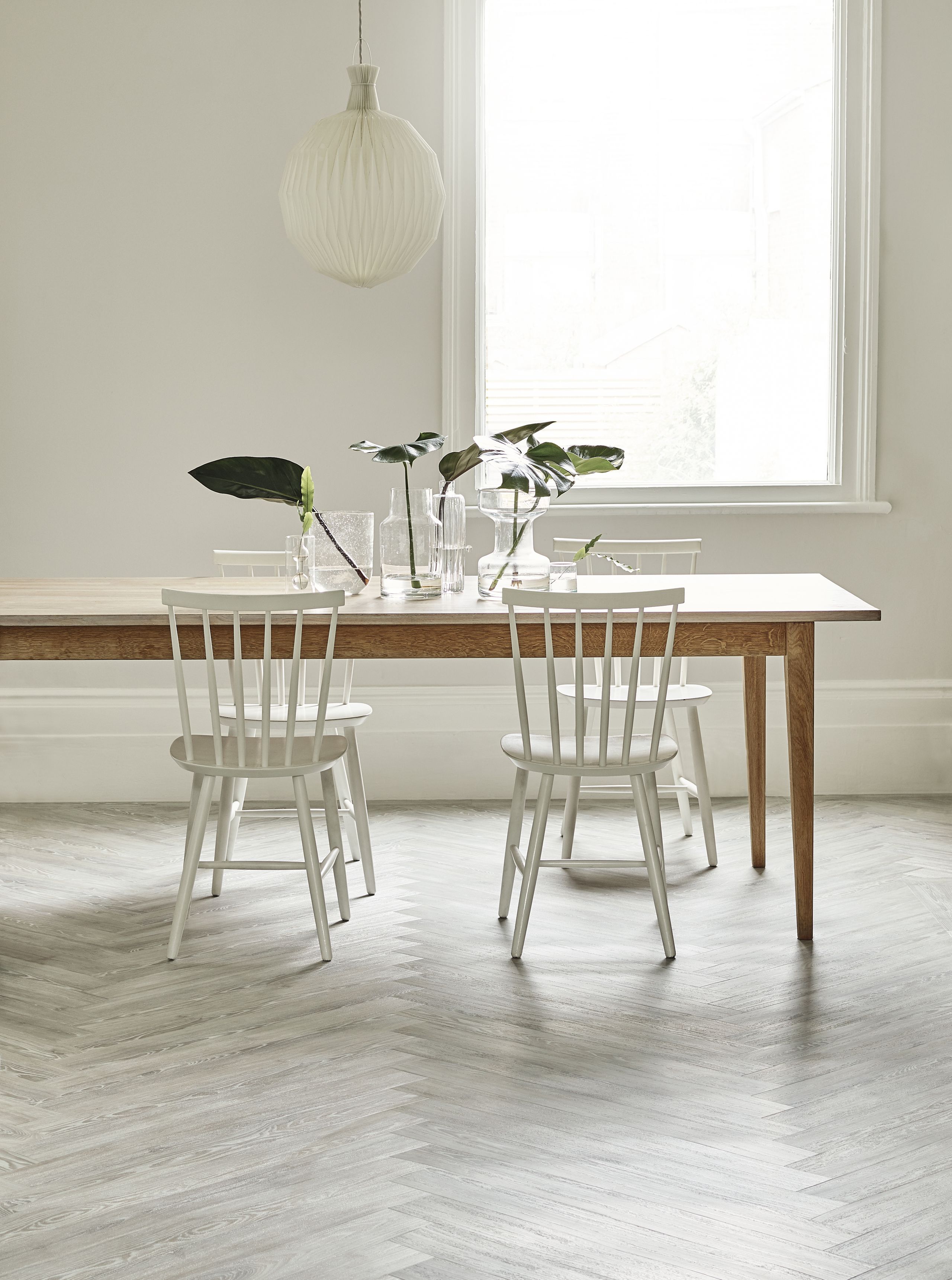 If an all white scheme is your thing, and let's face it, it's the ultimate in modernity when it comes to interiors, you do need to consider a couple of key elements. Firstly, do try to add in some wood, it creates a visual break and although we say it a lot, it does add warmth. The other important thing to consider is texture, this creates interest and prevents the look from becoming flat. So in this case, the herringbone floor and pendant both tick this box successfully! And finally, consider your accessories well, although the vases on the table are all clear glass, the shapes are interesting and that's why it works for a styling point of view – and always add in some greenery or fresh blooms.
If you want some white kitchen ideas to match head to our gallery.
6. Mix a contemporary dining room into a traditional space
Modern dining room ideas don't have to be reserved for modern homes. We love the look of this space – the contemporary sculptural furniture with the period features creates such a cool contrast. Plus the dark walls make the white chairs and the pale wood stand out even against the wooden flooring.
Read more: