Banish night sweats for good with one of the best cooling mattress toppers under your sheets. Whether you struggle with overheating year-round or just during balmy summer nights, if it's too hot to sleep a mattress pad or topper with breathable, cooling qualities provides some sweet relief to help you fall and stay asleep.
But what is a cooling mattress pad, exactly? Well, we're grouping them into mattress toppers made with materials, such as latex or gel-infused foam, that absorb extra heat and regulate your body's temperature, as well as add height and change the comfort level of your bed for a comfortable night's sleep. A traditional mattress pad will add a layer of cushion to your bed. They're usually easier to clean and machine washable. You simply slip it on top of your mattress and beneath your sheets... and drift off in comfort.
Keep scrolling for our top picks which have been carefully selected based on material quality, additional benefits, price (and more) so you can buy now, cool off, and catch up on your much-needed rest ASAP.
Feel you could do with a new mattress, too? No worries: check out our best mattress guide for the top mattresses we've tried, tested, and reviewed.
Our best cooling mattress pads and toppers of 2023
Why you can trust Real Homes Our expert reviewers spend hours testing and comparing products and services so you can choose the best for you. Find out more about how we test.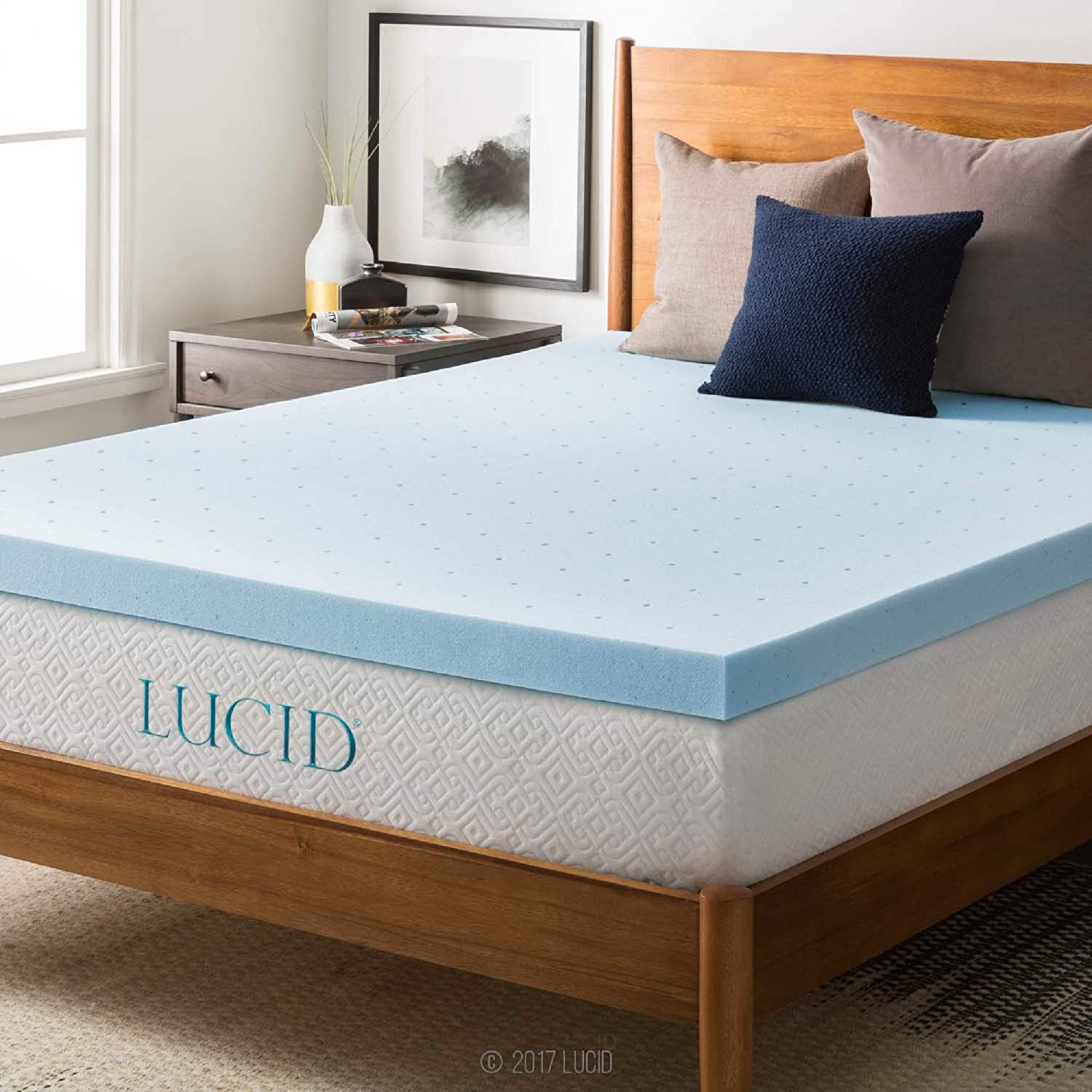 Actually at the top of our best mattress topper list is the Lucid 3" Ventilated Gel Memory Foam Mattress Topper. Among the reasons we love it: it's super comfortable and supportive, hypoallergenic, and gel-infused for temperature regulation, and the largest size (California King) comes in under $125.
What makes it cooling
We're all about keeping cool, and you will with the cooling gel-infused memory foam that captures and distributes heat to regulate body temperature and the ventilated nature of the material that enhances breathability while you rest. It also meets CertiPUR-US standards and is made without the use of harsh chemicals, so you can rest (and breathe) easily.
Who will it suit?
Available in a range of sizes, including unique ones like Twin XL and Full XL, there's really something for everyone. If you're seeking to sleep cool, with safe materials, add some comfort to your bed along the way, and enjoy it all at an incredible value, you can really do little wrong.
Are there any care instructions?
It can't be washed, so you'll want to make sure you add a breathable mattress protector to ensure longevity.
Want the best in temperature regulation? You'll want to try Slumber Cloud's Core Mattress Pad for one of the coolest, most comfortable nights possible. It takes a proactive approach to temperature control by absorbing and storing excess heat when temperatures are too warm and releasing heat when temperatures are too cold. Neat stuff.
What makes it cooling
This mattress pad's viscose fabric is modeled after the technology NASA uses to keep spacesuits cool. Thousands of reviewers have credited this pad with reducing or eliminating their night sweats. If you don't suffer from night sweats but find your mattress uncomfortably hot, the Core pad will still help.
According to Slumber Cloud, here's how it works: "[The fabric is made with] thousands of microscopic beads called Thermocules, and each one is set to a specific temperature. This counteracts any temperature fluctuations you might experience during the night. As your temperature increases, the beads absorb and store any excess heat away from your body to keep you cool."
Who will it suit?
Thousands of reviewers have credited this pad with reducing or eliminating their night sweats. Even if you don't suffer from night sweats but find your mattress uncomfortably hot, the Core pad will still help.
It will also fit mattresses up to 20" deep, so it works with most mattresses and it's hypoallergenic for those with allergy sensitivities. It even stands up well to moving up and down on our adjustable base.
Ease of cleaning
This pad is machine-washable and can be tumble-dried on low.
If you want to give your mattress a new lease on life AND feel cooler while sleeping then this mattress topper gets our vote.
What makes it cooling?
The memory foam mattress topper has been infused with gel and is ventilated with purpose-made holes. This allows the air to flow and your body to cool as you sleep.
The bamboo cover is also breathable, helping to keep your body temperature neutral. However, the straps of the cover are prone to shift throughout the night.
Who will it suit?
It will suit sleepers who suffer from pain in their joints and/or those who struggle to stay cool at night. The mattress topper has 4-inches of memory foam which curves to the body contours to relieve pressure and allows airflow, making way for a good night's sleep. If you're worried about the 4-inches being too much cushioning, 2- and 3-inch options are available too.
The company touts the ergonomic design of the mattress topper, that it fits any body weight and body type and perfectly aligns the spine.
Ease of care
The bamboo cover is removable for easy washing.
Subrtex has a 10-year guarantee with all their mattress toppers so if there is anything that compromises your sleep quality then they are there to make it right.
If you're looking for a more radical change, say, renewed pressure support and a breathable design, Tempur-Pedic's Tempur-Adapt offers three plush inches of Tempur ES material to cushion and cradle your body and keep you cool and comfy at the same time.
What makes it cooling?
The Tempur-Adapt uses exclusive TEMPUR ES material, a one-of-a-kind, extra-soft foam that precisely adapts to your weight, shape, and temperature. The cool-to-the-touch cover is a premium knit, breathable, high-performance cooling design.
Who will it suit?
For one, Tempur-pedic fans not looking to splurge on an entirely new sleep setup. Others looking for a reliable mattress topper with excellent pressure relief and to make their mattress a little softer, and more breathable at the same time will benefit all the same.
Ease of care
The removable cover is mold, allergen, and dust mite resistant, and yes, machine washable.
If protecting your bed is just as important as keeping yourself cool, you'll want a cooling mattress protector that is also waterproof — two requests that don't always go together. Yet, Brooklyn Bedding's luxury cooling mattress protector has seemed to master the mix.
What makes it cooling?
Using the same TitanCool material found in the cover of its best-selling Aurora mattress, the protector is designed to draw heat out and away from your body, creating a cooler sleep environment. The TitanCool material is meant to maintain skin temperature at an ideal 88 degrees for sleep.
The mattress pad is also hypoallergenic and waterproof, consisting of a TPU film laminate, a breathable elastic to allow for great airflow and increased durability, the TitanCool cooling technology, and polyester.
Who will it suit?
Anyone who seeks to protect their mattress and keep cool and comfortable at the same time.
Ease of care
It fits like a fitted sheet and is washable.
If you have allergies and are overheating when sleeping on your memory foam mattress then you need to get this matter topper. Plus, it's a BARGAIN, too.
What makes it cooling?
The 400-thread count combed cotton makes the top surface of this mattress pad ultra-breathable and cool to touch. This type of cotton is incredibly soft, too, since all the shorter more breakable threads are removed during the combing process.
Who will it suit?
This topper is ideal if you get overheated during the night when you are sleeping on your memory foam mattress topper. It can also be used on other mattresses because it's packed with innovative 4D spiral fiber.
Using this material makes it a good choice for babies, pregnant women, and the elderly because it's skin-friendly.
Ease of care
Wash in a front loader machine on a gentle wash.
SHEEX's entire business model started around the idea of making bedding as cool, comfortable, and soft as traditional workout wear. The SHEEX Original Performance Mattress Pad is all that and more, combining special cooling technologies with a little padding to help you sleep cooler and comfier.
What makes it cooling?
SHEEX claims that its fabrics transfer heat 10x more effectively than traditional cotton (which unfortunately we can not truly prove personally), wick moisture, and stay wrinkle-free. The mattress pad uses its moisture-wicking Original Performance fabric combined with a hypoallergenic CoolX™ fiber fill technology to keep you cool. CoolX™ technical fibers are hollow and made of a unique shape that prevents heat from accumulating in the material surrounding the body, which ultimately keeps you cool and dry throughout the night by pulling moisture away from your body and enhancing moisture evaporation.
Who will it suit?
You don't have to be an athlete to enjoy this mattress pad, so really anyone looking to sleep cool and dry through the night. It's also great for anyone who loves a company with a great origin story and two women co-owners.
Ease of care
The mattress is machine washable on a gentle cycle and can be tumble dried on low heat.
Have you felt like you've tried every cooling remedy and it just doesn't work? Or do you love the intersection of sleep and technology and want to be a part of the cutting edge? The ChiliSleep Cube sleep system is comprised of a hydro-powered mattress pad, thermal regulating control unit, and remote control with the ability to adjust the temperature to your precise liking. It's essentially like an AC unit just for your bed.
What makes it cooling?
The whole premise of ChiliSleep is its cooling nature. It utilizes hydropower (water) by circulating through microtubes in the mattress pad, to keep your bed between your chosen 55-115°F so you can have a more comfortable and restorative sleep. Keep the control unit filled with water next to your bed and use the remote control to adjust to your desired temperature before bed.
If you're looking to splurge a little more, the upgraded Ooler system (opens in new tab) gives you mobile app access (as opposed to a remote) and warm wake functionality, while the DockPro (opens in new tab) is powered by the same battery as a Tesla, runs quieter and promises double the cooling power.
Who will it suit?
While definitely pricey we think this is best for the person who has felt like they have tried every remedy to sleep cooler. It's also useful for couples who like to sleep at different temperatures, and the half bed option is convenient if only one sleep partner struggles with sleeping hot. It's also backed by research that says it can increase muscle recovery and metabolism.
For those looking to take advantage of the unique chiliSleep tech, they also offer Factory Certified Refurbished units, where you can save a few hundred dollars and still qualify for a warranty.
Ease of care
The sleep pad is machine washable and can be tumble dried without heat.
How we test the best cooling mattress pads and toppers
Our buying guide best buys are carefully chosen by our team of journalists based on a combination of our own experience, rigorous in-house testing, and in-depth research into expert reviews, user reviews, and ratings. In other words, it's just as important to us to know and to report what you, the consumer, think about a product once you get it home, as it is to base our guides on our own knowledge and experts' reviews. When it comes to deciding among the best cooling mattress pads and toppers, we examine their cooling claims and materials, value for the money, design, and overall comfort. Items that we have directly tested receive a star rating of 1 to 5, with 5 being the best.
For more on our testing process, refer to our product testing guidelines.
---
How to choose the best cooling mattress pad and topper
Cooling materials
Cooling mattress pads are made from materials that absorb body heat and body moisture and regulate your temperature. There is a range of different materials used (some well-guarded secrets), but all aim to increase breathability, which helps cool you down, and reduce sweat. The most breathable materials include cotton, bamboo, open-air, and gel foams.
Extra support
It's worth ensuring the cooling mattress pad you choose is comfortable for you specifically. Most combine cooling properties with extra support; those with a memory foam feel will suit side sleepers who prefer a soft/medium mattress, but perhaps currently sleep on a medium/firm mattress.
Fit
Most cooling mattress pads simply sit on top of your existing mattress. If you're fidgety, look out for one that has elasticated straps to keep it in place; otherwise, you'll notice that you have to haul it back into position every few days.
What to match your cooling pad with
If getting over hot at night really is a problem for you, you might need to think of other solutions. For the odd hot night, a fan is a good solution – see our selection of the best fans for bedrooms and beyond. Buying a mattress that's breathable is a must if yours is more of a long-term problem. See our list of the best mattresses – where we talk about breathability – or browse the best mattress toppers buyer's guide that also includes toppers that are breathable and cooler than older designs.
What is the best cooling mattress pad?
If you want the best in temperature regulation, we think the SlumberCloud Core Mattress pad is one the best mattress pads you can buy to add a cooling component to your mattress.
If you're after the closest thing to sleeping on a cloud, look for a thick pad such as the Lucid 3" Ventilated Gel Memory Foam Mattress Topper that offers pressure-relieving support in addition to its cooling properties.
You've reached the end of the page. Jump back up to the top.