I'll admit it from the get-go: the Coop Retreat Mattress Topper has totally changed the way I sleep. Much like the majority of us out there, I rent my room and my landlord has provided a run-of-the-mill mattress. I can't really complain, at least it's not 10 years old and thread-bare, I suppose. It's a box spring mattress and I'd been sleeping on it without a mattress topper for about a year. Then one day I thought to myself: Why am I sleeping on something that's just "fine" when spending a couple of hundred dollars could give me hotel-quality sleep? The lightbulb moment happened, and I've not looked back since. So, this is your sign if you're sleeping on a landlord-provided mattress, to give it a spruce. You can thank me later.
Enter the Coop retreat mattress topper which admittedly, I was excited about reviewing before I even opened it. Mostly because Coop products are free from chemicals, and are organic. It's safe to say that this will be coming from rental to rental with me, for sure.
Quick Menu:
1. TLDR
2. How we test
3. Specs
3. Unboxing
4. Comfort
5. Breathability
6. Is it right for you?
This mattress topper is filled with the same cross-cut Oomph memory foam and microfiber blend — which I found to be great for my home allergies — at five inches thick, it's a super soft pillow-top option guaranteed to up comfort levels. The first night may seem a little lumpy, but trust me — after this fancy foam has molded to your body, it'll feel like sleeping on a cloud. It comes in your choice of a King or a Queen and starts from $299. You also get a 100-night trial in case it's not your thing (it will be).
Yes, if your mattress is on its last legs, this topper won't be able to fix it. That's not what they are for. But I will say that it will do wonders if you're not overly satisfied with your current set-up like I was. This Coop Retreat Mattress Topper is my secret to a night of dreamy sleep.
Coop Mattress Topper review
TDLR: What I thought of the Coop Retreat mattress topper
I've tested a few mattress toppers before, and I'm not usually a memory foam lover so I didn't think I would get along with this plush-top option. It's pretty squishy, and my body prefers a firmer sleep surface as a side sleeper. I'll admit that the super puffy pillow top took a few nights to get used to, and it felt a little lumpy, to begin with.
But, after getting used to it, it has perfectly upped the comfort levels of my standard medium-firm mattress, and I'd recommend it to any renter who wants something cozier than the bed that came with their apartment. It's not thick enough to act as a replacement mattress, especially if your current sleep surface is sinking or you have springs poking out, but I was very impressed with the box construction comfort.
5-month update:
I've been sleeping on the Coop mattress topper for nearly 6 months now and it's just as comfy as it was when I first put it onto the bed. I have found that after a few months, I have needed to shake out the topper for it to de-bunch. I hardly move when I sleep so for a while there was little bunching or movement in the memory foam, but for someone who tosses and turns in the night, you may have to shake out the squares more often.
When it comes to cleaning, I spot-cleaned it in areas when I come to change the bed and launder the rest of my bedding. It's not been a difficult job but the memory foam does take a while to dry, so I'd recommend using as little liquid as possible when you're washing this mattress topper
Testing the Coop Mattress Topper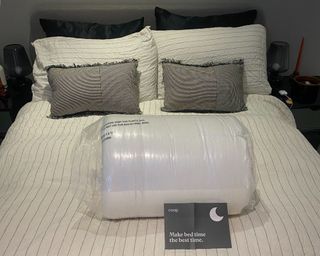 I'm Louise, previously the ecommerce editor at Real Homes covering all bedding content, so you can wind down well. Now, I do the same role for our sister brand Homes & Gardens.
I was gifted this mattress topper by Coop to review and when first writing this review, I slept on it for almost a month. As of now, I've been sleeping on it for four months
Sleep stats:
• Mattress topper review count: 2
• Sleep position: Side sleeper
• Insomnia: No
• Sleep problems: Hot sleeper, minor joint pain
• Average sleep time: 6-7 hours/night
Coop Mattress Topper specifications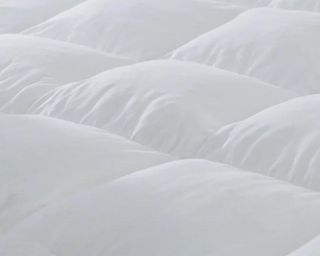 Type: Memory foam
Cover: 100% brushed soft microfiber
Fill: Hypoallergenic, non-toxic blend of cross-cut virgin memory foam and microfiber
Firmness: Medium-soft
Thickness: 5 inches
Sizes: Queen: 58x78 inches, King: 74x79 inches
Cost: $299 +
Care: Spot clean only
Unboxing the Coop Mattress Topper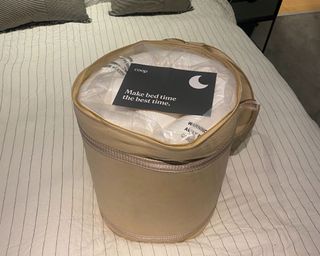 I LOVE LOVE LOVE the carry bag this topper comes in. It may have been heavy, but it's pretty easy to carry thanks to the handles. The cute peach-colored tote can be chucked over your shoulder. Think of it as your new gym, sorry *bedding* bag. After unzipping the side, I was greeted with a little card with everything I needed to know about the Coop retreat mattress topper, but also with a lot of plastic.
Yup, I pulled out the topper that was tightly rolled into a burrito, to find it wrapped (more than once over) in thick, non-recyclable plastic packaging. Having tested a few toppers and lots of other bedding items that have come delivered in eco-friendly cardboard packaging, I have to admit, I was disappointed. So much so, I had to take a pic of it.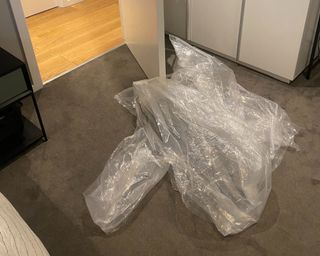 I laid out the topper on my bed before putting it on, just to get a feel of it. Initially skeptical, as a non-memory foam lover, I had to push around the filling of each quilt to flatten out any lumps that had formed from it being stored. Being accustomed to a flat surfaced mattress, I did question whether I would feel each baffle box construction as I slept and wondered if it might bunch as I tossed and turned in the night.
I added my deep fitted sheet on top (you'll want to make sure you have a deep pocket sheet) and could see the foam quilts beneath. It also made my bed look pretty huge! I have my Coop Exhale Duvet on top, too, which is a down alternative and gives the look and feel of a thick feather-filled comforter.
Is the Coop Mattress Topper comfortable?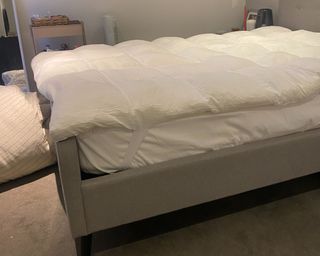 The first night, I have to admit, took a little getting used to — but not in a bad way. It felt plush and cozy, not what I was used to. In fact, you could say it was a sort of The Princess and the Pea moment, where I climbed atop my bed that was now 5 inches thicker now and rolled around trying to figure out what was wrong with it.
Nothing, of course. It was actually a whole lot better. So soft and comfortable, the foam adapted to my body to the point where my joints were cradled, cushioned, and supported. I sleep on my side and sometimes suffer from knee aches where my legs overlap. But the small pockets of plush helped. I also had a few of my friends and my boyfriend gives their thoughts when they stayed over. My friend, who sleeps on her back enjoyed the cloud-like cushioning, and I had to LITERALLY drag my boyfriend out of bed in the morning. But let's face it, boys tend to be quite easily impressed when it comes to these things.
Is the Coop Mattress Topper breathable and cool?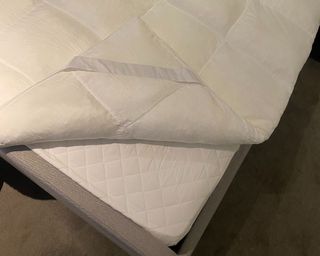 Fellow sweaty sleepers, hear me out. It's true, I get hot at night — you certainly wouldn't catch me wearing long sleeves and long pants to bed. And memory foam is known for generating a bit of heat. If you've tried memory foam before, you'll know it's generally not that breathable.
Enter the Coop retreat mattress topper. The cross-cut foam blended with microfiber promotes superior airflow, unlike other solid or shredded memory foam toppers. I didn't overheat, but admittedly, the sheer thickness of the topper did make it cozier. Paired with my best breezy linen sheets and a cool-to-the-touch silk pillowcase, I had a great night of sweat-free sleep.
Is this the right mattress topper for you?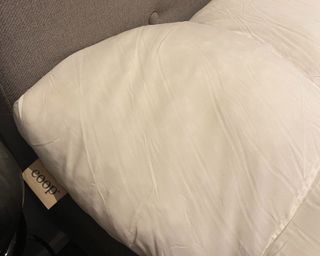 If you're new to the memory foam game — or not — and are wanting to make your rental bed a whole lot comfier, then there's no reason not to go and get yourself the Coop retreat mattress topper right now. It's cozy, thick, and pretty luxe for the price. Yes, you can literally get a cloud-like bed for under $300. This may be more expensive than other mattress toppers out there, but it would cost so much more to get yourself a new pocket sprung or bed-in-a-box mattress and a frame to go with it. Plus, you can't put a price on wellness.
Invest in this mattress topper if:
You want something organic
You want something breathable
You like memory foam
You like the idea of a 100-night trial
You have a King or Queen bed
Avoid this mattress topper if:
You're worried about it being spot clean only
Your mattress is seriously old (get a new one!)
If that's what you're after, or you think there might be a better topper out there for you, here are a few options we've also tested: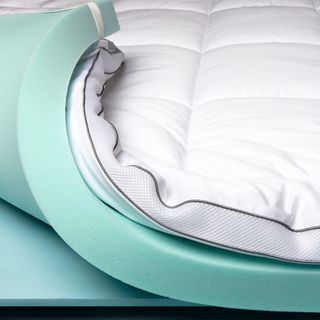 A hybrid option
Viscosoft Serene Hybrid Mattress Topper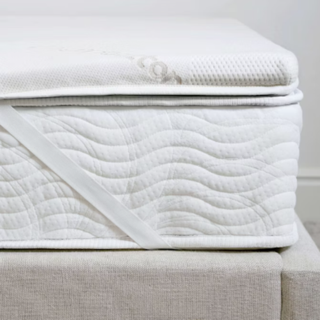 For a tired mattress
Saatva Foam Mattress Topper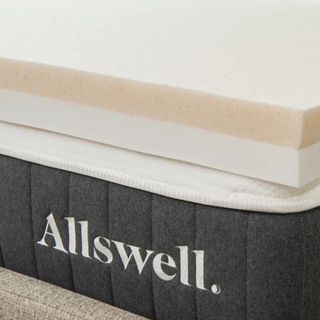 Affordable pick
Allswell Memory Foam Mattress Topper
Allswell Memory Foam Mattress Topper | From $99
Sizes: Twin, full, queen, king
Type: Open-cell memory foam
Care: Spot clean only
Trial: None
Warranty: None
Real Homes rating: 4/5 stars
Real Homes' review process
There's much more to how we test mattresses (and toppers) ICYWW, but for a brief overview, our mattress topper testers are all required to sleep on their bed with the new product for a minimum of three to four weeks before reaching their verdict, testing the topper according to a strict brief. This allows Real Homes to compare and contrast their mattress topper experiences to find the best product. During the review, we will pay close attention to comfort, support, cost, and how it lives up to claims. We will also choose a reviewer depending on how they sleep, and we will ensure that this matches the type of topper we give them.