I remember the first time I heard of memory foam. A certain well-known brand was all the rage, and my parents gave in to the temptation and bought one of these coveted new mattresses. I mean, who wouldn't want to be able to place a glass of red wine in the center of their bed and jump around without spilling anything?
Here we are in 2022 and memory foam mattresses still play a major part in the sleep industry, but significantly improved. Subrtex's Gel infused memory foam topper utilizes holes and ventilation to promote air circulation, while the tiny microbeads of gel help with temperature regulation and cooling. The gel memory foam also has a springier texture than traditional memory foam, which means no imprints will be left when you get up. Subrtex also touts the ergonomic design of the mattress topper, stating it's designed for any body weight, any body type, and any sleeper, by perfectly aligning the spine.
Generally speaking, mattress toppers are a great option for people who might not have the wiggle room in their budget to spend on a brand-new mattress, or for college or graduate students who want to upgrade their standard-issue sleeping arrangements.
I had the opportunity to sleep on the three inch Subrtex Memory Foam Mattress Topper for a period of four weeks before writing a review. I tried to photograph every step in my review process, and I wrote down my thoughts every night. What follows is the compilation of those early-morning brain dumps, and what makes it a leading option for hot sleepers among the many mattress toppers on the market.
Subrtex Memory Foam Mattress Topper specifications: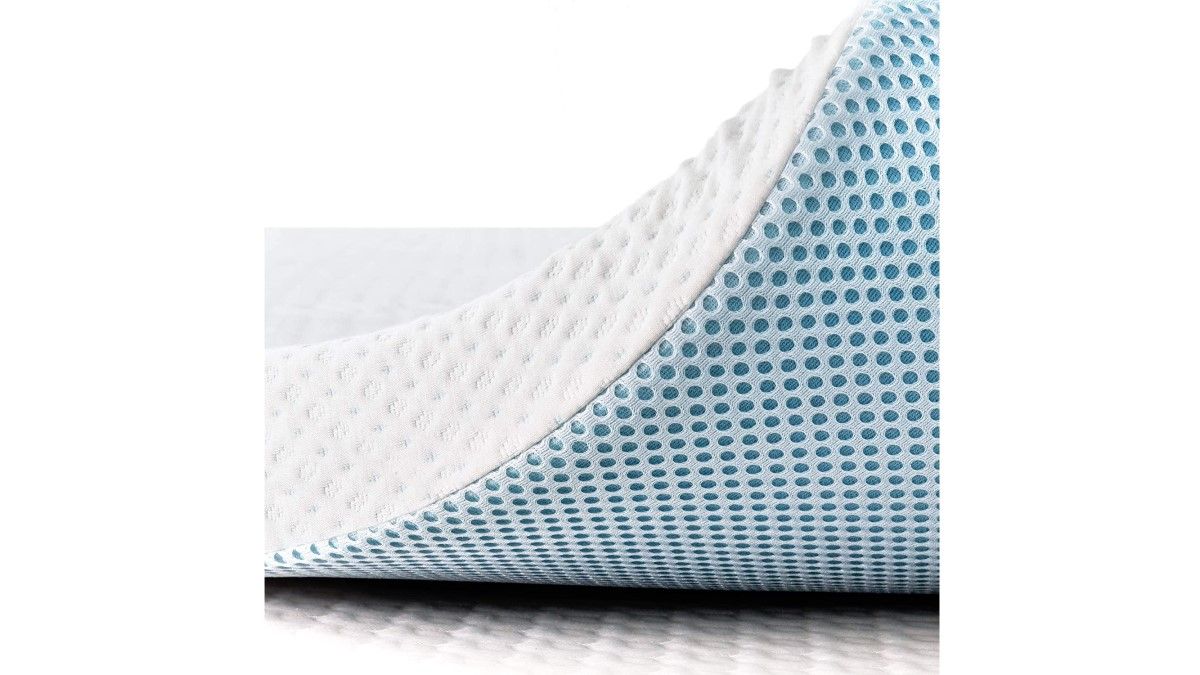 Firmness level: 7 on a scale of 1-10, 10 being a table
Materials: CertiPUR-US® certified gel-infused memory foam and removable bamboo cover
Sizes: Twin, Full, Queen, King, Cal King
Depth: 2", 3" or 4"
Fit: Adjustable elastic straps
RRP: $89.99-$269.99
Alex is a writer – and a sleeper. Her night-time ritual is a sacred experience. Not one for napping, she also wakes up at 4:30 a.m. to workout, which means she's usually ready for slumber when the sun is still out. Since sleeping is such a revered act, the opportunity to test a sleep product that's as coveted as memory foam and even claims to cool hot sleepers couldn't be passed up.
As with all our reviews, this Subrtex mattress topper review was based on real-life sleep experience. For this review, Alex slept with the topper for four weeks. Although this topper was provided free of charge, Real Homes tests products for as long as possible before sending them back to the brand, unless we are able to keep them, which is the case for this topper (and which Alex will be doing).
Alex's sleep stats:
Sleep position: side
Insomnia: occasionally/during times of high stress
Sleep problems: none (just an aggressive toss-and-turner)
Average sleep time: 8 hours
Who will the Subrtex Memory Foam Mattress Topper suit?
Hot sleepers: One of the hallmarks of this product is the cooling feature due to the ventilation and gel-infusion. As a person whose internal temperature runs hot, I was really looking forward to this feature working… and it did, which was my favorite part.
Budget-conscious: Although this particular mattress topper might be on the higher-priced end of the spectrum, generally speaking, mattress toppers are less expensive than purchasing the best new mattress.
Sleepers seeking soft-yet-firm surfaces: Maybe it's just because I came from an innerspring mattress, but I was hesitant about the sinking softness that memory foam mattresses are known for. However, after sliding into bed on day one, I was shocked by the comfort and firmness.
Delivery and set up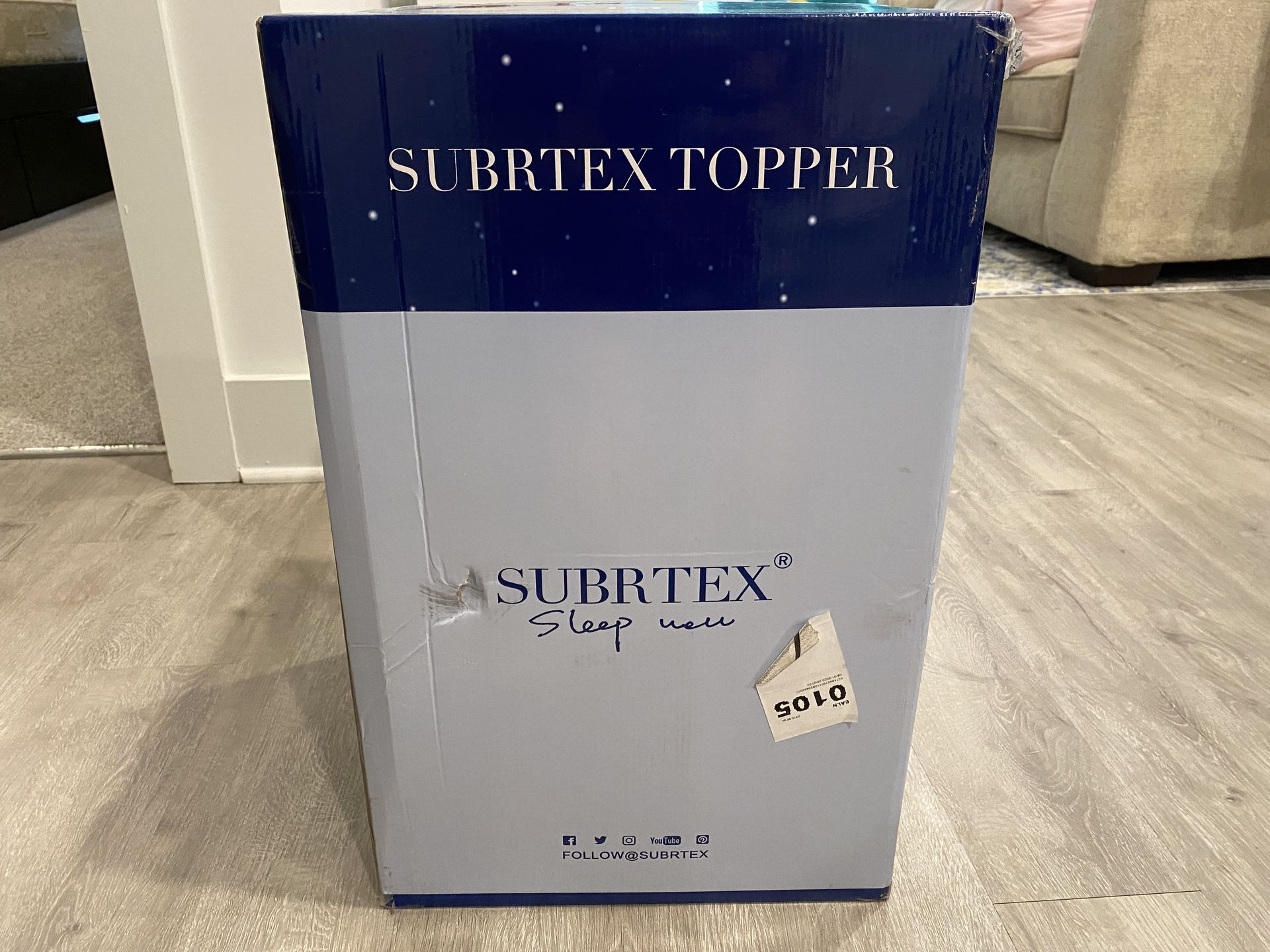 I was a bit nervous about the delivery of my mattress topper. I had no idea what the delivery would look like, nor how it would be packaged. The topper was delivered to my apartment door in a large box, which I shimmed into my living room. When I opened the box, there was a letter-opener-type device and a small pamphlet. The booklet provided detailed instructions on how to set up the topper as well as some general marketing information and details about the product itself.
The booklet cautions that the topper needs 48–72 hours to puff up fully, and it actually does take at least 48 hours. After carefully cutting through the plastic, I unrolled this big piece of memory foam onto my living room couch so it could fulfill its breathing requirements.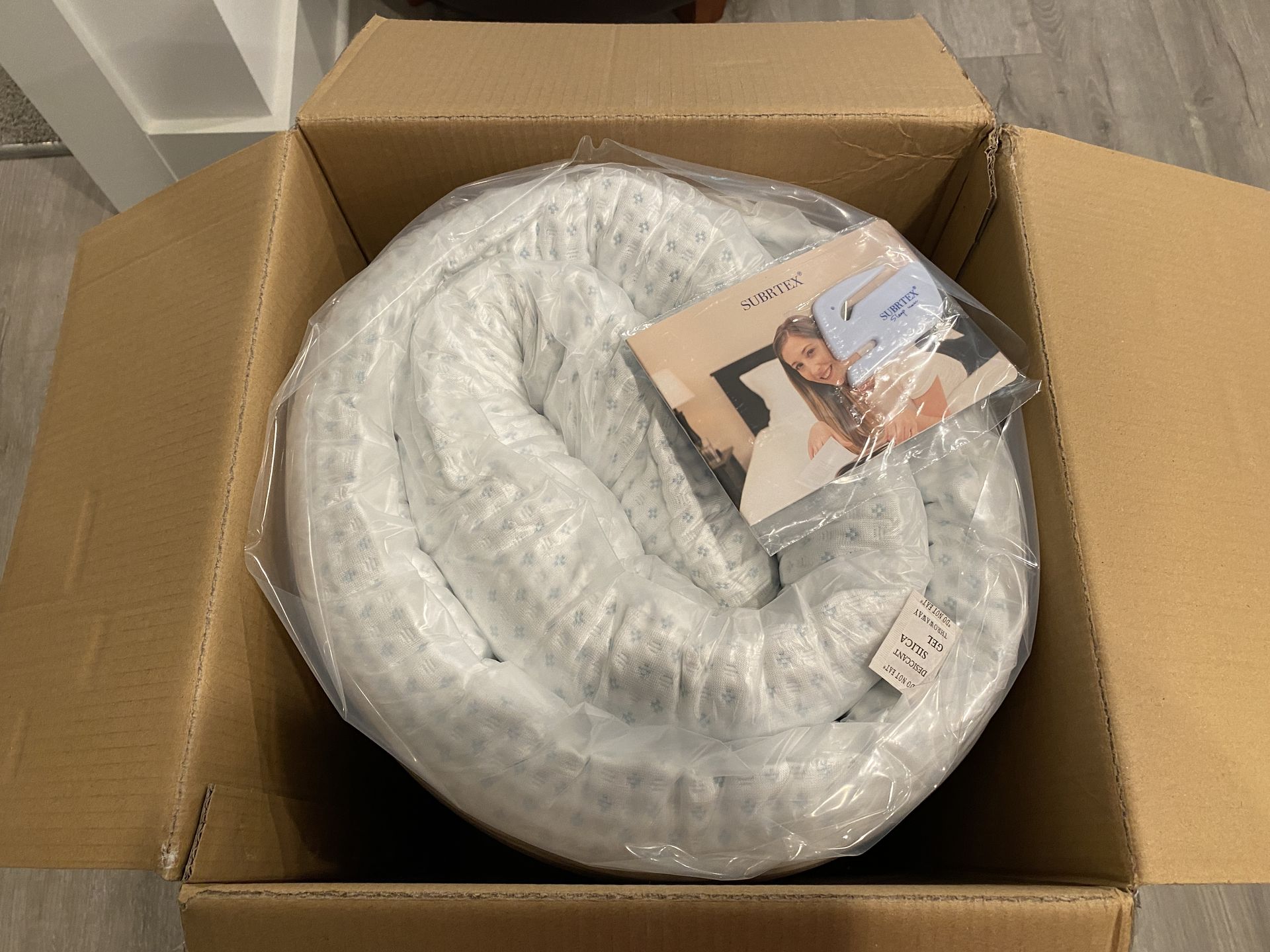 It's common for memory foam to be accompanied by a chemical off-gassing smell, which was the case with the Subrtex mattress topper.
A convenient feature of this product is the removable case. Individuals with allergies will really enjoy the fact they can remove the top casing and wash it, which is what I did while I let the topper off gas.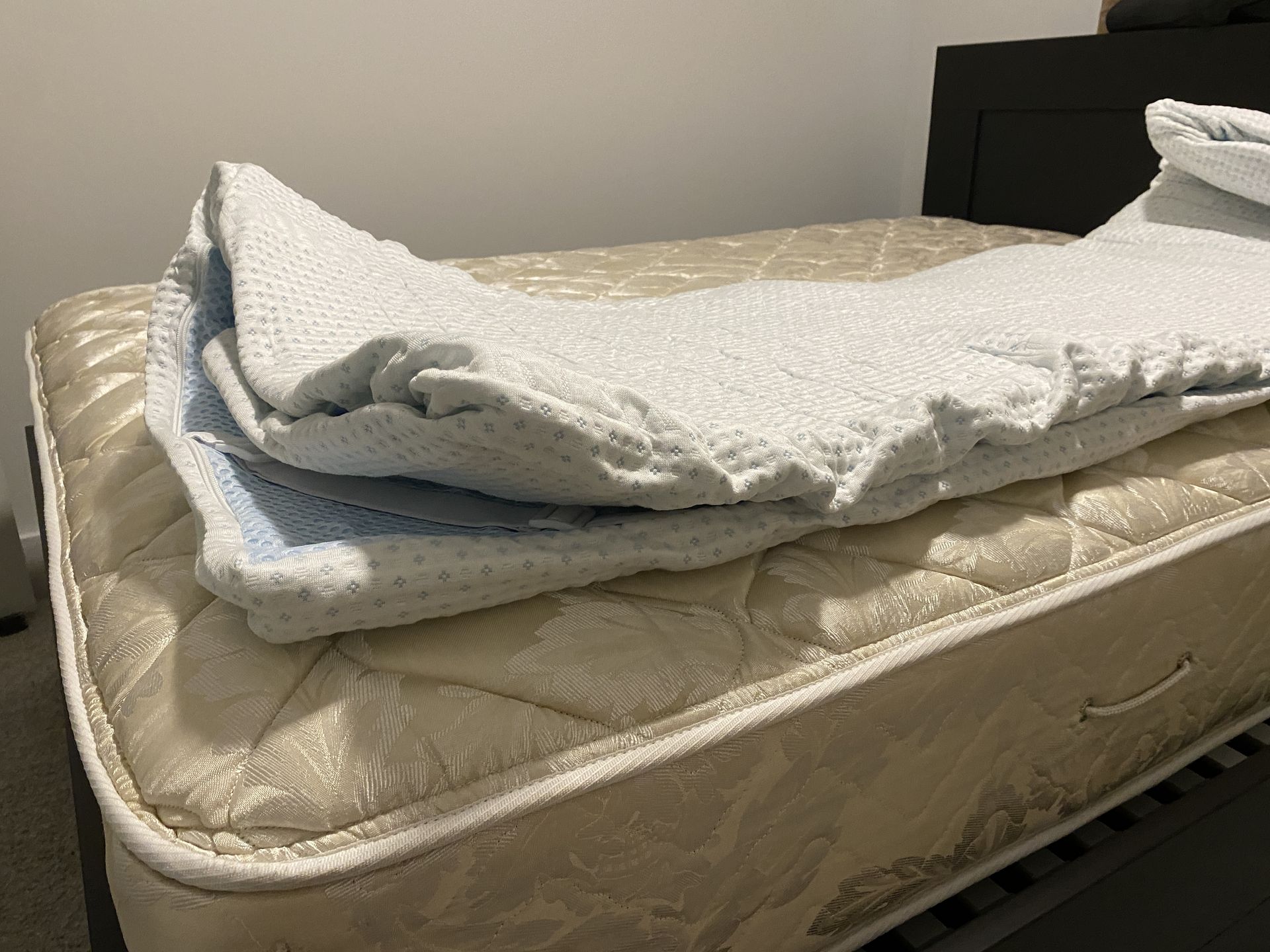 Once the casing was washed, I wrestled it back onto the topper. (Pro tip: If you have the option of undertaking this unboxing and setting up experience with an additional set of hands, I highly recommend it. It's doable on your own; you just end up a bit sweaty. It's an awkward shape to maneuver.)
The product weighs almost 21 pounds, which isn't a lot in the grand scheme of items, but with a bulky 80 x 60 x 3 frame, it's a beast to handle. Note that there are three thickness levels to choose from: two, three, and four inches.
What is the Subrtex Memory Foam Mattress Topper like to sleep on?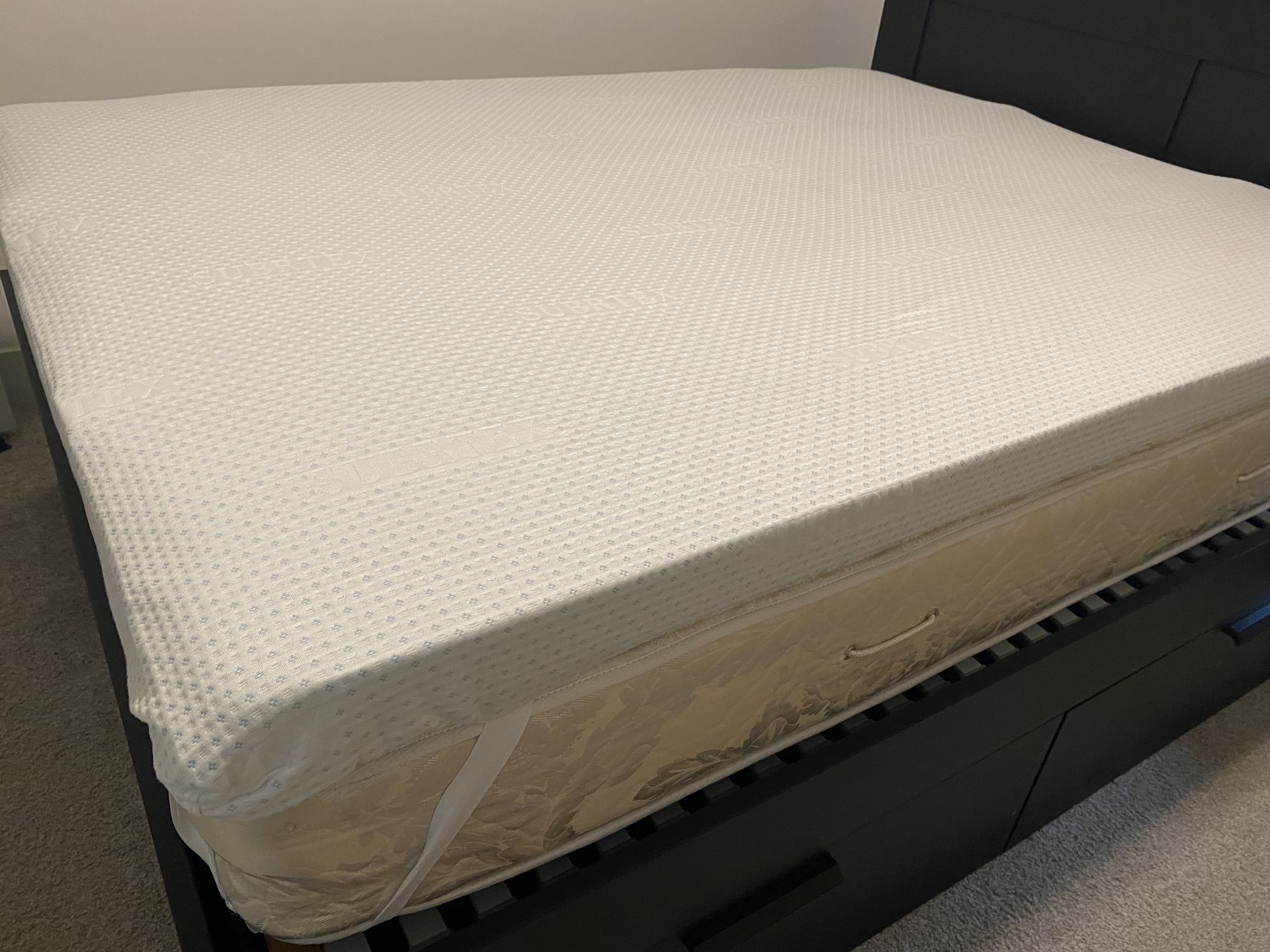 I'd like to start off this part of the review with transparency. You're reading a review from someone who has been sleeping on the same innerspring mattress (minus her years away in college and then graduate school) since she was 13 (she's now 27). Memory foam is a foreign concept, except for two special pillows I have, so being offered the chance to test out a memory foam mattress topper was exciting.
Some other important notes: I run on the hot side. It's not uncommon to find me in shorts and a t-shirt in the winter or sweating through my sleep in the summer. I'm, also what some might call, an aggressive side sleeper. I take normal side sleeping and make it an adventure of twists and turns – but not peaceful tossing and turning… aggressive, jumpy tossing and turning. So thinking about a topper that might make that self-wrestling experience less was another draw for completing this review.
Right, on to the first use.
Off-gassing
The chemical smell lingered for a few days. Although this was expected, I want to note that I was surprised when getting into bed on the third and fourth days and still caught a hint of chemical-ness. It's dissipated since then, as it's supposed to, but I want to warn any potential buyers not to be alarmed if the scent sticks around longer than you think it will.
Height
Easily overlooked, consider the additional height a mattress topper can add to your bed. I'm 5'3", and it often felt like climbing the side of a mountain – in comparison to what I was used to – just to get into bed. A happy adjustment to make for how much I enjoy this topper, but still an interesting hurdle to accomplish at 2a.m.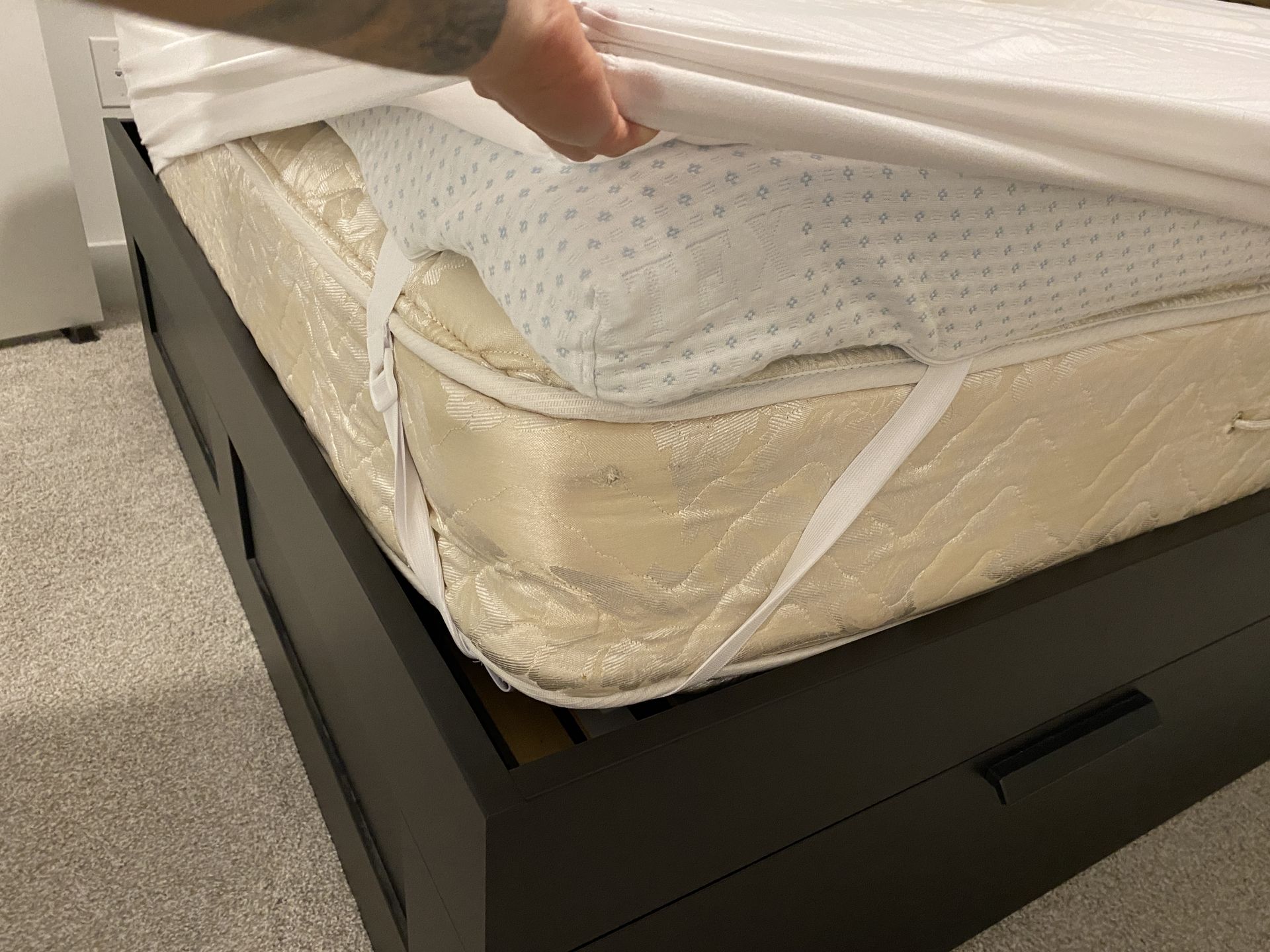 Comfort and support
My first night was heaven – not to be dramatic. The product description claims to help spinal alignment and relieve pressure points due to the zero-pressure memory foam. Subrtex says this disperses pressure from your body, so you don't wake up sore or uncomfortable.
Considering an experience with a different memory foam mattress topper I've tried, I recall it feeling like a suction: inescapable unless I pried myself out of it. Subrtex's topper did not have that effect. The inner foam is soft to the touch, but I still felt supported and able to move about the bed freely.
Motion transfer
There's little to no motion transfer, though I did not share the bed with anyone during this time, so I can't say that as a fact. To simulate motion transfer, I placed a cup of water it in the center of the bed and pressed my hand in various spots around the mattress. Despite how close I got, the glass of water didn't move. It barely tilted in the direction of the pressure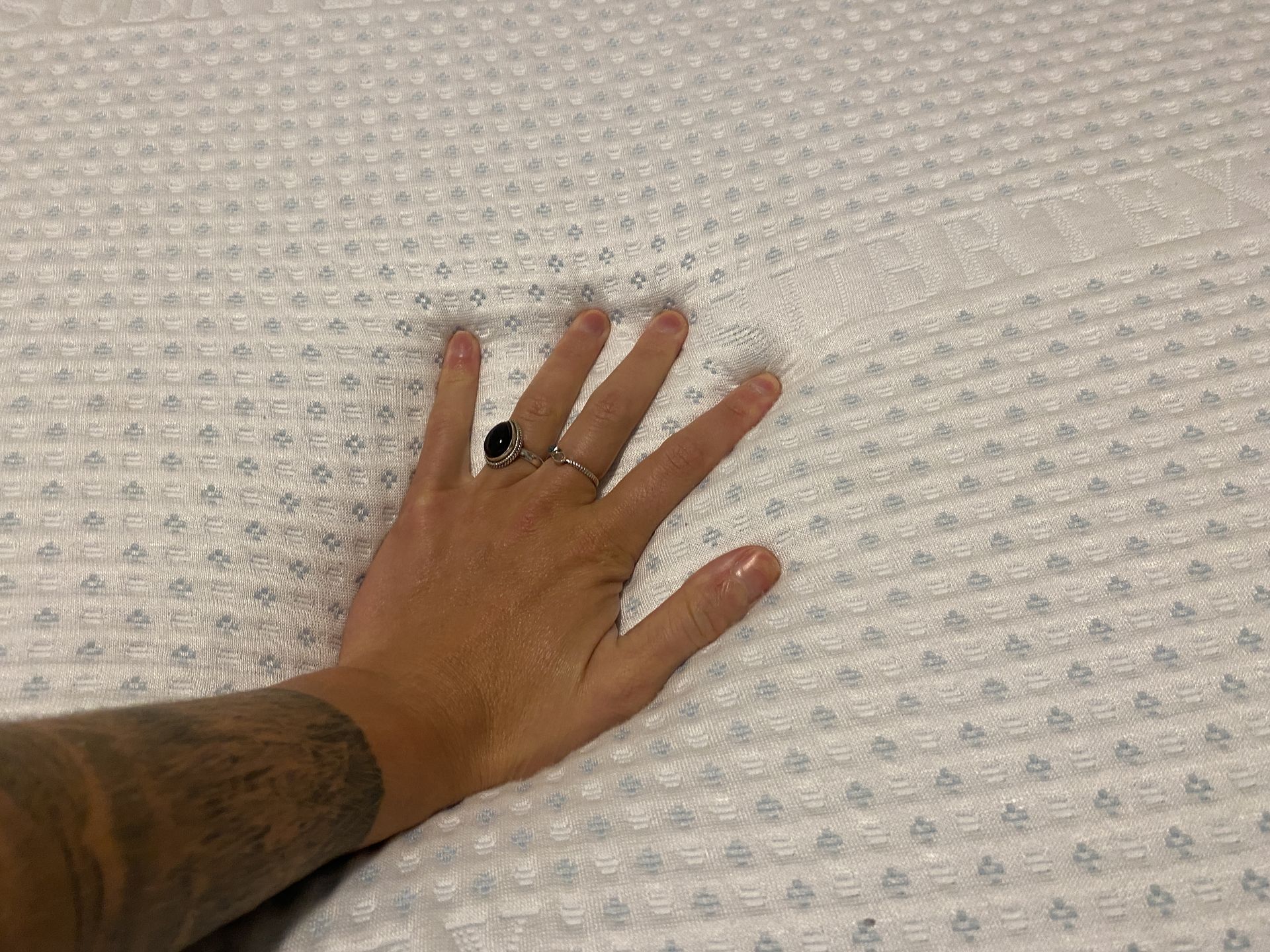 Breathability and cooling
The product's gel-infused aspect and ventilation promote airflow, which creates a cooler sleeping experience. This mattress topper has 3.5-pound density memory foam, which is supposed to "ensure the longevity of our mattress toppers," according to the Amazon description.
I can't attest to the longevity yet, but I can attest to the cooling part: It really does keep you cool. I run hot, so during the summer, I change out my bedding to be thinner and more comfortable. Despite this, with my previous sleeping arrangements, I would occasionally still wake up sweaty. That definitely wasn't the case with the Subrtex mattress topper. I dare say it made me cold some nights – and that is NOT a complaint! If you need a cooling mattress topper, definitely consider this one.
Subrtex Memory Foam Mattress Topper construction and care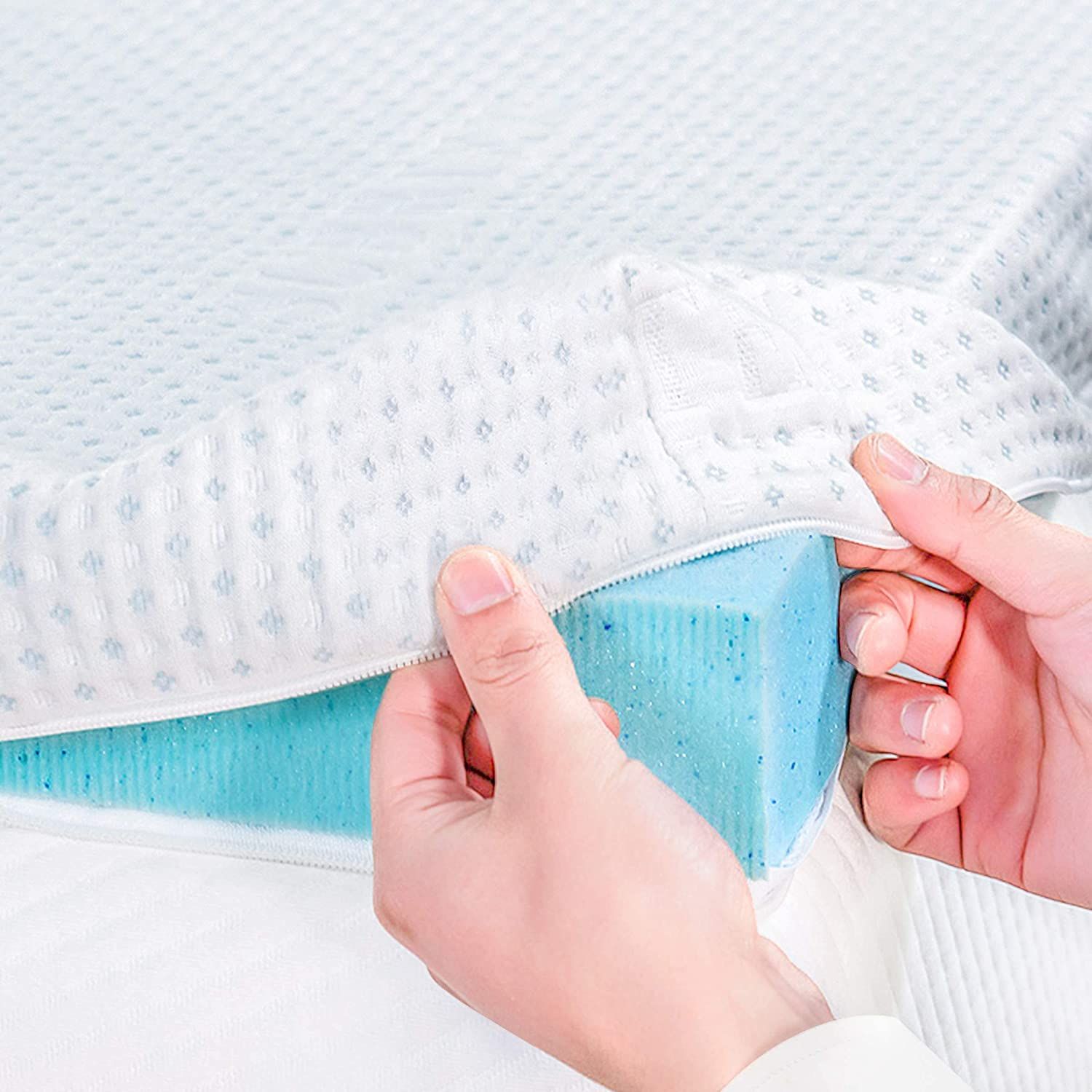 Regardless of the thickness you chose, the topper is made from CertiPUR-US certified, nontoxic, ventilated, and gel-infused memory foam. The gel aids in cooling and helps provide a springy, bounce-back texture. I reiterate: keep in mind the height that you opt for in comparison to the bed set-up you currently have. You have the option of choosing a two, three, or four-inch thickness, which also influences the softness of the product; the thicker the plusher, typically.
The topper comes with a removable, washable bamboo casing, which is great for individuals with allergies or people in need of hypoallergenic bedding. It stays in place with four adjustable elastic straps that fit mattresses up to 12 inches, and has a mesh fabric backing to prevent sliding. As of writing this review, the topper has not moved or come undone from the straps.
Ordering and warranty
The Subrtex topper is available at a variety of websites including Amazon, Walmart, and Overstock, as well as directly through Subrtex's website
Amazon directs buyers to the manufacturer's website regarding warranty questions. Subrtex has a 10-year limited warranty, and although the Amazon description mentions that the warranty extends to the toppers, communication from Subrtex is confusing. A direct inquiry to the company resulted in them denying warranties on toppers, but the pamphlet (which came with the topper) states that toppers are protected by a 10-year manufacturing warranty that covers "defects in materials or workmanship."
How does the Subrtex Memory Foam Mattress Topper rate online?
Amazon reviewers have flocked back to the platform to share their thoughts. As of writing this review, the topper that I tried (three-inch queen) has well over 8,500 reviews and a 4.5/5-star satisfactory rating.
Reviewers praised the softness and comfort of the topper, gave it a high mark for improving sleep quality, and even highly rated its ability to relieve any night-time pain.
Real Homes verdict: is the Subrtex Memory Foam Mattress Topper worth it?
If not for the memory foam and gel aspects that provide the subtle softness for comfortable support, then consider it for the cooling feature. I'm surprised by how much I ended up loving this topper. Truth be told, albeit not entirely surprising given the mattress I was used to sleeping on, I've gotten the best sleep since getting this topper. It stays in place, has the firmness I need, provides gentle softness, and is a budget-friendly option for most.