Looking for a new mattress? Our rigorous eve mattress review will start, and finish, your research.
I've been sleeping on a vast range of mattresses and putting them through their paces to bring you a true picture of how comfortable each one is and how much support it provides. I've also roped in my husband Nick to create a balanced view of what each mattress is like for women (so often the purchasers) and men, persuaded friends and family to try them out, and have conducted some semi-scientific testing so that you can buy your mattress online with confidence.
One of the (many) lovely things about the eve mattress is that they are making sure that they're impact on the planet is kept to a minimum. The UK company are aiming to be FSC (forest stewardship council) certified by the end of the year, and they refurbish or reuse all the used mattresses which are returned to them. Every mattress matters to these guys so when you buy an eve mattress, all eventualities have been carefully considered.
If you're looking to find the best mattress for your needs, you'll find plenty of choice in our guide to the top picks – but don't miss our deep reviews first.
Eve memory foam mattress at a glance
Firmness: it rates as medium/medium firm.
Sleep position: it suits side and back sleepers.
Your weight: it's suitable for people of average and above average weight.
Motion transfer: good. Fidgets won't worry you.
How it feels: supportive but not hard.
Sizes: single to emperor.
Check our Eve mattress deals page for the latest discounts, too.
Here, we review the Eve mattress (you can visit their website here), after a week spent sleeping on it. Click on the link for the latest Eve mattress discounts on their site – or read on for the full review.
Eve mattress specifications
Type: Comfort foam/memory foam
Sizes: Single, double and king (each in UK and EU versions), plus petite double, small double, super king and emperor
Who will the Eve mattress suit?
The masses: it's pretty firm but supportive. I slept better on my back than on my side.
Memory foam fans who love that sinking feeling you get;
Side sleepers and back pain sufferers: it's good for hip and shoulder pain in particular;
Fidgets: your partner will barely know you're there;
Apartment/flat and small home dwellers: it's delivered in a box, so it's easy (if heavy) to haul up narrow staircases.

Is the Eve mattress good for side sleepers?
This is pretty subjective, and although I personally slept better on my back when we reviewed it, the Eve mattress is still recommended for side sleepers too. As it's a softer mattress than others, it helps relieve pressure on the spine which is crucial for side sleepers and as you can see further down this page, when we tried this one out, Nick's spinal alignment was pretty on point.
What's the Eve mattress like to sleep on?
Can you use an electric blanket with an Eve mattress?
With the nights drawing in, you might like to know about whether you'll feel warm with this mattress. If you're sleeping on the Eve Original, you can use an electric blanket with it. Our opinion? Memory foam makes you feel warm, even if it is breathable, so we don't think you'll need one. But if you like to feel really snuggly at night – or just don't have the heating on at night, knowing whether you can use an electric blanket is useful.
As memory foam mattress virgins, Nick and I needed a few nights to adjust to Eve's rather solid surface. Compared to our pocket spring mattress with super-squishy topper, it felt flatter than a mill pond. On our first night, I started on my side, but couldn't settle, so moved on to my back whereby every muscle and bone seemed to relax into the mattress. I don't recall waking again until our four year old called out at around 6am, which is about as good as it gets in our home. I do have a bit of a reputation for thrashing about in my sleep, and usually I will wake at least once or twice. Upon interrogation, Nick said he also slept through, and I didn't wake him, for once. Hurray. He also felt it was firmer than he'd choose, to quote, 'it was like sleeping on a comfortable floor'.
The Eve scored well on motion transfer – I got Nick to do his usual flump into bed (several times more than needed actually, just for the comedy value) and felt nothing on my side. If he could manage to get undressed with more grace than a baby elephant, I think I could manage to stay asleep when he comes to bed later than me, too. A girl can dream. NB: as we were testing a super king, we did try lying closer together to replicate a narrower mattress but still not a ripple was felt when the other rolled over or generally flapped about.
For firmness, both Nick and I would rate it towards the higher end of the scale, at eight out of 10. Our six friendly testers (three male, three female, ranging from 10-17 stone) - rated it from six-nine (see the graph above), so we're not alone in that assessment.
The weight test (below) revealed little difference between the sides and centre of the mattress. Our 56lb weight sunk 8.5cm at the edge, and 8cm in the middle of the bed. In-use, I'd also say the mattress feels the same right up to the edge, making it perfect for starfish sleepers or those nights when the kids climb in and you end up clinging to the precipice.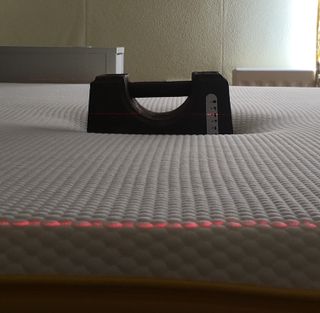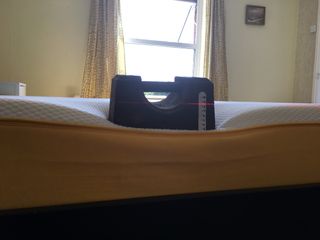 On overall comfort and posture, one thing both Nick and I noticed is that when you first lay down, the mattress is undeniably hard – it's just not a bed you can sink into at the end of the day with a relaxed sigh. However, it does give as you settle into position and within a minute or two you feel well supported, whichever way you lay. Spine alignment for side-sleepers was pretty impressive (see below). As modelled by my beautiful assistant Nick, the mattress only sunk slightly at his hips but, overall, his spine was kept pretty straight. Crucially, you never feel like you're sleeping inside the mattress and movement between positions doesn't require a winch.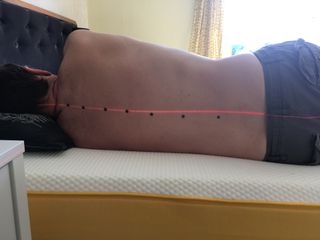 How does the Eve rate online with other shoppers?
On TrustPilot, 91 per cent (of 2,189 reviewers) give it the top 'Excellent' rating. Most comments are along the lines of 'best sleep ever', and there's lots of chat about Eve's temperature-balancing prowess. One reviewer says it helped with sciatica pains in his legs, and a fair few have found improvements in neck and back pain. Only 2 per cent rated it 'Bad', and most of these complaints seem to relate to order/delivery malfunctions rather than product flaws.
Is the Eve mattress good for backache?
As we've seen from other reviewers, people who suffer with backache or neck pain found significant improvements in using this memory foam mattress. The Eve mattress is ideal for motion isolation, plus it contours the body and offers targeted pressure relief so your joints will be supported as you sleep.
What do you get for your money?
A 10 year guarantee; free returns after 100 days if you don't love it more than chips.
Is the Eve mattress worth it?
If memory foam is your thing, then Eve is a very worthy contender in the competitive bed-in-a-box market. It is fairly priced and wins on temperature control and support, plus movement is a breeze. I found it a little too firm but, as my mum will readily tell you, I've always been a bit soft (I prefer to think delicate and/or sensitive). I also weigh less than 9 stone (humble brag alert), so it could be that I am just not heavy enough to squish down into the foam – our daughters had no problems bouncing on it! All of our six friends who came and had a little lie down said they found it perfectly comfortable; one nearly fell asleep. Oh and the box provided hours of den-making fun.
Eve mattress fillings
From the bottom up: a 17.5cm thick foam core provides a rigid platform that can sit on any decent bed base (slatted bases should be no more than 70mm apart). Some mattresses are too heavy for slats so this is a win if you're not upgrading the whole bed.
Next there's a 3cm layer of breathable foam designed to stop you sinking (a common complaint in deep memory foam beds) and help prevent sweating – ick!
Then there's the evecomfort layer, which is a 3.5cm-thick open cell hybrid foam. In English, this is essentially a breathable alternative to memory foam that has similar responsiveness to pressure but without the sinking feeling that has given memory foam a bad rep. The open-cell part is all about air circulation/cooling.
The top cover, which zips off for washing, is also breathable and made from moisture-wicking fabric.
Despite testing in heat wave conditions, I didn't suffer with night sweats, which is nice.
Ordering and delivery
About our review – and our reviewer
Linda Clayton has been writing about homes and interiors for nearly 20 years, working for publications such as Homes & Gardens, Country Homes & Interiors, Real Homes, Ideal Home, Livingetc and House Beautiful. Linda and her husband spend between five and 10 nights sleeping on each mattress. Find her on Twitter at @lindaclayton and @lindaclaytonwrites on Insta.
Delivery is free and within three working days. You can get next day delivery for a tenner, but only if you're fairly urban. There's an option to sign in and track your order online.
The box is impressively small, especially considering ours contained a Super King, but, boy, was it heavy. As delivery is only to the ground floor, you will need help to get the box upstairs (muscles dependent obvs).
Happily returns are collected from the bedroom so you won't have to manhandle it down the stairs once it's released from the box and expanded to full-size.
More on mattresses: