Bissell Little Green Carpet Cleaner Quick Menu
I was excited to try the Bissell Little Green Carpet Cleaner 1400B, not only for its fun color but also its compact size that makes it easy to store. As someone who's accident-prone, recently moved into a townhouse, and drives an SUV, I am always on the lookout for a good upholstery-cleaning appliance.
From keeping my black and white in check to ensuring my automobile is ready for passengers, this deep cleaner promises to do it all. And, just like a good Hydrofacial, it's semi-satisfying to see the gunk that's been lifted from fabric floor covering and furniture.
The best upholstery cleaners are great for cleaning up small messes like coffee spills or dirt that are tracked in from moving. I was curious to see if this stain remover could pack a big punch in cleaning ability and potentially replace the heavy-duty deep cleaner that I use for all the carpeted areas in my home.
TLDR
I appreciate how portable this carpet cleaner is, which is great if you're cleaning spots in a multi-story home like my townhouse. All of the accessories fit on the body of the cleaner except for one extra attachment and the Hydrorinse self-cleaning tool (available directly from Bissell). It also makes it easier to use on the stairs, and the body of the carpet cleaner has a handle that you can use to hold it as you're making your way down or up. I also found that the fresh scent lingered for a day after use, which was a pleasant byproduct of using it. Maybe this is the secret that people with nice-smelling homes have been gatekeeping all of this time.
Testing the Bissell Little Green Carpet Cleaner
My name is Aleenah Ansari (she/her), and I'm a storyteller in every context. I'm a freelance writer covering travel in the Pacific Northwest and beyond, entrepreneurship, and representation in media for publications like The Seattle Times, Insider, Byrdie, and more. I tested the Bissell Little Green Carpet Cleaner in my new townhome.
Bissell Little Green Carpet Cleaner review
Bissell Little Green Carpet Cleaner specifications
Model: Little Green® Portable Carpet Cleaner (Model No. 1400B)
Capacity: 48 oz. clean / 48 oz. dirty
Cordless: No
Cord length: 15 ft
Weight: 9.6 lbs
Attachments: 2
Unboxing and setting up the Bissell Little Green Carpet Cleaner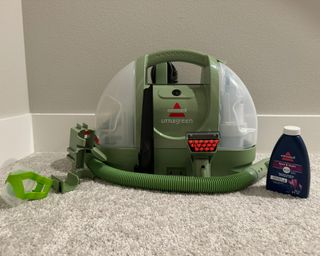 The cleaner came in a large brown box with the following:
Little Green with 48 oz. tank
Bissell Spot & Stain with Febreze Freshness formula (8 fluid ounces)
3" Tough Stain Tool
HydroRinse™ Self-Cleaning Hose Tool
Flex hose grip
Hose grip bracket
An instruction manual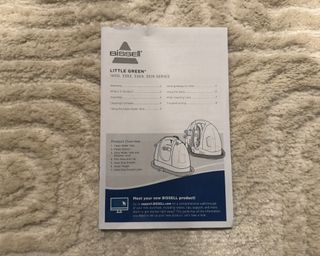 The box that the carpet cleaner came in and additional pieces used for packing were easy to recycle, and the next step was to put all the smaller attachments onto the body of the carpet cleaner. The cleaner is mostly assembled, though note that you need a Phillip head screwdriver (available from Amazon) to use the provided screw to attach the hose grip bracket, which has a latch to hold the hose in place. It only comes with one screw, so don't lose it! Most of the components, like the hose grip bracket, snapped into place with relative ease.
Using the Bissell Little Green Carpet Cleaner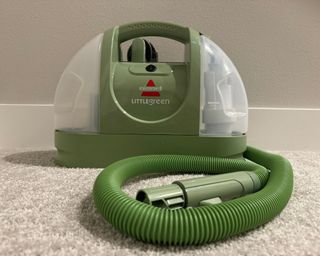 The Bissell Little Green Portable Carpet Cleaner 1400B has two removable water tanks — one for clean water and one for dirty water. It has a flexible accordion cord that does not stretch in length and it can be wrapped around the hose grip latch for more impact storage.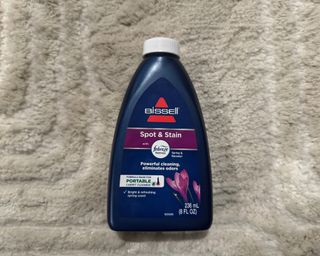 This model comes with 8 ounces of biodegradable, eco-friendly cleaning solution, and Bissell also sells a spot and stain remover for pet stains as well as an OXY boost to increase effectiveness. FYI, when you do run out, Bissell's DeepClean + Refresh with Febreze Freshness Spring & Renewal Formula is available on Amazon. You can buy it as a one-off purchase, or to get the most bang for your buck, the e-retailer has its own subscribe and save initiative which (with Prime) works in a similar fashion to the best cleaning subscriptions out there.
To get started, grab the clean water tank and use the line indicating the formula and water level to guide how much solution you need to make. To prep an area, use your vacuum cleaner first to get rid of larger debris. The carpet cleaner evenly sprays the cleaning solution by pressing a trigger, and then you manually scrub stains or tough spots with the 3" Tough Stain Tool, which sucks up excess water and the solution.
The suction is somewhat powerful, and it took quite a few passes to partially dry the area after cleaning, but it still required air drying. The fresh scent of the carpet cleaner lingered into the next day, which was nice, and my cream carpet was a little fluffer to the touch.
At times, I wasn't sure how effective the carpet cleaner was since our home was relatively new, but the proof was in the color of the dirty water after use, which made it clear that dirt was being removed even if it wasn't to someone looking at it alone.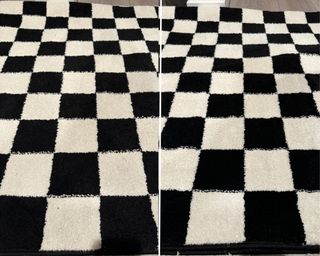 In looking at the before and after, the white spots of my checkered rug were visible brighter, which was a reminder that sustained carpet cleaning preserves the life of carpets and rugs over time.
Using the Bissell Little Green Carpet Cleaner in my car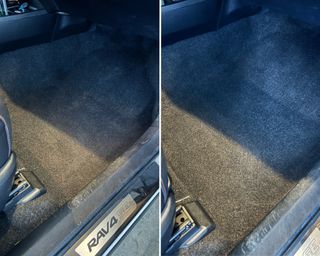 It is clear that this carpet cleaner is designed for spot cleaning rather than large surface areas, which is understandable given the more compact size. For example, this carpet cleaner was great for cleaning upholstery and smaller areas of my car, and we plan to keep this carpet cleaner near the garage for easy use.
In some instances, I wish that the green hose used for cleaning was longer because I had to rely on the grey cord plugged into the outlet, which was tedious to move around at times when cleaning in the car.
Cleaning the Bissell Little Green Carpet Cleaner
To clean this cleaning supply, empty, and rinse the dirty water tank after each use or once it reaches the fill line. I preferred to clean it after each use to ensure the longevity of the vacuum, and so the dirty water wouldn't sit in the tank for a long time. To clean the Bissell Little Green Carpet Cleaner, the only other step is to clean the spout that attaches to the hose using the provided attachment. It would be nice if the cord was retractable, but it's still easy to wrap around the base of the cleaner.
Is the Bissell Little Green Carpet Cleaner right for you?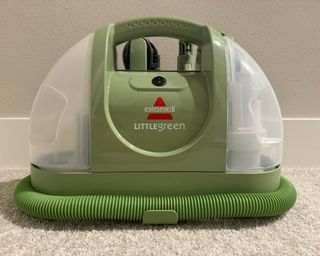 I currently use the Bissell CrossWave Hydrosteam (available from Amazon), which is a better option if you have multiple types of floors to clean since you use it to steam clean and mop carpet and tile. The Bissell ProHeat 2X Revolution Pet Pro (also available on Amazon) has more options to pre-treat stains and multiple cleaning modes, which makes it better for use on multiple fabric services. Alternatively, try the Bissell SpotClean Pro which we gave 4.5 stars out of 5 in our review.
Overall, the Bissell Little Green Carpet Cleaner is great for spot cleaning smaller areas and for portability, if you want to use it in larger spaces, take it on the go, or use it for cleaning specific areas like a car, or after pets.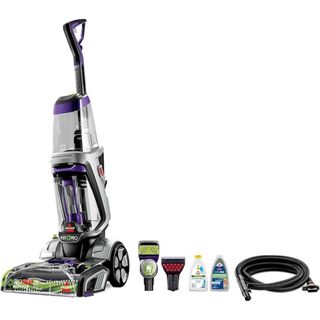 12-row cleaning technology
Bissell ProHeat 2X Revolution Pet Pro Plus
Price: $308.99
Real Homes rating: 4.5 out of 5 stars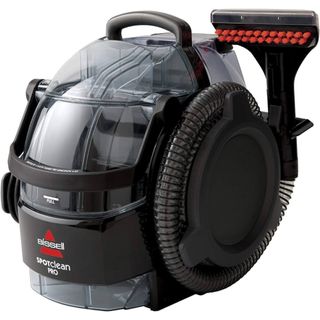 Instant results
Price: $175.09
Real Homes rating: 4.5 stars out of 5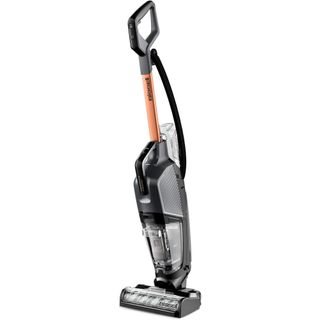 Vacuum, wash and steam
Bissell CrossWave Hydrosteam
Where to buy the Bissell Little Green Carpet Cleaner?
The Bissell Little Green Carpet Cleaner can be purchased directly on the brand's site, as well as Amazon, and all good home improvement stores.
How we test upholstery cleaners
We test solutions and machines in our own homes, to clean real-life day-to-day messes that we're faced with. We don't go spilling red wine on our carpets and rugs on purpose, because that would be counter-productive. Instead, we keep them underneath our sink and in our cleaning closet and use them when necessary, while snapping photos as we go.
Here are some of the things we look out for:
Price: How does it compare to similar models on the market
How efficiently does it get rid of the stain? We look at how many passes it takes to remove the mess in question.
Accessories: How useful are the additional parts provided in cleaning?
Nozzle dimensions: Is it long enough to extend to the area you want to target, and is it thin enough to get to hard-to-reach areas?
Weight: Is it hard to carry upstairs or outside?
Water tank: How easy is it to fill and empty? Does it detach?