Shark MessMaster carpet cleaner review: Quick Menu
The Shark MessMaster carpet cleaner is a must-have in my arsenal. I love my pets more than anything, but they definitely make a mess in my home. It seems like there's always dirt tracked across the floor, pet hair on the sofa, or water splashed around their bowls, which is why a versatile and multifunctional appliance is essential.
This vacuum is a new release from the brand, and it's designed to tackle "life's un-vacuumable messes," including both wet and dry debris. However, there are a few features that set this little vacuum apart from your average wet-dry vacuum, including the option to bag debris as you clean and its self-rinsing design. (Say less!)
To see if it could really master the mess, I put it to the test in my home for a few weeks to see if it was the best carpet cleaner for the job. Admittedly, it totally exceeded my expectations. The suction power is enough to impress even the worst vacuum snobs (me), and the overall design is well-considered and easy to use. I love it, and here's why I think you will, too.
What I thought of the Shark MessMaster carpet cleaner
If you have a smaller home and don't want to store a full-size wet-dry vac, the Shark MessMaster is 100% a worthwhile investment. It is a little more expensive than similarly-sized wet-dry vacuums, but I was blown away by its powerful suction, which made quick work of all kinds of grime. I also loved that you can use any type of plastic bag inside the vacuum's dust cup, which makes clean-up infinitely easier. Overall, this premium vacuum is compact yet highly versatile, and I have no doubt it will get plenty of use in busy households.
Testing the Shark MessMaster carpet cleaner
I'm Camryn Rabideau, a freelance writer and product tester for Real Homes, and I definitely have a "the more, the merrier" attitude when it comes to animals. I currently share my house with two sweet golden retrievers and one rambunctious kitty, and there's never any shortage of pet hair and dirt around here, which makes me the perfect person to test out vacuums — or any sort of cleaning supplies for that matter.
Shark MessMaster specifications
Dimensions (in.): H13.5 x W16.5 x D10.5
Weight: 9.8 pounds
Wattage: 950 watts
Capacity: 1 gallon
Cord length: 15 feet
Hose length: 3 feet
Warranty: 3 years
Includes: Crevice tool, squeegee tool, carpet tool, 3-piece extension wand, and accessory holder
Unboxing and setting up the Shark MessMaster carpet cleaner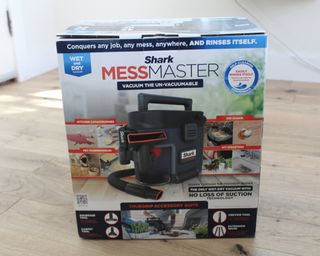 The Shark MessMaster was quick and easy to unbox. There's a handy quick-start guide right on the top flap of the box, and it tells you what's inside and how to put the vacuum together.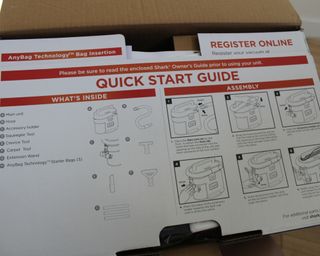 The components were packed in molded cardboard, and everything was wrapped in its own individual plastic bag (not ideal if sustainability is a top priority).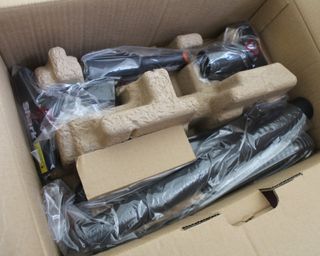 Once I unpackaged the pieces, it only took around a minute to put the carpet-cleaning vacuum cleaner together.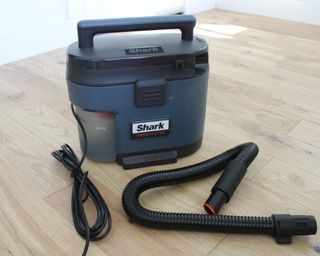 Right away, I loved that the appliance comes with an accessory holder that clips onto the side of its body.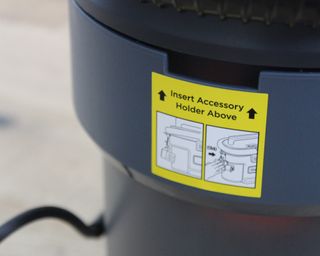 There are three tools included with the device — a crevice tool, a squeegee tool, and a rug tool — and you can store them all right on the vacuum (two fit in the accessory holder and you leave the third attached to the hose). I'm always misplacing vacuum attachments, so this was a major benefit in my book.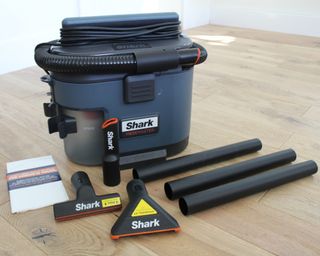 Plus, the hose and power cord both wrap around the top of the vacuum, keeping everything neat when you put it away. The only pieces that don't store nicely are the extension tubes, but I didn't end up using them that often anyway.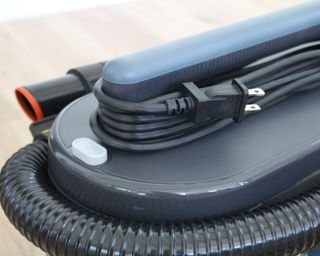 Using the Shark MessMaster carpet cleaner
Over the course of a week, I used the Shark MessMaster to clean up a variety of messes around my home, including both wet and dry debris.
Cleaning dry messes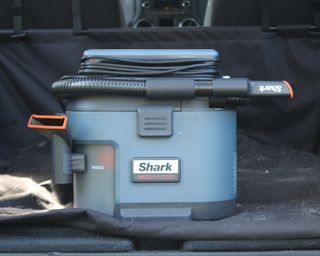 My Jeep is always dirty, as I use it to tote around my two dogs more than anything else. There's always dirt and sand on the floor mats and dog hair all over the upholstery, so I decided to test out the MessMaster by giving the interior a long-overdue cleaning.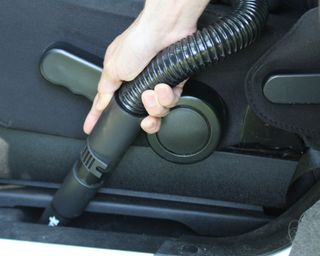 Right away, I was happy to find that the vacuum had an extra-long power cord, which gave me the flexibility to work all around the car. I used the crevice tool to get debris out of the cracks between the seats and around the doors, and its powerful suction had no problem picking up dirt, dust, and even bigger debris like straw wrappers, leaves, and small rocks.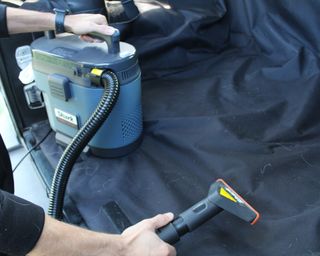 Once I had gotten the edges of the car clean, I switched over to the carpet tool to tackle the seats, floor mats, and trunk space. It did a good job picking up dirt and sand, but it wasn't the best vacuum for pet hair. It was able to pick up any loose hair, but it only pushed around the fur that was stuck in the upholstery. To get that stuff out, I'd definitely need a vacuum with a specific pet hair attachment.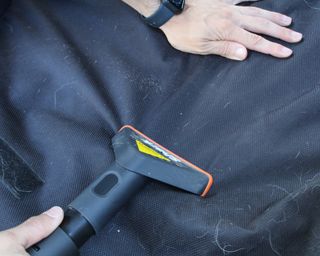 I will say that the machine is a bit heavy to carry around, especially once it starts to fill up with debris. My arm got tired from holding the vacuum up as I cleaned, so I ended up resting the body on the car seat or floor as I worked around it with the hose and nozzle.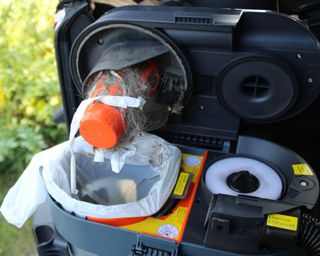 Cleaning wet messes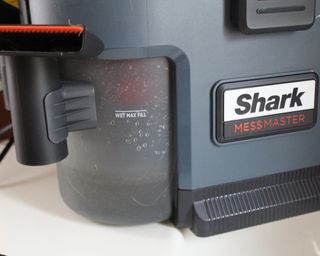 I sometimes find unidentified stains, courtesy of my pets, on the carpets in my home, and while I've mastered the art of stain removal when cleaning a rug, I hate that it generally leaves a wet spot on it for several hours. I decided to see if the MessMaster could help speed up drying time, so I used the vacuum's carpet attachment to suck up moisture and leftover stain remover from my living room rug.
The carpet attachment didn't do a great job, but the magic happened when I switched over to the squeegee tool. Specifically designed for wet messes, this tool was able to pull quite a bit of liquid from the rug, and I was happy to find that the carpet dried in about an hour. It's definitely a great life hack if you're tired of stepping on wet spots after cleaning your floor.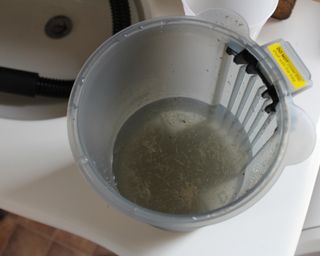 I also tried the vacuum on some water in my sink — just to see how it handles large amounts of liquid — and it honestly blew my mind. It sucked up several cups of water in just a few seconds, leaving the sink practically dry. I'll 100% be using this to clean up spills around the house from now on instead of soaking them up with towels.
Cleaning and maintaining the Shark MessMaster vacuum cleaner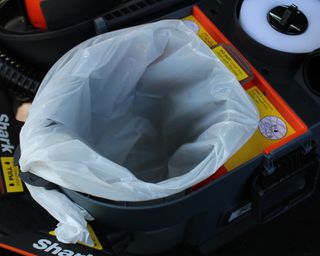 One of the things I dislike about my full-size wet-dry vacuum is that it can be really gross to clean out. I'm talking gross muddy water and slimy clumps of hair, and to be honest, I usually make my partner do it. I thought it was absolutely genius that you could put a plastic bag inside the MessMaster.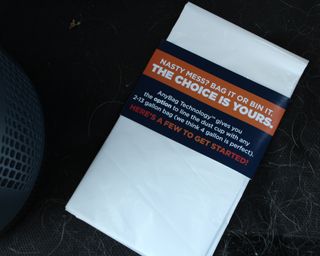 The Shark MessMaster comes with three small trash bags to get you started, but you can actually use it with any plastic bag. It would work well with plastic grocery bags (because don't we all have a bag full of bags somewhere in the house), and the vacuum captures all the dirt you suck up inside the bag. From there, you just have to pull out the bag and throw it away — so easy! I did have to remove the filter and bang it off to get dust and pet hair out of it, but overall, it was much easier than cleaning a regular wet-dry vacuum.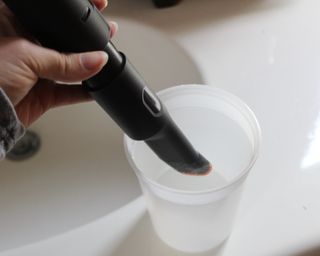 If you use the vacuum to clean up wet debris and things get a little grimy, the vacuum can also rinse itself out. The brand says to just suck up a cup of water into the dust cup, but I found a few cups were needed for a thorough rinse. Still, this is a super easy way to get lingering debris out of the tube and inner workings of the vacuum, and you can even put the whole dust cup into the dishwasher if you want.
Is the Shark MessMaster right for you?
For cleaning up everyday messes around the house, the Shark MessMaster is a top choice. It's a seriously powerful little vacuum, and it can handle all sorts of debris, including large amounts of liquid. Plus, it's incredibly easy to clean out when you're done — you don't even have to touch the dirt, thanks to the unit's optional bags. It stores compactly, too, so it won't take up too much space in your home. Overall, you'll be hard-pressed to find a more versatile and well-designed vacuum.
Here are three other options if this carpet cleaner isn't quite right for you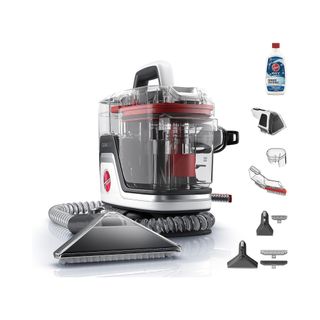 Top-rated cleaner
1. Hoover CleanSlate Plus
This do-it-all machine comes with a range of attachments to reach and clean pretty much anywhere in your home. It can reach high, low, and tight spaces. It has a cleaning mode and is also nice and compact as well as lightweight.
This carpet cleaner is currently in review.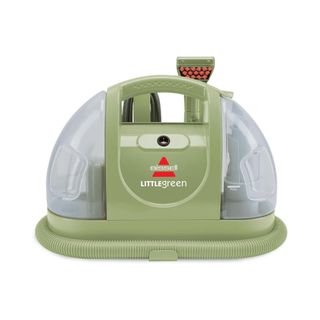 Affordable carpet cleaner
This small machine is the perfect buy if you're on a budget and want something you'll use here and there. It's best for cleaning furniture and targeting carpet stains. The small machine will easily fit in your cleaning closet or in a cabinet, and it went viral for a good reason!

This carpet cleaner is currently in review.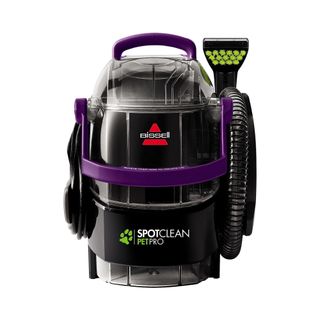 Best for pet owners
3. Bissell SpotClean Pet Pro Portable Carpet Cleaner
If you're a pet owner, then this is a total must-have. It's also said to be Bissell's most powerful carpet-cleaning machine. This pick is ideal for cleaning up water-based spills as it comes with a specially designed head. It's a little more expensive than the Little Green but it has a longer reach. It's also a touch heavier and slightly bigger.
This carpet cleaner is currently in review.
Where to buy the Shark MessMaster vacuum cleaner
The Shark MessMaster can be bought from a number of retailers including Amazon, Best Buy, The Home Depot, Kohl's, Macy's, Target, and QVC (where I've seen it for under $100). Using our handy widget is one of the quickest ways to view today's best deals.
How we test carpet cleaners
When it came to testing this carpet cleaner to suit your needs, here are a few factors I took into account...
1. Capacity
This machine has separate dirty water and clean water tanks so that you're never going to be cleaning your floors with dirty water. Because yuck. So, with that in mind, the capacity is going to be pretty generous.
2. Cable and hose length
This is another factor that you won't need to worry about if your home is small or if you'll be using this machine solely to spot clean. Don't assume that you need a huge hose or cord if your home is smaller as this will only make your machine heavier to carry and more cumbersome to use.
3. Attachments included
If you know you'll only be using your carpet cleaner for targeted messes, such as a red wine stain on a rug or a dog puke stain on a sofa, then the general attachment will do just fine. Otherwise, if you'll be taking yours out to your car or using it on your stairs, you might want to check out machines that come with more than one attachment.
4. Weight/heaviness
If you don't own stairs, then this won't be a massive biggie, but for anyone who does and will be lugging this up and down them, we'd go for something a little lighter, perhaps under 10 pounds, especially because carpet cleaners can get quite heavy when they are filled with dirty water.
5. Ease of cleaning
It's imperative that you clean your machine after each and every use (trust us!) or it will get smelly — fast. Think about how much time you'll have to maintain yours, and whether you'd rather have something with dishwasher-friendly parts.