Kenmore Spotlite portable carpet spot and pet stain cleaner quick menu
When you have pets in your home, stains are bound to happen, and they happen often. I keep a spray bottle of stain remover and plenty of paper towels and rags handy, but even with prompt treatment, sometimes pet messes turn into stains that I just can't get out of carpets by hand. But buying a full-size carpet cleaner seems like overkill, and I know I won't want to lug a heavy machine around.
The Kenmore SpotLite Portable Carpet Spot and Pet Stain Cleaner is designed to help you clean stains from carpets, upholstery, and even car seats. It's lightweight and compact.
It beats those bulky carpet cleaners when it comes to storing and carrying it throughout the home. It also delivers impressive spray and suction capabilities, so it's ready to tackle those tough stains that hand scrubbing just won't touch.
What I thought of the kenmore spotlite portable carpet spot and pet stain cleaner
The Kenmore SpotLite Portable Carpet Spot and Pet Stain Cleaner is a great way to address tough and pesky stains. It's simple and easy to use, and while it would benefit from motorized brush heads for more powerful scrubbing, it still put in an impressive performance when I tested it on low and medium-pile carpet with tough, set-in stains.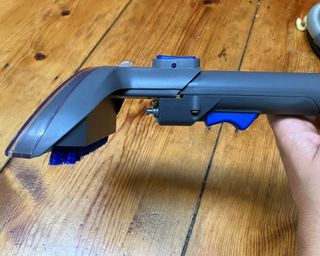 This carpet cleaner is, above all, convenient to use. While cleaning the machine itself is time-consuming, I could see this carpet cleaner being an excellent addition to homes with kids and pets. It removed some tough stains that I didn't think would come out, and since its suction is so strong, the treated areas dried quickly, a must-have in a busy home.
I'm Paige Cerulli and I specialize in product reviews. I tested the Kenmore SpotLite Portable Carpet Spot and Pet Stain Cleaner in my home. I share my home with four cats, so I was able to test it on several stains and areas of dirty carpet.
Kenmore Spotlite portable carpet spot and pet stain cleaner specifications
Model Name: Kenmore SpotLite Portable Carpet Spot and Pet Stain Cleaner KW2005
Dimensions (in): H13.4 x W9.2 x D14.1
Weight: 10.23 pounds
Voltage: 120 volts
Number of speeds: 1
Corded or cordless: Corded
Cord Length: 20 feet
Accessories: 3.5" tough stain tool, 6.5" wide path tool, trail size of cleaning formula
Available colors: Black
Setting up the Kenmore Spotlite portable carpet spot and pet stain cleaner
This carpet cleaner requires minimal, easy setup. It arrives nearly fully assembled. The hose storage holder has a screw already inserted, so all I had to do was loosen the screw and mount the holder to the side of the carpet cleaner.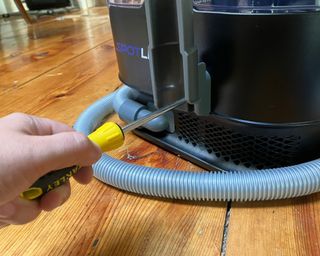 The two tools easily fit into the end of the hose, and the tool release button is easy to operate, even with one hand.
I wrapped the power cord around the cord hooks, making for neat storage. The hose was a little difficult to fit in the storage holder for the first time, simply because I had to stretch it out. After using the vacuum, it was much easier to store the hose.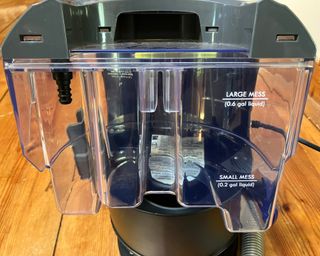 The clean water tank easily lifts up, thanks to the integrated handle in its lid. The cap is generously sized, so I was able to fill the tank using my kitchen faucet. The reservoir has a "small mess" and "large mess" fill line, allowing you to prepare just the amount of solution needed for the job. I prepared the "small mess" amount, which is 0.2 gallons of liquid, so still very sizable, and the included cleaning solution has a pleasant and mild smell to it. The water has to be at room temperature, so I let it sit for a few hours. This could be a downside if you're not able to plan your cleaning sessions in advance.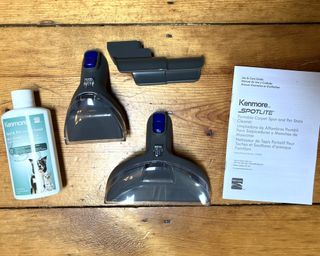 Once the solution was at room temperature, I inserted the tank back into the carpet cleaner. The construction of the machine guides the tank into place, so it's very easy to insert.
Using the Kenmore Spotlite portable carpet spot and pet stain cleaner
Since the carpet cleaner weighs less than 11 pounds empty, it's still very easy to carry, even with water in the clean water tank. It features a comfortable handle between the tanks, so carrying it through a multi-floor house would not be difficult.
It's very easy to operate, too. I used the larger wide path tool for most of my cleaning, and it's easy to fit onto the hose. The generous 20-foot cord meant I could always find a nearby outlet, and the six-foot hose offers plenty of maneuverability when cleaning stains from vehicle upholstery and furniture.
Operating the machine is as simple as plugging it in and pressing the power button. Once the machine was running, I held the tool over the stain and pressed the spray trigger on the underside. The trigger is generously sized and easy to depress, and the spray is strong and generous.
Once I'd sprayed the stain, I used the brush on the end of the tool to scrub the stains. This is where a power brush head would come in handy, especially given the fact that I have some hand and wrist injuries that make lots of scrubbing uncomfortable.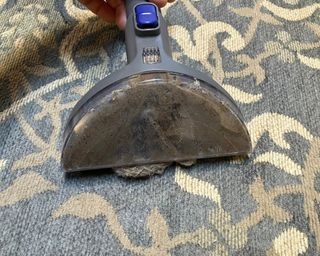 After scrubbing the stains, I slowly ran the tool back and forth over them to remove the excess water. The suction was impressively powerful, and I could see the dirty water accumulate in the dirty water tank. I'll be honest - I was shocked at how dirty the water actually was, but it also highlighted what an effective job the machine was doing.
I tested this carpet cleaner on several pet stains (mostly cat hairballs and vomit, and one stain of an unknown origin) in my home. It cleaned them very well, and even the extra-tough stain of unknown origin barely shows now. Keep in mind that Kenmore recommends you spot-test the cleaning solution before using it on a large area. I didn't have any issues with the solution damaging carpets.
The machine's compact design was very helpful when cleaning my carpeted stairs. It's compact enough to easily fit on a single stair, and the long hose meant I could easily maneuver around the machine without risking tipping it over.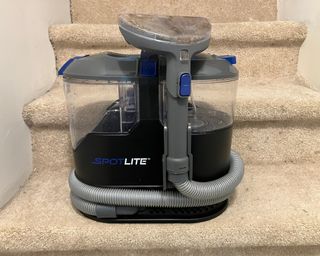 This carpet cleaner's construction makes it suitable for smaller jobs, but it also has the capacity to handle big cleaning tasks. Its dual water tank design lets you continuously clean, and you don't have to worry about the dirty water contaminating the clean water. The dirty water tank holds 0.5 gallons, and I didn't even come close to halfway filling the tank after cleaning my home. The design would allow for uninterrupted use, even when you're cleaning many stains in a single session.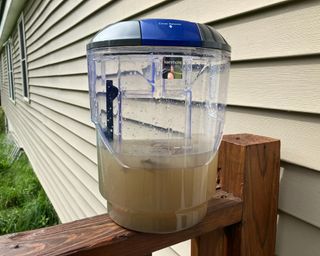 I emptied the dirty and clean water tanks when I was done. The clean water tank can be easily rinsed out. The dirty water tank features a lid that lifts off entirely, which makes it easier to clean it. I opted to rinse it with my garden hose. It's a little tricky to clean thoroughly since there are many crevices, but the opening is large enough to fit your hand into for cleaning and drying.
One downside is that Kenmore states that you shouldn't replace the water tanks until they're completely dry, so you will either need to manually dry the tanks or wait for them to dry before using the machine again. I found I wasn't able to fully dry the dirty water tank by wiping it down because of its crevices, so ultimately left it to air dry.
Maintaining the Kenmore Spotlite portable carpet spot and pet stain cleaner
According to Kenmore, you can wipe the outer surface of the carpet cleaner with a soft cloth (available from Amazon) dipped in mild liquid detergent (ie: Tide's Free and Gentle on Amazon) and water. When storing the machine, the cord and hose storage keeps things neat. Kenmore instructs to empty, rinse, and dry the clean and dirty water tanks.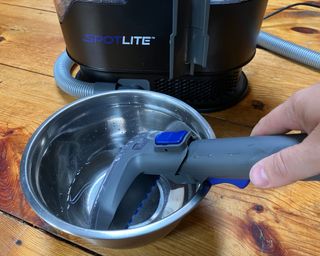 Kenmore recommends cleaning the tools with water after each use. This involves pressing the cover release button to remove the tool cover and remove the insert. This takes some strength and is absolutely a messy job. I noticed that after a single use, the tools already had a strong, unpleasant smell. Once disassembled, the tools can be rinsed with water, and then air dried before reassembling.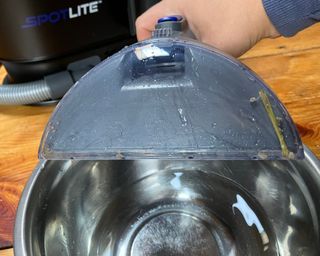 I was never able to remove the cover from the larger tool, and ultimately turned the machine on and relied on water suction to clean it as much as possible. The small tool's cover was much easier to remove.
Additionally, it's recommended to clean the hose with water after each use by sucking up clean water from a bowl or bucket.
Is the Kenmore Spotlite portable carpet spot and pet stain cleaner right for you?
The Kenmore SpotLite Portable Carpet Spot and Pet Stain Cleaner does a good and thorough job of removing stains, even old stains that are set into the carpet. It's lightweight and very portable, and is also compact and easy to store.
Keep in mind that the machine's performance partially depends on how much elbow grease you put into scrubbing the stains. There is no power brush option, so this machine still requires some manual effort. Plus, you'll spend nearly as much time cleaning the machine after use as you will cleaning stains, so this machine is probably best suited for homes with pets or with significant stain removal needs.
If it isn't what you're after, take a look at these alternatives: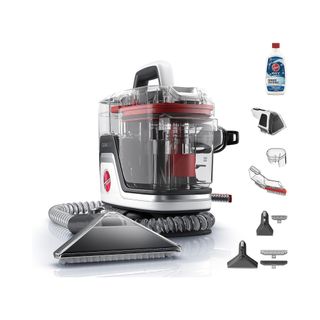 Best overall
1. Hoover CleanSlate Plus
This do-it-all machine comes with a range of attachments to reach and clean pretty much anywhere in your home. It can reach high, low, and tight spaces. It has a cleaning mode and is also nice and compact as well as lightweight.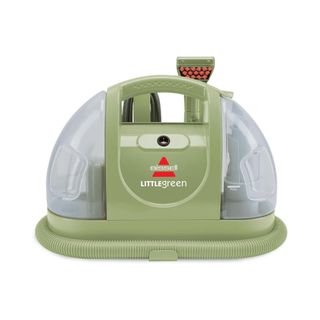 Budget
This small machine is the perfect buy if you're on a budget and want something you'll use here and there. It's best for cleaning furniture and targeting carpet stains, and it's nice and small so it'll easily fit in your cleaning closet or in a cabinet. It went viral for a good reason!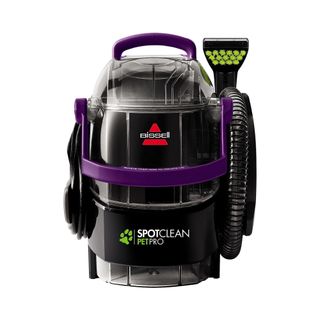 Best for pet owners
3. Bissell SpotClean Pet Pro
If you're a pet owner, then this is a total must-have. It's also said to be Bissell's most powerful carpet-cleaning machine. This pick is ideal for cleaning up water-based spills as it comes with a specially designed head. It's a little more expensive than the Little Green but it has a longer reach. It's also a smidge heavier and a tiny bit bigger.
Good to know
Instructions
The carpet cleaner includes an instruction book with clear illustrations and detailed, step-by-step instructions.
Warranty
Kenmore backs this stain cleaner with a one-year limited warranty.
Where to buy the Kenmore Spotlite portable carpet spot and pet stain cleaner
You can buy the Kenmore SpotLite Portable Carpet Spot and Pet Stain Cleaner directly from Kenmore. It's also available from The Home Depot and Kohl's.
How we tested the Kenmore Spotlite portable carpet spot and pet stain cleaner
Kenmore sent me the carpet cleaner and I tested it in my home for several weeks before writing this review. I used the following criteria to test and evaluate the machine:
Unboxing: I evaluated the carpet cleaner's packaging, including the condition of the machine when it arrived. I considered the use of sustainable materials and gave this product extra points because no Styrofoam was used. I considered how easy it was to unbox and assemble the machine.
Operation: When testing the carpet cleaner's operation, I used it on a variety of stains, including pet stains and older stains. I also used it on multiple types of carpeting and looked for a consistent, quality performance.
Ease of use: I considered how easily this machine could be used, transported throughout the home, and then stored. I considered factors like its weight, how compact it is, and whether it can fit in tight spaces, like carpeted stairwells.
Ease of maintenance: I also considered how easily the machine can be maintained, as well as whether replacement parts are available.