To be totally honest, I think cleaning supplies subscriptions are the way forward. Staying on top of cleaning isn't always an easy process, and it gets more difficult when you end up running out of the product that you need when you need it. Anyone else running to Target in the middle of the night for a dish soap emergency?

That's where a cleaning supplies subscription service that delivers the perfect solution right to your door comes in. With a subscription, you don't need to worry about adding cleaning supplies to your weekly grocery run or lug home big bottles of detergent. On top of being convenient, many subscription services also offer significant discounts and reduce plastic waste.
Whether you want all the best cleaning supplies you could ever need delivered on a specific schedule, you're looking to investigate some greener alternatives to your current products, or you just want a cleaning solution with ingredients you can name, we have you covered!
Quick Menu: Cleaning Supplies Subscriptions
Best cleaning supplies subscriptions
Why you can trust Real Homes Our expert reviewers spend hours testing and comparing products and services so you can choose the best for you. Find out more about how we test.
I compiled all the best cleaning supplies subscriptions so you never have to make those emergency runs to Target for dish soap when you've run out. Now you'll never have an excuse for not having cute cleaning supplies on hand.
Prices were correct at the time of publishing.
Grove Collaborative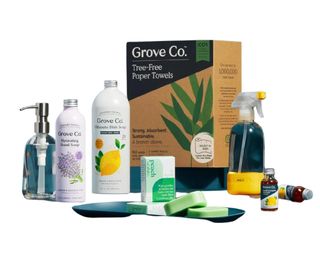 Grove specifically aims to help folks cut down on plastic waste and delivers sustainable brands for eco-friendly cleaning. They boast over 200 brands including Seventh Generation, Burt's Bees, Mrs. Meyers, and even their own home care brand Grove Co.

You'll find options for glass receptacles so that you can mix your own cleaner with water and concentrate, rather than buying a new one each time. Their prices are also super affordable compared to many brick-and-mortar locations, making them perfect for anyone balancing a budget.

Unlike many other subscription options, you'll pick the brands and products that you need delivered, along with the frequency of deliveries. This means you can ensure you have what you need, when you need it. Subscriptions can also be updated, changed, or edited at any time, making it easy to add new must-haves. With options for deliveries every 4 weeks, 6 weeks, or 8 weeks, you can also make sure that different items arrive precisely when you need them.

With options that cover everything from pet supplies to personal care, Grove Co. has tons of options for an earth-friendly home. By allowing you to customize and subscribe to the crucial items for your home, you know you can always access the brands you love, at prices that can't be beat.
Blueland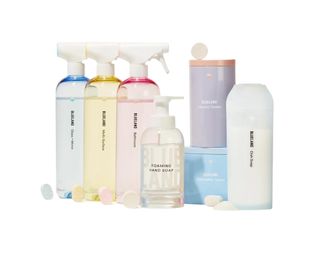 For anyone who considers their carbon footstep, single-use plastic is one of the largest problems folks run into. Blueland delivers stellar cleaning products for the home that are all based around a tablet and reusable bottle system that eliminates single-use plastics, without compromising on the cleaning ability of their product.

To start, you'll pick a starter kit. There are seventeen options to choose between, and they cover everything from just glass and mirror all the way up to their Clean Suite Kit which has everything you need to get started with bathroom cleaning supplies, dishwashing, hand soap, multi-surface cleaner, laundry, and more.

When you pick out your starter set, you will get enough cleaning tablets for each surface, along with a Forever Bottle, Forever Tin, or Forever Shaker. You can outright buy the kit one time, but this is also when you have the option to subscribe to the tablets that make up the cleaning product supplied by Blueland. You have the option of deliveries every three months, four months, five months, or six months.
You can also choose specific items to get refills on, at the same frequency if you only want to keep getting specific products. No matter what products you subscribe to, there is a 10% discount when subscribing, and they always come in the same eco-friendly packaging that Blueland is known for. All of their packaging is recyclable or compostable, if not both.
Branch Basics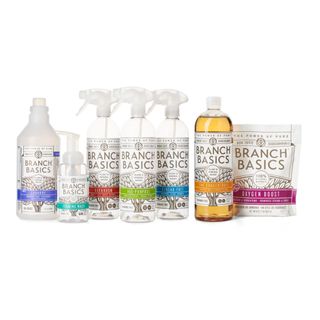 Not all cleaners are made equal, and not all people will react the same to cleaning agents brought into their homes. If you've found yourself having reactions to the harsh agents in other cleaners, then Branch Basics may be the first cleaner that keeps you in mind.

Branch Basics uses one concentrate that is broken down into specific sizes for use around the house. You can pick up all-purpose bottles, bathroom bottles, streak-free bottles, and even laundry bottles right from Branch Basics, to ensure they're diluting the concentrate at the correct levels. The perfect addition to your cleaning caddy.
The concentrate itself is plant-based with natural water softeners and flower extracts and is a gentle but thorough cleaner safe for skin and surfaces all over your home. The Branch Basics Oxygen Boost is also a powerful boost to whiten and brighten fabrics or surfaces that have been stained.
Clean Cult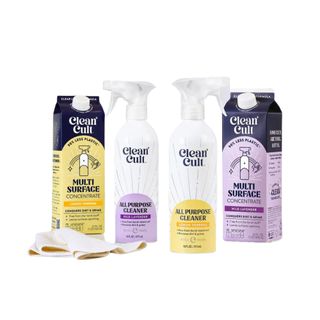 Clean Cult delivers top-notch cleaning products inside non-plastic containers to help break the reliance on plastic where it isn't needed. Their line of products includes hand soaps, cleaning sprays, laundry detergent, dish soaps & tablets, and bars of soap that you can add to your dorm cleaning supplies line-up.

Their cleaning supplies are all packaged inside paper containers that look like milk cartons. This means that the containers are biodegradable, and 100% recyclable, meaning you won't have to worry about them moldering away in a landfill once you've used them. The line of glass bottles available also features a silicon base to help keep them from slipping and are shatter-proof.

When you make a purchase from Clean Cult, you can choose between a one-time purchase or setting up a subscription then and there. A subscription will net you a 5% discount on recurring purchases, and they can be set to deliver anywhere from monthly, to every six months.

Clean Cult is also serious about the ingredients they use in their products. Every product listing has an ingredient list, making it easy for you to tell exactly what is coming into your home. For families with allergies, or environmental sensitivities this can mean the difference between a good clean and an outbreak of hives. You won't ever find phthalates, phosphates, SLEs, SLs, dyes, or parabens in their cleaning products, making Clean Cult a line of products you can trust in your home.

Dropps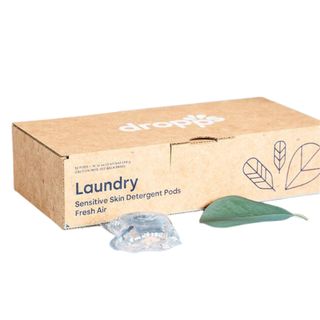 Dropps has two lines of products, one for laundry and another for the kitchen. They have an eco-friendly laundry detergent, fabric softener, and even an oxi-booster, all of which are in a pod form. The detergent and fabric softener are both available in five different fragrances, and all the pods come in quantities of 64, 128, and 192.

Dropps also has a full line of kitchen products to continue cutting down on plastic waste in your home. They start with a pod-based dish detergent, which is available in three fragrances, and comes in quantities of 64, 128, and 192.

They also have a line of dish spray, and foaming hand soap. Both of these options require a starter kit, which comes with glass bottles to be filled up. The dish spray uses a concentrate that you'll add to the starter bottle, and each bottle of concentrate is good for up to six refills. Their foaming hand wash still comes in a pod and can be snagged in three different fragrances in quantities of 64, 128, or 192.

Whichever product of Dropps you snag, you'll be able to set up a recurring subscription or just grab what you need for a one-time purchase. Subscriptions will save you a whopping 25% and will deliver every four months. Dropps also has a 30-day risk-free trial, so if it doesn't work for you then you can get a full refund by reaching out to their team via email.
Force of Nature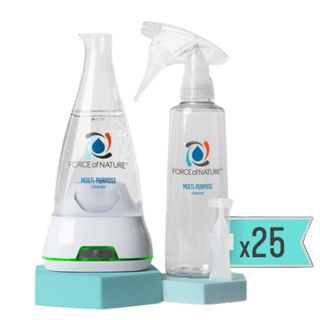 Trying to figure out which cleaner is best for which part of your home can be a headache that nobody wants to deal with. Rather than buying a cleaner for the windows, another for mirrors, and yet another for surfaces, Force of Nature delivers a one-solution-fits-all cleaner that is easy and safe to use in any room of your home.
Force of Nature uses an electrolyzer to combine water with the small activator capsules in order to make the cleaning solution. It's then good for up to two weeks and can be used on any surface of your home including the carpets. The one caveat here is that there is no whitening solution in the chemical makeup of Force of Nature, so it isn't going to be great at lifting stains like hard water.

We recommend that you kick things off with a starter kit with handy cleaning tools since it includes the cleaning bottle, electrolyzer, and enough capsules to get started. The only thing you'll need to grab on a regular basis is the activator capsules, and you can set up deliveries monthly, every 2 months, every 3 months, or every 6 months. Capsules are available in packs of 24 or 50.

Force of Nature also sells a variety of reusable cleaning tools, glass spray bottles, and even travel bottles so that your favorite cleaning solution can roam with you, no matter where that happens to be.
Public Goods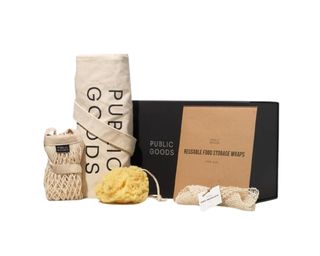 Public Goods knows that people are always going to purchase the things they want and need for their homes. Their goal is to deliver a healthy, sustainable, and affordable option that allows people to make a choice that is net-positive, without sacrificing anything along the way. They create all of the products sold, and their product lines are way more than just cleaning supplies.

Instead of subscribing to get certain items delivered, when you subscribe to Public Goods you're getting a membership to their wholesale prices. Think of it like an organic big-box store without the lines, the sensory overload, or the need to fight traffic to get there. Everything they sell is eco-friendly and packaged to be recycled when you're done with it. Best of all since Public Goods sells so many different types of items, you can do much of your shopping all at once, cutting down on the amount of boxes arriving at your home.

Their cleaning supplies are all plant-based and their dedication to sustainability means that you won't find a bunch of useless extra packaging here. You can rest assured that the products delivered by Public Goods are safe to use and that you're supporting an ethical company trying to eliminate plastic waste in whatever ways they can.

Puracy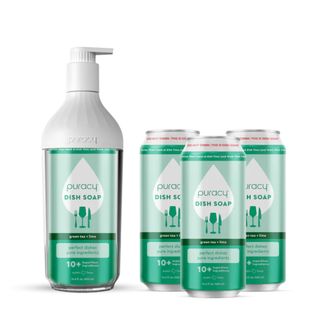 Puracy has a number of different products to choose from including laundry detergent, surface cleaners, shampoo, and dish soap. If there's a cleaning solution you need to pull off a cleaning hack, chances are they have a plant-based option that can get the job done.

They also have a unique new line of products called clean cans. These are aluminum cans, filled with the labeled cleaning solution, that pop right into a bottle and can be used immediately. When you're done with them just drop the can into your recycling and open the next one! Their clean can system does require a special bottle, but this system is super easy to use and eliminates the disaster of a messy cleaning solution when you move it from one container to another. The clean cans are available for laundry detergent, surface cleaner, stain remover, and dish soap.

All of Puracy's products are available to be delivered regularly via a subscription. Each item is set up on a subscription separately, and you're able to adjust the frequency and exact details of your subscription at any time. If you're trying to keep your home tidy while also using the best eco-friendly cleaners available, then Puracy should absolutely be a brand on your list.
Honest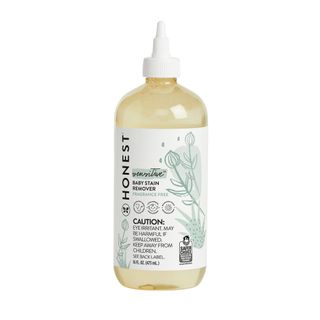 Honest has a huge line of products, all of which work well, and are created with sustainability in mind. Honest has banned over 3000 ingredients they found to be questionable. Their dedication to sustainability is also written over everything from fully recyclable packaging, and using less plastic than some competitors.

There are two basic options when bundling products from Honest. The first is a diaper and wipes bundle, which lets you choose 7 sets of diapers and their patterns, along with 4 wipes options. It gives you a 20% discount on diapers and wipes, free shipping, 15% off on additional add-ons, and includes a freebie of your choice with every 3rd shipment.

If you're more interested in specific products, you can also build out a personalized bundle from the entire line of Honest products. Each bundle can contain 5 total items, with up to 3 premium items. They're priced at $54.95, and depending on the items you snag can deliver up to a 30% discount over buying them one at a time. You're able to set when deliveries are supposed to arrive, and like their other bundle, it comes with free shipping.
FAQs
What is the best cleaning supplies subscription overall?
While there are tons of excellent options out there, our favorite pick is definitely Grove Collaborative. With over 200 brands to choose from including favorites like Mrs.Meyers, and Burt's Bees, you don't have to worry about trying out a new brand and not liking it. They keep prices low to ensure that green products are available on any budget, and offer a variety of delivery frequencies to ensure you don't get more deliveries than you actually need.
Which cleaning supplies subscription is best for families?
If you're a new parent and looking for a subscription service that can help with your infant's needs along with the normal household care, then Honest is your best bet. They have personalized bundles you can build yourself, or a specific diaper + wipe bundle. Additionally all of their products are built to be safe, sustainable and green, making them an excellent choice for your family and their health.
---
Between the labor involved in cleaning the whole house, along with buying the items you need, hauling them home, and ensuring you have them when you need them, keeping your home tidy isn't always an easy proposition. If you lack personal transport, have kids, or are cramming in tons of events to your schedule then a subscription service can make life a bit easier by delivering the products you need, on a schedule that works for you.