Gone are the days of me throwing out 95% of a head of lettuce after using it for one small side salad. Instead, I now use these innovative meal prep and food storage containers to cut down on my fruit and veggie waste and to store my leftovers for longer. This way, I always have fresh produce in my fridge to whip up a smoothie, and fruit to have with my morning oatmeal (winning!). Why am I telling you this? Because I spotted the set that I use on sale for Presidents' Day today, with a whopping $67 off at Macy's.
Honestly, it's one of the most useful kitchen gadgets I've come across in a long time. Since investing, I've barely thrown any food away as it doesn't even get the chance to go bad. How? The entire set works with a vacuum sealer machine to suction the air out of your containers and bags to help preserve your food for longer. I once kept lettuce fresh for two weeks in one of these containers (you can read more on that below if you like that kinda thing).
Now that these containers are in my kitchen, I've cleared out my cabinets and sent all of my mismatched sets to friends and family. They're happy, and I'm helping the planet one press of a vacuum sealer button at a time!
Shop the Zwilling Fresh and Save Starter Set for Presidents' Day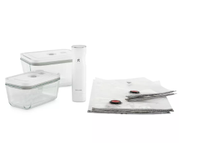 Zwilling Fresh & Save Vacuum Glass Starter Set | Was $167, Now $99.99 (save $67.01) at Macy's
This set comes as a starter kit, meaning you get everything you need to start preventing food waste. It comes with two glass containers and four bags, all of which are BPA-free, dishwasher-safe, freezer-safe, and microwave-safe. The containers can also go in the oven with their lids off. The vacuum sealer machine comes included, which is the most integral part. This sucks the air out of your container to keep whatever is inside fresher for longer. Let me just say, it's a game-changer in the summer when you're eating fruit nonstop and whipping up a new salad every other day.
---
What do I use my containers and bags for?
I tend to use the containers for storing:
Fresh fruit
Fresh chopped vegetables
Soups
Salads
Dips
Sauces
Leftovers
I mostly use the bags for marinating meats as this can be done in 30 minutes, which is super handy.
Here's more proof of how good they really are: I bought a head of lettuce and did my usual with it (unwrapped, washed, and chopped it), and popped it in a container. Only this time, I put it in my glass Zwilling Fresh & Save container. It lasted for two whole weeks in my fridge. Yes, you read that right.
The extras
If you need more containers or bags after you find that you're using yours daily, then here you go: