Home is where we feel the safest but it could be harbouring harmful bacteria or viruses on our hard surfaces. These can only be effectively removed with nasty chemicals or – if you want a cleaner method – with the help of the best steam cleaner. We have good news! The Kärcher SC 3 EasyFix is our best rated steam cleaner, and it's on offer at Amazon where you can save 13 per cent with free delivery by the weekend.
This steam cleaner is usually priced at £229.99, but not now. Amazon have marked down the price of the Kärcher SC 3 EasyFix on their site to a steaming hot bargain of £199.99.
It's a current sell-out over at John Lewis & Partners so with this great offer from Amazon, and given the current uncertainties, we don't expect stock of our best steam cleaner to hang around for long.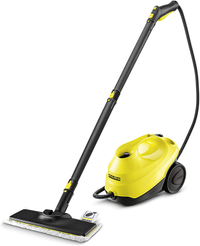 Kärcher SC 3 EasyFix | Was £229.99, Now £199.99 at Amazon
Steam clean the hard surfaces in your home, using nothing but tap water, to remove 99.99 percent of all common household bacteria with the Kärcher SC 3 EasyFix. If you want this popular steam cleaner by the weekend you best be quick – while stocks last!
More cleaning recommendations: