You know that feeling of diving into a hotel bed and getting lost under the abundance of sheets and fluffy duvets? It's pretty much impossible to replicate that weighted, delicious feeling at home without spending thousands on a whole new luxury bed set – but a weighted blanket is a very close second.
Weighted blankets have been making waves in recent years – and for good reason. Not only do they help keep you warm and cozy wherever you are (totally home office appropriate), they've actually been proven to help lower anxiety, symptoms of ADHD, and can help those who suffer from restlessness in the night.
Sounds great, right? We think so! Which is why we were excited to find the Vellux Heavy Weight blanket on major sale over at Amazon today. Not only does this weighted blanket boast a unanimous high rating, it's also available in a wide variety of weights to suit your particular needs.
Looking for even more great Black Friday sales? We've got you! We're outlining all of the very best deals online so that you don't have to sort through the noise on your own. Be sure to visit our Black Friday page to stay informed and save some serious cash.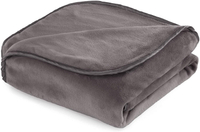 Vellux Heavy Weight-12 Pound Weighted Throw |Was $139.99, now $62.13
Currently on offer for nearly 50 percent off (depending on the weight you select), this high quality weighted blanket will make a great gift for a loved one you wish you could hug—or for yourself. Who doesn't need a hug after the year we've had?
Still not entirely sold on the whole weighted blanket concept? Trust us when we say that 40 percent off one of these high-end throws is a serious deal… but aside from the savings, here are a handful of features that make the blanket a great purchase:
The Vellux Heavy Weight Weighted Blanket is crafted from a cozy cotton blend
It's both soft and very warm, which is especially great for anyone who runs cold
Features a removable cover that unzips for easy removal and is completely machine washable
Available in 12-pound, 15-pound, 20-pound, and 25-pound weights which allows you to adjust the weighted aspect to fit your size and needs
Comes in a wide variety of colors—including Camel, Ivory, Charcoal Gray, Navy, Red, Sage, Plaid, Blue/Orange and Blue/Red to suit your particular design style
Includes a 100 percent customer satisfaction agreement—just in case you're not impressed