Thanks to celebrity organizers such as Marie Kondo and The Home Edit, Instagram and TikTok are filled with wardrobes and homes curated by professional organizers
In the last year, Google searches for 'professional organizer near me' increased by 100 percent in the US. I decided to put the ultimate social media-fueled tidying trend to the test and arranged for a professional organizer to tidy my closet, and sort out my closet organization ideas.
Vicky Silverthorn, founded her professional organizing service You Need a Vicky in 2010. Based in London, Vicky and her team of organizers have helped tidy up the homes and wardrobes of celebrities such as Lily Allen and Rachel Stevens, and now she was helping me.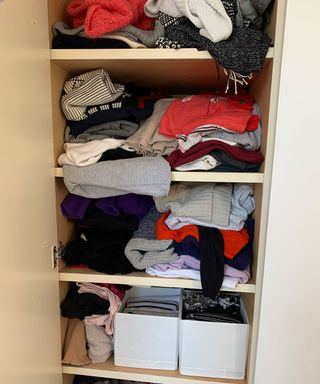 On the day Vicky turned up at my flat with an assistant ready to transform my large closet in 4 to 5 hours. It was an eye-opening experience, and my wardrobe has never looked better - here's what I learned.
5 things we learnt from a professional organiser
1. They don't turn up with a massive range of storage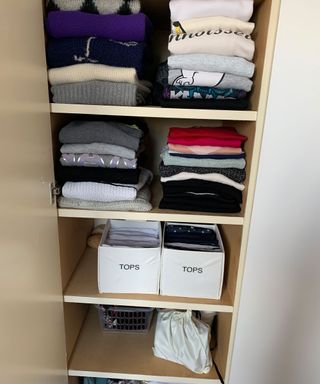 If you've watched The Home Edit you might expect a home organizer to turn up with bags of storage to neatly arrange all your belongings. However, on the day Vicky explained to me that arriving with a bunch of closet organizers before exploring the space might actually make it harder to keep tidy.
'I think there is a current trend of over organization. I think some methods can be extremely hard to maintain if you are a busy person who is time poor,' says Vicky.
Instead, Vicky and her assistant worked miracles with the storage I already had and suggested other times that might help if I wanted to invest in the future.
2. It is easier to declutter with a fresh perspective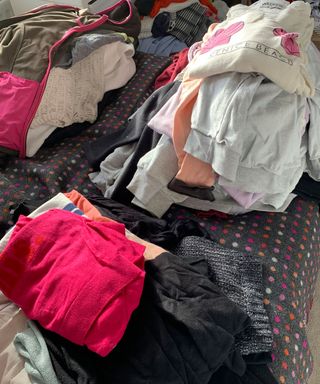 During the morning sections of my wardrobe were pulled out of my cupboard onto the bed, and Vicky would hold up each item to say if it stayed or went. There was no pressure or gold star if I got rid of anything, but I actually found it much easier to let go of items with a fresh pair of eyes looking at my wardrobe.
If you can't afford a professional organizer, consider drafting in a friend to help with this process to give you a fresh perspective.
3. Clothes care checks are vital - especially for moths
Before putting every item back in the wardrobe, Vicky checked every item for moth holes, stains, marks, or holes. Luckily, my clothes were moth-free, but organizing your wardrobe is the best time to work out if you need to research how to get rid of moths before they start nibbling your favorite cashmere jumper.
4. It is important to get your hangers right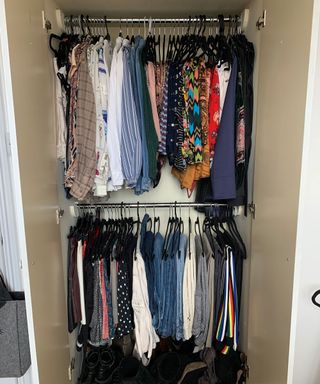 Prior to the organization, I had already invested in matching slimline velvet hangers from Amazon. However, Vicky let me in on a secret that while these are a great investment, they were a little too big for some of my clothes, in particular my favorite suede jacket, where it was pulling on the shoulders.
Instead, Vicky recommended trying the hangers with no bar on Amazon. 'They are slightly smaller in width and may work a lot better if you are around a women's size 6-10ish,' she explained.
5. Well-used labels are a game-changer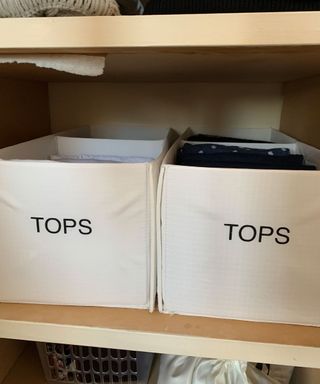 The final stage of my wardrobe transformation was labeling, for which Vicky cracked out her Cricut Joy to create custom labels for any boxes I had.
Vicky explained that it is important not to go overboard with labels. However, using them in the right place can make all the difference in finding something quickly, and reminding you that the item is there.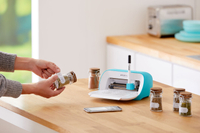 Cricut Joy | £179.99, Cricut
If you're just dipping your toe into the Cricut world the Cricut Joy is the best place to start. It works with 50 materials including vinyl, sticker paper, and card. It is small enough to tuck away in a drawer or a shoebox, it is perfect for labeling wardrobe or home office storage ideas.
My closet tidying experience with Vicky was gifted, however, the average cost of a professional organizer can range from $75 to $169 per hour. My closet that has magically stayed in order for the last month is a testament to the value of hiring an organizer.
However, if that isn't in your budget, you can still get the same effect by following the steps above.