Do you ever just scream at your screen when you realize you can only use one coupon code at a time and the items you've fallen in love with in your cart won't be nearly as discounted as you thought? Because oooof, same. BUT, that's not gonna happen with Wayfair's Way Day sale, which lets you secure discounts of up to 80% and stack promotional offers in their flash sales over the next couple of days, and one of the best offers we've seen so far has to be the bundle bed and bath deal. Scroll on for the deets.
Basically, if you buy two or more of the bed and bath items from this selection of products, you get an additional 25% off your purchase. It's the perfect way to re-furnish a whole room or two at a time, without breaking the bank. And it's a great time to stock up on luxury bath towels and soft AF bed sheets.
Way Day's sales last until tomorrow night, so don't worry about wasting precious time scrolling through the qualifying items — I've already done it for you. Here's exactly what I'd snap up for each room to score this unreal deal.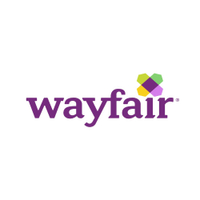 Way Day 2023 Sale | Up to 80% off at Wayfair
This is your only chance of the year to snap up a serious Wayfair bargain. Discounts include 80% off rugs and wall art, 70% off bedding, and 60% off storage and organization. Plus, there are plenty of deals on furniture, indoors and out. Deals end tomorrow at midnight!
The bed edit
Vacay Vibe Bedding
1. Rukai 100% Cotton Comforter Set
Was $179.99, now $89.99
Catch some zzz's and dream of that Tulum vacation while you're snuggled up in the tropical boho vibes of this bedding set. It's made from a cotton gauze material that screams summer, and the grey and cream tufted pattern is just *chef's kiss.* The comforter also comes with two perfectly coordinating accent pillows, and two shams. If you already have a bunch of cane and rattan furniture or neutral decor, this bedding set is going to fit in perfectly. At less than half price, you get it the full resort look for under $90, meaning you can save for spring break and get to that IRL vacay sooo much faster.
Hotel Luxury IRL
2. White Noise Down Alternative Comforter
Was $119.04, now $93.99
If you're an allergy girlie like me, this down alternative duvet is about to be your new best friend. Instead of being filled with potentially sneezy down or feathers, it instead uses a polyester fiberfill. This down alternative makes the comforter totally hypoallergenic, and also perfect for year-round use. It can be put into a duvet cover to up the fluffy factor for an extra-snuggly sleep, but tbh, it would also look amazing on its own and bring the luxurious city girl vibes into your space thanks to the hotel-style striped sateen finish.
Basic bamboo sheets
3. Eider & Ivory Organic Sheet Set
Was $39.99, now $36.99
Okay, so this isn't the biggest sale onsite by any means at a first look, but hear me out: a super-soft set of sheets is always a necessity, and with the bundle offer it's totally worth grabbing some in a color to complement your bedroom decor (or new bedding you also picked up in the Way Day sale, wink wink). These sheets are made from a mix of microfiber (think that soft snuggly material on your cleaning cloths) plus rayon from bamboo, so you know they'll be breathable and durable. Currently in my cart? Both a white and cream set of sheets — although the lime might end up in there too before checkout.
The bath edit
Spa-worthy towel set
4. Alverez 6 Piece 100% Cotton Towel Set
Was $140.04, now $42.99
Spa-worthy bathrooms are such a mood, and there's nothing more soothing than wrapping yourself up in a soft and fluffy towel after unwinding in the bubble bath or taking The Shower™️. This ribbed bath towel set is made of 100% cotton so they're cozy and hypoallergenic, making them a perfect pick for those who struggle with sensitive skin and still want to feel luxurious af.
5. Shannan 12 Piece Washcloth Set
Was $26.99, now $19.99
Keep these soft and absorbent Turkish cotton washcloths rolled up and within reach for self-care Sundays, nightly makeup removal and skincare, and for your guests sleeping over. I personally love the warm and comforting canyon clay shade to bring a touch of color into my bathroom, but the white set is also a total classic and would work in any decor theme while staying true to the traditional spa look.
6. August Grove 100% Cotton Oval Bath Rug
Was $16.99-26.99, now $13.99-19.99
This plush lil bath rug is beyond cute, and the delicate ruffled edges would bring a subtle whimsical touch to your bathroom. The unique oval shape feels like a stylish representation of a bar of soap, and it would look perfect just outside your bathtub or shower. It comes in small and large sizes, and every shade is gorgeous. Plus, reviewers say their pets love how soft the bath mat is, meaning your furry friends will be extra comfy while they keep you company getting ready.