Whether you just take vitamin D in winter or have lots of prescribed medication, the chances are you've got a colorful array of jars knocking around your kitchen. If an unsightly pile of vitamins and supplements is getting on your nerves, interior stylist Emily Henderson has a solution: a magnetic shelf for the front of your fridge.
The best-selling author and founder of stylebyemilyhenderson.com suggests this kitchen storage idea from Wayfair, as it keeps surfaces clear and reminds you to take your medication every day.
The good news is it's currently reduced to $66.96 from $81.99.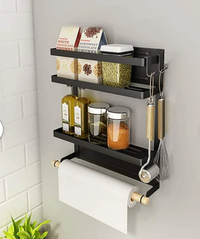 Fridge Magnetic Shelf, Paper Towel Holder Fridge Spice Rack Kitchen Refrigerator Organizer Rack With 2 Removable Hooks (Black) | $66.96 at Wayfair
This magnetic kitchen rack helps to keep your kitchen organized by storing spices, condiments and other food supplies on the fridge door. With no screws required, it's a great option for renters.
'Vitamins and supplements... HOW CAN THEY LOOK GOOD ON THE COUNTER??' writes Emily on Instagram. On her blog, she recommends the fridge magnetic shelf above.
Our kitchens are incredibly busy places, and they're rarely Instagram-ready. But we think this kitchen idea is great for keeping the space orderly so you've got plenty of room to cook.
The fridge magnetic shelf is designed for holding spices, condiments, bottles and so on, but works perfectly for storing vitamins. It stops a random pile of bottles ruining the aesthetic, and every time you head to the fridge for a snack, you'll be reminded to take them.
'I prefer to store vitamins out of the sunlight because you don't want any rays melting the gel on your omega-3 or collagen capsules,' comments Real Homes' Acting Editor Camille Dubuis-Welch. 'You'll end up with a bit of a gooey mess.'
Camille says if she was to keep them on show in a shady space, she'd would decanter them into labeled glass jars and store them on a wooden shelf for a nice apothecary-like finish.
There are endless other clever options you'd never have thought of when it comes to how to organize a kitchen, but anything that uses vertical space gets a big tick from us. Emily's vitamin storage hack keeps things feeling calm and tidy, and means you can clean your worktops without the faff of moving lots of little jars around.
What's your number one kitchen storage trick?