Much like winter trends, when decorating our homes, we're always looking for pieces that convey both comfort and warmth. Sure, a plush blanket or a pair of fuzzy socks have a way of temporarily providing that "homey feeling," but when we're looking for hygge bedroom inspo and cozy living room ideas with a bit more longevity, we need to think big picture and discuss our furniture.
For those looking to convey equal parts comfort and warmth within their furniture, there is one upholstery that reigns supreme: velvet.
Now, don't call it a comeback — velvet's a classic. This timeliness material has been a staple in fashion for what feels like forever, and it's continuously topping the winter's seasons hottest trends. The best way to think of it? Velvet is to winter what linen is to summer, so when we're looking to update (or refresh) our homes to reflect this colder season? Opting for a velvet item should be a no brainer.
Velvet is both soft and smooth, and the definition of luxurious. The smooth nap and ultra-shiny appearance exudes elegance and will instantly add dimension and depth anywhere, anytime. I know this first-hand.
I recently opted for a black velvet tufted headboard in my bedroom, and I can't tell you how many compliments I've received. But I can tell you that the price I paid? Not as flattering.
It's true: velvet can come with a hefty price tag, often making it the deciding factor on why people opt out of this fabulous fabric. But what if it didn't have to be like that? What if we found velvet items that looked expensive but weren't? Would this be of interest? Of course, it would – and Walmart's here to save the day.
Right now, Walmart has so many perfect pieces majorly marked down, and we're swooning over every single one of them. From dining room chairs to sofa sectionals, it's one perfect piece after another. Don't believe us? Here are five velvet (opens in new tab) pieces that look so chic and are all under-$300 at Walmart!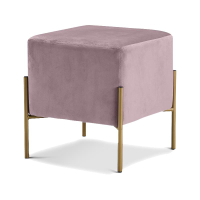 (opens in new tab)
Meridian Furniture Isla Contemporary Velvet Ottoman/Stool in Pink (opens in new tab)l Was $149, now starting at just $84.14
We're seriously blushing over this contemporary stool (opens in new tab)! Featured in a classic square pouf design — with the addition of stainless steel legs for a super fun, yet unexpected approach — velvet covers each surface of the main ottoman for a soft, inviting feel. This pink ottoman — or any of the other 4 other colors available — will be the focal point of any room.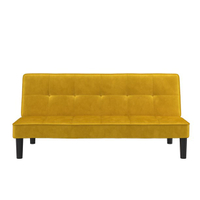 (opens in new tab)
RealRooms Tyler Velvet Futon (opens in new tab) l Was $391.99, now starting at $279.99
Looking to add a pop of color into your room? Opt for this velvet futon (opens in new tab) that's available in 6 sensational shades! Every single option is simply swoon-worthy and features a multi-functional backrest that adjusts to 3 positions: sitting, lounging, and sleeping.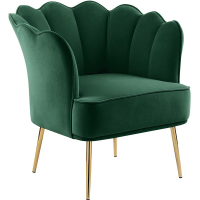 (opens in new tab)
Meridian Furniture Jester Green Velvet Accent Chair (opens in new tab) l Was $419, now starting at $257.35
Elegant and eye-catching, this velvet accent chair (opens in new tab) is irresistible! Available in a soft velvet green shade, it features a deep channel-tufted back and gold iron legs. At just 29" W x 29" D x 29.5" H, it can easily move in-and-out of any room of your home and elevate it in seconds!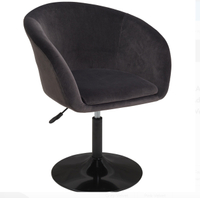 (opens in new tab)
Duhome Makeup Vanity Chair Accent Chair (opens in new tab) Was $99.99, Now starting at $95.99
We love how this chair (opens in new tab) takes a mid-century modern style and pairs it to perfection with an ultra-glam finish. Available in 7 different versions, every option is both elegant yet eccentric — and bound to update any vanity or desk for under-$100.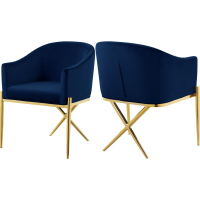 (opens in new tab)
Want more? Check out additional velvet furniture under-$300 also available at Walmart here: