Getting organized? These closet organizer deals will help.
Cleaning out your closets is a great way to stay busy while stuck at home. Not only will it help you check off a chore from your spring cleaning list, but if you're anything like us (or Marie Kondo), a little organization can go a long way in creating inner peace in a crazy world.
For any closet clear-out, having the correct organizers in place is essential to make your changes worthwhile. When it comes to closet organization, we know our stuff (just check out our handy closet organization guide for more tips). That's why we've tracked down these closet organizer deals to help you make a lasting change to your space. We've curated the best storage bags, hangers, boxes and hanging organizers on sale right now to keep your floor-drobe gone for good.
In-closet organization
Yes, hangers are an obvious asset to your closet organization, but there's a huge variety of handy hanging organization units out there. We've got pant hangers, hangers for belts and ties and even a hanging organization unit to store anything from sneakers to jeans.
Natural Wood Laminate Premium Hangers | Was $29.80, now $24.99 at Lowe's
Save 16 percent - These hangers are stylish and practical, with non-slip shoulder grips to keep clothes put. They come in a pack of 12 and have a non-slip bar for pants, too.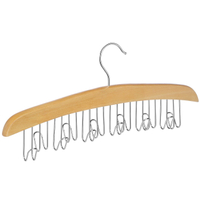 Multi-Function Tie and Belt Hangers | Was $15.99, now $9.99 at Macy's
Save 37 percent - This is a space-saving game-changer. Hang belts, ties, scarves and anything else miscellaneous on this hanger and never lose them again.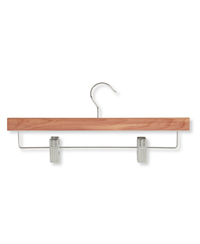 Skirt & Pant Hangers, Pack of Four| Was $36.99, now $25.99 at Macy's
Save $11 - Every closet in America is short on skirt and pant hangers, but they're great for pairing together outfits and keeping that satin slip skirt from creasing.
6-Shelf Grey Closet Organizer | $18.48 at Lowe's
This organizer hangs in your closet with a simple Velcro sleeve and lets you sort anything from sneakers to shirts into helpful units, to save rooting around your bedroom floor. Game changer.
Storage solutions for when your closet's full
If your closet's already at maximum capacity, it's worth investing in some external storage to make your space less cluttered. Just about every influencer has a trendy clothing rack to hold their most-loved pieces, and investing in a rail is a great way to curate your most-loved outfits in one place. It's also perfect for picking out your clothes for the week in advance, saving you from rooting around in the closet and feeling overwhelmed by the amount of options.
If you can't justify a new clothing rail, consider storage boxes. They'll easily slot under your bed or in the bottom portion of your closet and they're great for storing out-of-season clothes and bulky items like bedding.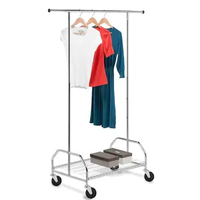 Chrome Steel Clothing Rack | Was $66.88, now $47.21 at Lowe's
This chrome clothing rack comes on wheels and has a handy bottom storage shelf for shoes. Great for curating clothes for the week ahead and displaying your proudest purchases. After all, fashion is art.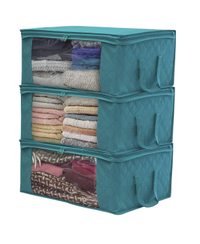 Storage Fiber Clothing Organizer Bags, Set of 3 | Was $33, now $22.99 at Macy's
Save $10 - These organizer bags are ideal for under-bed storage, or for putting at the bottom of your closet. It comes as a pack of three and features two carry handles and a large, transparent front window
Read more:
Check out the Real Homes deals page