Amazon is a great place to find a homeware bargain if you know what you're looking for. But if you aren't sure about where to spend your money, sifting through thousands of deals can be a tad, well, overwhelming.
If you fall into the latter category, I've done some thinking to help you out. The question I pondered: If I could buy only one thing from Amazon, what would it be?
It actually wasn't all that hard to come up with an answer, because one of my all-time favorite appliances is currently on sale: The Tineco iFloor 3. It's a floor washer that we use pretty much every day in my house, and it's currently almost $100 off for Prime Day.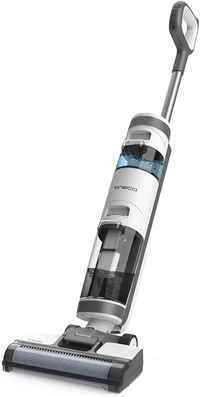 If you've never heard of a floor washer, also known as a wet-dry vacuum, you're not alone. Up until a few months ago I thought the only option for cleaning my hardwood floors was first vacuuming them, then immediately doing the entire chore over again, but this time with a mop. With two small kids and a black lab, that pretty much meant that by the time I was done cleaning my floors, it was time to start it up again.
Then I got the iFloor 3, and I literally haven't seen my old mop since I opened the box.
This handy little appliance looks and works a lot like an upright cordless vacuum, except you fill it with water and a mild detergent. Then, it both sucks up everything in its path, and also (gently) scrubs your floors with a hardwood-safe foam spin brush.
I think the biggest win for me here was the suction. When I mop, a lot of times I still feel like I'm just pushing dirty water around on the floor. But the iFloor3 not only sucks up all the dirty water (and dog hair and granola bar crumbs), it also has a clean water reservoir that spits out clean water and detergent, as you move around the house, so you're not re-using the dirty stuff.
Mostly, it saves me from having to do a chore I dislike twice in a row, and for that reason alone, I'm calling this my #1 Amazon buy.