I'll confess: I'm so in love with acrylic homeware items right now, specifically acrylic organization products. They look so effortlessly stylish and they make it super easy to see where everything is. I'm talking about all acrylic organizers here, from ones that you can use to tidy your toiletries to organizers for your kitchen. You've probably also seen these all over your TikTok recently.
Well, I'm currently having a major re-organize of my kitchen before spring is officially here, and there's one place I'm struggling to get together: my snack cabinet. It needs some major love, but I've been seriously confused about where to start — until I saw the viral TikTok snack organizer, that is. Thank you @makeitbymicah for changing my life.
Yes, this TikToker has re-purposed a tea organizer for snacks, and I'm totally here for this sort of innovation. This cute organizer is such a great size for popping in your drawers and keeping all those little foods, like marshmallows and Oreos, contained in one place. You could even purchase a few and stack them in a kitchen cabinet (or in your pantry if you're lucky enough to have one). Then when you're ready to eat, you can simply get it out and place it on the table for everyone to dive into. Movie nights with the gals have never looked so aesthetic and organized.

I've found the exact one used in the TikTok, along with a couple of different dupes —because hey, it's good to have choices. These kinds of boxes are also versatile AF, which is why I've come up with some other handy ideas for using them.
Shop the viral TikTok snack organizer and lookalikes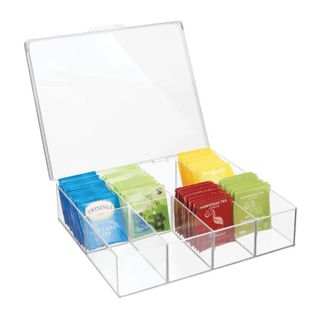 $20.49
mDesign Tea Organizer Box
This is the OG viral organizer, as seen in the TikTok vid above. With eight rectangular slots, whether you're going for graham crackers or smaller treats, it's an easy way to organize them and bring them out for guests.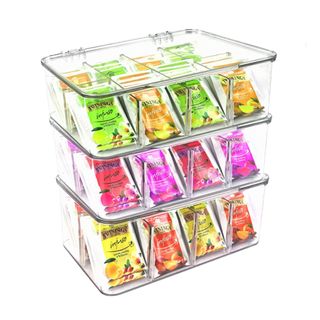 $21.99
Utopia Home Tea Bag Organizer
Got a whole bunch of snacks that need to be organized? This set of three boxes is made to stack on top of each other. The slots are also super deep, allowing for even more nibbles to be stored (which is never a bad thing IMO). You could have one for sweet treats, another for savory foods, and then a separate one for your tea bags.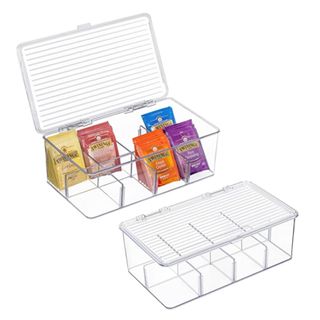 $19.99
Vtopmart Stackable Tea Bag Organizer
If you're loving this idea but know you won't use one of these organizers to store as many different foods, then this set has removable dividers so that you can tailor it. You get two for under $20.
4 other ways you can use the TikTok snack organizer
1. Your jewelry pieces
I'm always losing my earrings, and spend way too much time looking for them. The organizer is the perfect size for them though, as well as necklaces, rings, and bracelets. Traditional jewelry boxes are lovely, but for sheer getting-ready efficiency, this is a smart choice.
2. Your hot drinks (and accessories)
Of course, the original use for these boxes is for organizing different tea bags. But that doesn't mean you can't use it for coffee and sugar packets, milk pots, and hot chocolate packets, too. Place it on your countertop to create a handy tea or coffee station that's always within reach.
3. Your smaller pieces of stationery
Looking for new ways to clean up your desk? Stop those smaller pieces like erasers, paper clips, and staples from cluttering up the space by popping them in one handy container. Yes, this also works as a desk organizer, and I think it's a genius buy. This way, you'll know where everything is all while keeping your desk clean. Pretty and practical? I'm loving it.
4. Your craft supplies
I love a therapeutic crafting sesh, and I just know that pom poms, glue sticks, and glitter would look so cute in one of these organizers. It would also be great for those who are into sewing, keeping needles, threads, and buttons all in one place. My partner sews and this would def ease my fears of walking on something sharp.