You might have been living under a rock for the past few weeks, either that or you're not on the Amazon side of TikTok. I'll forgive you either way, but for anyone and everyone who works from home, you need to see this find. A TikToker took one for the team and bought this super comfortable (and pretty nice looking) Amazon office chair. No regrets were had. After posting a video of this find and going viral, the chair has pretty much been out of stock since. I mean, I totally get why.
Don't just take TikTok's word for it, either. Amazon reviewers have praised the plush seat with one noting that "this chair is honestly everything." The specs speak for themselves. It's designed to support you while you work thanks to it being totally adjustable, and it's wide enough for you to sit crossed-legged as you type. I thought its looks were the best part but clearly, I was wrong. You can wave goodbye to that eyesore office chair that you picked up from Facebook Marketplace all those years ago. Au revoir, adios, arrivederci, yasou...
This office chair is stylish enough to put in your living room or bedroom without wanting to cover it in clothes. Here's the Amazon office chair I am raving about, in the flesh and currently in stock. The price of chic comfort isn't cheap ($219.99, to be exact), so I've also found two alternatives that are around the $140 mark. All are highly rated by reviewers, obvi.
Let's take a look at this viral office chair in action.
TikTok's viral Amazon office chair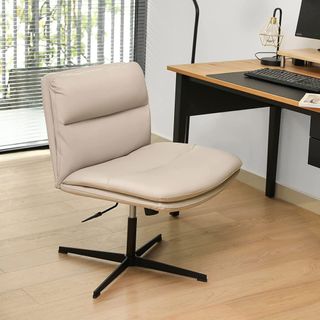 $219.99
Emiah Armless Office Desk Chair
The OG TikTok Amazon office chair
Size: H34.2" x W25.52" x D19.3"
Material: Faux leather
Color: Beige
If you haven't seen this seat before, feast your eyes on the Amazon office chair flooding everyone's FYP. It's not just another TikTok impulse buy either. The Emiah Armless Office Desk Chair has a super wide padded seat that gives you plenty of comfort while staring at your laptop. Worth the spend? We think so.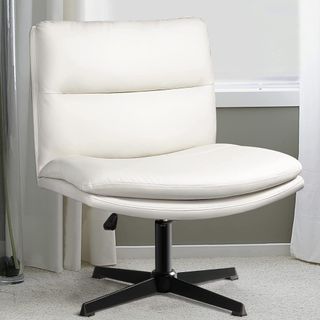 $139
Lemberi PU Leather Armless Office Desk Chair
An affordable alternative
Size: H36.1" x W25.6 x D17.3"
Material: Faux leather
Colors: Beige, white, gray
For less than $140, you can get this lookalike which also comes in two more color options. It's pretty much the same as the above chair with a wide seat, adjustable height, and faux leather composition. It's also earned a 4.3-star rating from reviewers.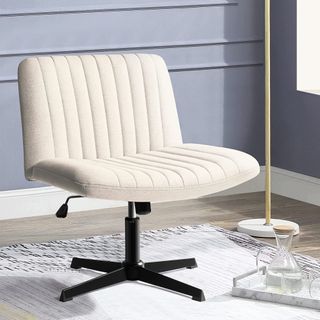 $134
Pukami Armless Office Desk Chair
A fabric option
Size: H35.8" x W25.2 x D20"
Material: Twill
Colors: Beige, gray
Similar to both of the other picks, this office chair is wrapped in twill rather than pleather. It'll make your workspace or bedroom feel cozy, and like the others, it's wide enough for you to sit comfy as you work. With an adjustable height and swiveling base, it's a great pick, though it's harder to keep clean. You'll just have to be extra careful when sipping on your morning matcha. Oh, and it costs less than $135.
Not your vibe? DW, we've listed out all of the places you'll want to shop for a new office chair