Like many of us, Mrs Hinch wouldn't be without her animal companion. But as the cleanfluencer and all of us who have dogs and cats at home know, they do add to the cleaning load.
Instagram sensation Sophie Hinchcliffe shares her house with dog Henry, along with husband Jamie Hinchcliffe, and son Ronnie. In fact, Henry Hinch is a bit of an Instagram hit himself with his own account and 196,000 followers...
As a fully fledged family member, the cocker spaniel gets to sit on Mrs Hinch's pristine sofa, but like our four-legged companions, he also has his own dog bed, so when Mrs Hinch revealed how she cleans it on her Insta Stories, we had to check out her tips.
We're sharing her hacks below, along with our top tips, and you'll find plenty more cleaning ideas on our hub. Of course, this advice can be used on other pet beds also, not just doggos or puppers!
How to clean a dog bed like Mrs Hinch
1. Dedicated Hinchers will not be surprised that Henry's dog bed is a most tasteful neutral design, co-ordinating beautifully with the rest of the decor of her Essex home.
We're sympathising with the reason why Mrs Hinch has put off this particular cleaning task. We're no fans of being taken by surprise by massive spiders either.
2. Henry is apparently a hoarder, stashing dog food in his bed. The lesson here? Check under the cushions when you're cleaning your pet's bed because they may have some hidden surprises for you, and fur works its way down.
3. Once you've taken out the cushion in the base of the pet bed, follow Mrs Hinch's lead by getting the vac out. She uses the Shark Cordless Handheld vacuum cleaner, which, Hinchers will remember, is known to her as Shelley. We're big fans of using a handheld for jobs like this, too, as it's easy to get right into the crevices of pet beds, car upholstery and more, as well as light and convenient.
4. While vacuuming is great for getting out the pet hair, and whatever debris has been shed or taken to the bed, as Mrs Hinch shows, it's not enough. She takes off the covers of the pet bed next ready to put them into the washing machine for a thorough job.
Try our other favourite cleaning tips for homes with pets
It can be hard to credit how much pet hair our canine and feline companions leave on floors and upholstery, as well as their own pet beds. These are our favourite ways to deal with it.
1. Invest in a vacuum for pet hair for effective fur removal from living room seating, carpet and hard flooring. Made specially for effective pet hair collection, one of these should also have a HEPA filter to remove allergens.
2. Use a Mrs Hinch favourite, a rubber squeegee, to get hair off carpets and rugs. You'll just need to dampen it slightly beforehand.
3. When you've followed Mrs Hinch's example and put pet bedding in the wash, remember to scoop out any hair from the drum to stop its spread.
4. Think there's a bit of a whiff coming from upholstery? Try the Mrs Hinch recommended Febreze Fabric Refresher with pet odour eliminator.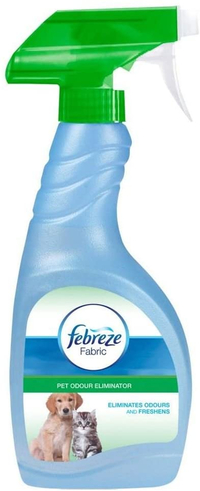 Febreze Fabric Pet Odour Eliminator | £7.83 for pack of two
A Mrs Hinch favourite, this spray will get rid of odours and freshen. It can be used on fabrics that are hard to wash such as living room furniture and cushions.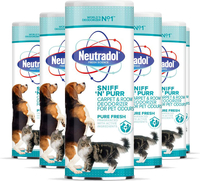 Neutradol Sniff 'N' Purr | £11.45 for six
Try this deodoriser on carpet and car interiors that have developed a lingering niff. The formula is non-toxic, of course, and it's designed to get rid of smells rather than mask them.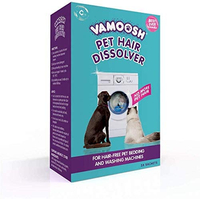 Vamoosh Pet Hair Dissolver | £6.98
Just add this dissolver to the dispenser drawer of your washing machine along with your usual detergent, run a long hot cycle with the pet bedding in the drum, and dry the bedding as usual. It'll leave the machine hair-free, too.

Read more: