Small balcony? Small budget? Ikea patio furniture is here to help. Sure, the summer might be in it's latter weeks but that doesn't mean you can't give your outdoor space a bit of TLC.
You probably haven't noticed that all those plants you bought at the start of summer are looking a bit lacklustre, the patio furniture that's spent all year outside is falling apart and the festoon lights you strung up to add some ambience are drooping somewhere around eye level. Time for an end of summer spruce up? We think so.
Just keep on scrolling for a load of budget and small space friendly Ikea patio furniture picks...
Shop for more bargain outdoor furniture at our garden furniture deals page.
Oh it's just a classic isn't it. This chair has earned itself a bit of a cult following over the years. It's super versatile, easy to clean, looks great in on you balcony annnd in your living room, plus it's only $29.99! Bargain.
On a small balcony, multifunctional patio furniture is a must. Lucky for you, multifunctional furniture is Ikea's thing, and their Applaro storage bench is perfect for small balcony dwellers. If you are blessed with a bit more space, there are loads of matching pieces too, so check those out.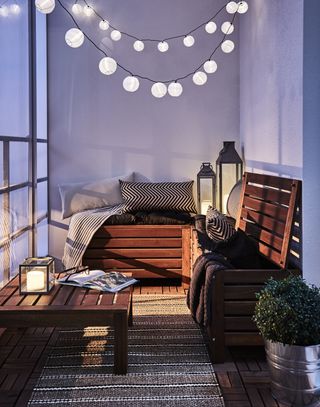 Even the smallest of balconies can squeeze on a bistro set. Ikea have a ton to choose from but we love the Salholmen set, it's simple, chic and only $89! Style it with some cushions and and an outdoor rug and you could easily do up your balcony for under $100.
Speaking of outdoor rugs, Ikea have some super affordable ones in loads of different styles. You'd be surprised how much of a difference just throwing down one of these on your balcony can make. They definitely give an instant boho vibe, plus they are perfect for covering up a deck that has seen better days.
Love the traditional, romantic feel of the design of the Lacko set , we reckon it could transform a dreary balcony into some Parisian-esque veranda, think pots of lavender, french press on the table, croissants piled up on a tray – just dream with us here people. Plus, as well as making you feel like you are on the set of Amélie, it's great for small spaces as the chairs are stackable, so you can add more if you need to.
The Kungsholmen range of Ikea patio furniture is perfect for small or larger spaces as it's modular so you can just keep adding and adding. For a small balcony you could just pop two of the chairs together like you can see here to create a small, cozy, outdoor sofa.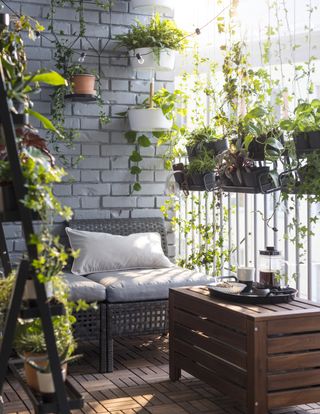 Outdoor shelving is a genius invention. It's perfect if you don't have loads of floor space on your balcony but want to cram in plenty of greenery. Pop a shelving unit against a wall and fill it with potted plants to create a kind of vertical garden. It's perfect for growing herbs too.
Read more: