Oooh Dunelm lighting... it's stylish, affordable and guaranteed to give our bedrooms that warm, cosy glow we all crave during the colder months.
So it's only right to take a few minutes out of your busy day to browse these Dunelm lighting ideas, right? That way, you can be sure to make your bedroom somewhere cosy you actually want to spend time. Remember when we were all obsessed with creating hygge spaces? Well, the coddling principles still apply, even if it's not this winter's buzzword.
Anyway... we've scoured Dunelm – it's a tough job but someone has to do it – and uncovered some pretty fab lighting ideas to transform your bedroom (without the need for a complete renovation). When you're done browsing, find more inspiration in our bedroom lighting ideas gallery.
1. Create a rosy glow with on trend wall lights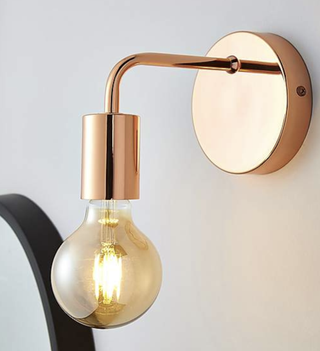 Filament bulb, rose gold finish, groovy industrial styling... what's not to like? If you're looking to create a sophisticated feel in your bedroom, but don't want to spend a fortune doing so, this cute Adonis Copper Wall Light might be just what you've been looking for.
Positioned either side of your bed – preferably above bedside tables – this style of lighting will ensure your space feels warm and cosy, as well as suitably elegant. Plus, mounting your lights on the wall means extra surface space on your bedside table. Perfect for those with a hatred for cluttered spaces. Just £19, too!
2. Find bedside table lamps with a candlelit effect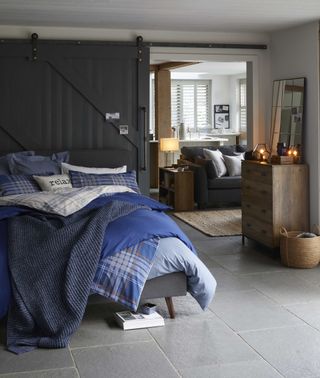 Ooooh, two for the price of one. First, there's the Nova black table lamp, £32 (above). It looks like a candle in a glass lantern... but of course it's a table lamp that's designed to create an atmospheric glow rather than light up your bedtime read.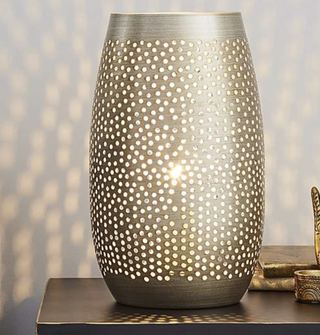 And... since we're having a bit of a love affair with Morrocan inspired interiors at the moment, we're not afraid to admit we fell in love with this Spencer Pierced Metal Table Lamp (above) as soon as we saw it. Work it into a boho inspired space for extra texture and watch as it casts a warm glow throughout your space.
3. And... bedside table lamps with (c)attitude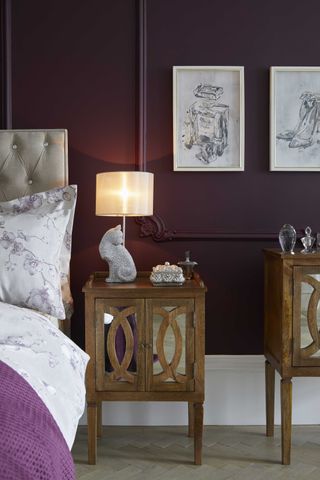 Was it only Tuesday that we reported on Next's cute monkey table lamp? Well, move over high street fashion giant – Dunelm has gone feline, with this Prescilla Silver Table Lamp, £35. Perfect in a deep-toned bedroom it adds a touch of character and elegance.
4. Consider a chandelier for a show-stopping romantic feel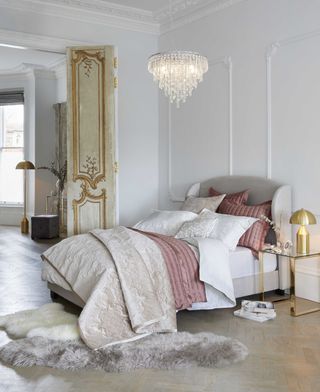 The Monroe Crystal Fitting (above), £219, is all French antiques market chic... whereas below, we're embracing the beautiful boho looks of the Angel Capiz Mobile Easy Fit Pendant , £45 (bargain). Remember when you could only get these in designer stores?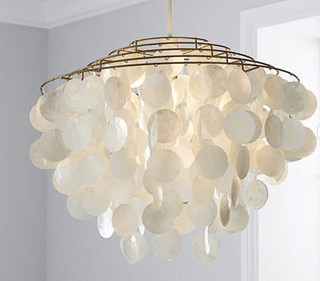 5. Create a welcoming atmosphere in a low-ceilinged bedroom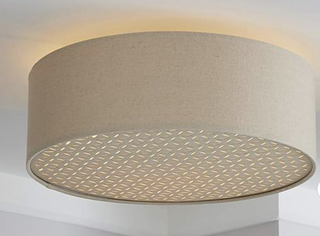 Low ceiling in your bedroom hampering your pendant light ambitions? That's when you need a flush fitting – and this one's a brilliant choice. It makes for a focal point that's stylish, but somewhat understated, and because it's flush to the ceiling, you can choose a larger, more dramatic fitting than you would with one that hangs lower from an electrical cord. PLUS (yes, it gets better), the warm, neutral shade throws out a warm, honey-coloured light. Womb-like even. Feeling sleepy... The Kirsty Flush Fitting is just £35.
6. Give a teen room a grown up glow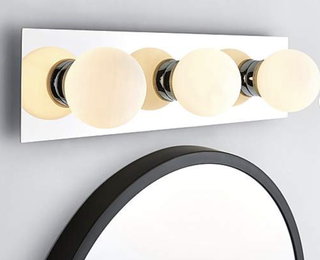 Looking for lighting ideas for a teen room, cosy or not (let's face it, they'll barely glance up from their smartphone to notice)? We think this Aries Chrome Wall Light will be a hit, however. Positioned above a mirror, it gives that grown up, dressing room feel sure to make many teens feel super sophisticated. Plus, it's pretty affordable at £45, so you won't mind replacing it if the phase passes.