Last night we dreamt about Ikea lighting. It's not that odd: Realhomes.com took at trip to Ikea this week and a decent amount of time was spent marveling at the latest lighting innovations (more on that tomorrow).
Anyway, back to the lighting. There was a massive range of new buys we'd not seen in the flesh. More pleasing still was the amount of smart lighting on sale. And we mean techy smart, as well as just, well, smart.
And while for some smart lighting might be a turn off (no pun intended), if it's low tech enough that your gran can embrace it, it's really worth having in your bedroom. The great news? Your bedroom revamp doesn't need to be dramatic to benefit from most of these (quite seriously) life-improving lighting solutions.
So, whether you're thinking new lighting as a working parent, for a uni student or for an excitable little one, keep scrolling...
For more bedroom lighting ideas, see our design gallery.
1. A remote controlled light strip to light your way to bed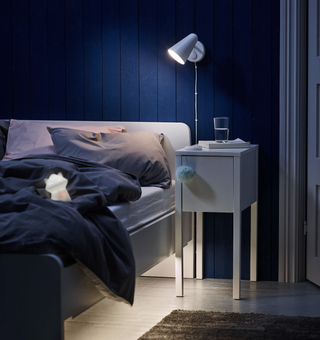 Kids up in the night unsettled by the dark? Other half crashing into furniture? Forever stubbing your toe as you stumble into bed long after your partner has gone to bed? This clever idea will put paid to all that: a remote controlled light strip fixed under the bed (above). Turn it on as you come into the room; it won't disturb your partner/kids/the dog but it will light your way to bed. Genius.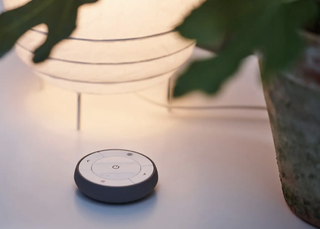 Ikea has both battery and mains-run light strips; and you'll need to use the TRÅDFRI Remote control, £15 to control it. This clever little gadget (above) can remote control up to 10 Ikea LED light bulbs, light panels or light doors at a time. And when we say 'control', we mean dim, switch on and off, choose colours and change light from warm to cold. You can even use the TRÅDFRI gateway and IKEA Home smart app to create groups of lights to control in different ways. You can even use it to control lights inside a dark wardrobe. Count us in.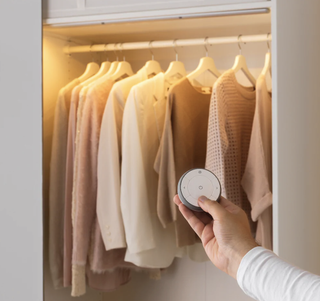 2. A mood-enhancing, purse-pleasing lamp that aids sleep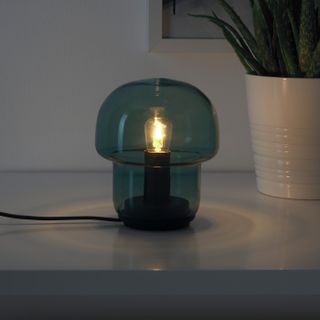 Bedroom lighting is the key to relaxation. After a hard day, going back to a bedroom, dimly lit with an emerald hue can't fail to relax you. This Tokabo table lamp is a moody piece perfect for the bedroom you want to turn into a restful haven.
What else about it will aid restful calm? The price: it's only £8.
3. Cheap pendants clustered to create a fab focal point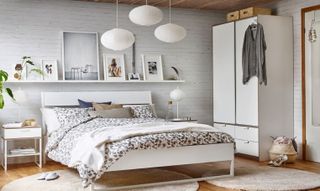 Hanging pendant lights in a cluster over dining tables has been a thing for a while. Now, so is hanging them over a bed to create that 'look at me!' vibe you really want in a bedroom. It's a brilliant ruse in both traditional and contemporary bedrooms, and it needn't cost a fortune: these SOLLEFTEÅ lamp shades are just £5 each.
4. Pretty fairy lights for teen rooms and grown up ones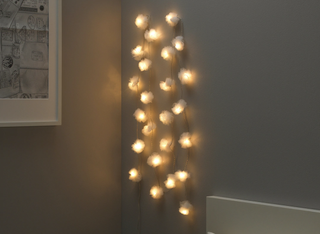 Let's be honest, we are pretty much never going to get tired of fairy lights, are we? But that doesn't mean we can't revamp the classic sparkling beauties and opt for a fluffy, scrunchy, floral alternative. The cute white netting on Ikea's new fairy lights softens the glow of the LED and makes them the ideal bedroom lighting option.
One (of the many) wonderful things about fairy lights is their versatility when styling them. Drape them over your mirror, on the railings of your bed, or embrace the boho vibe and create a living wall, with plants or polaroids. LIVSÅR LED lighting chain with 24 lights, tulle white, £12.
5. Romantic candles that aren't actually candles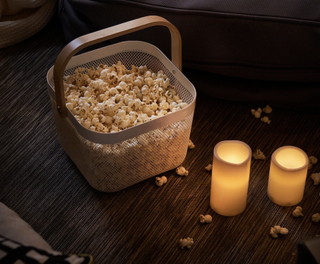 If you're looking for total relaxation, an escape from the real (and virtual) world, where you can get lost in a book and sleep and unwind, these are definitely the lights for you. There's no denying that candles are a timeless classic when it comes to warm light. However, there's also little denying the fact that there are a few health and safety issues there. That's why the led block candle is our holy grail, creating a tranquil and warm ambience and giving a classic look to your bedroom.
We love the Godaftom LED block candle in/out is just £7 for a set of two.
6. The smart light that's a speaker, too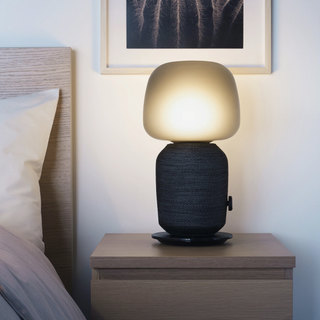 So, you've noticed the price tag and are asking yourself, how could Ikea betray us like that? But, not so fast, this is a lamp and speaker in one. If you're somebody who likes to drift off with your favourite relaxing music lulling in the background, it's your lucky day.
The aesthetic is simple and blends well into any interior, meaning that your technology needn't be an eyesore. It's also ideal for when space is at a premium. SYMFONISK Table lamp with WiFi speaker, £150. Alternatively, opt for a speaker pillow (we've just compiled a fab guide).
7. A bedside table that's a light... and a charging station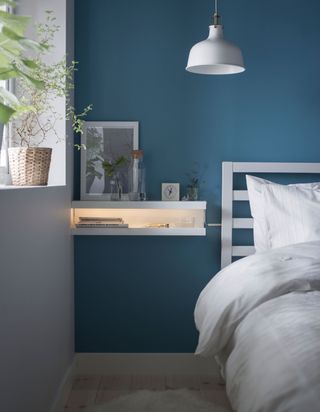 We love a bedroom hack. This one (above) is made by creating a lit DIY bedside table with two Mosslanda picture ledges and a Molgan light. Take look at our step by step to learn how to make it yourself – it only costs a tenner!
Read more: