This NEW fridge freezer tech has just landed with some of our favourite retailers, and it's something which we couldn't wait to share with you. And, in this current heatwave especially, a cooling appliance that locks in nutrients while saving you money is a summer must-have for anyone looking to update their kitchen this year.
It hasn't gone unnoticed that our fruits and veggies tend to look a little sad after a few days in the fridge. They even start to lose vitamin content from the moment they are harvested, meaning that once they are served up, they have already lost a lot of their best nutrients. These vitamins are key for boosting the immune system, promoting a healthier heart, supporting healthy cognitive brain function and provide natural antioxidants to protect the body from disease.
There is a solution to this, however. Keep scrolling to find out exactly what this cool tech is, and where you can get your hands one one of these appliances.
Introducing Beko's HarvestFresh technology. This unique tech tackles the loss of vitamins when harvested, and has now been independently verified by Intertek – a multi-national assurance, inspection, product testing and certification company – to prove that it preserves Vitamins A and C – two key contributors to a healthy lifestyle – for up to five additional days. And, not only will this technology preserve vitamin content, it also helps keep fruit and vegetables fresher for longer, reducing the amount of waste and limiting how often you need to shop for fresh produce.
This clever tech – unique and a UK first – works by using light to replicate the sun's natural 24-hour cycle within the fridge. There are three colours deployed throughout this cycle: blue, green and red, which simulates a similar light which the fruit and veg would have been exposed to prior to harvesting. During the first four hours of its cycle, the crisper lights will shine blue, mimicking dawn and the first light of the day. This is then followed by two hours of green light replicating midday, and a further six hours of red light imitating the more muted tones of dusk. The drawers then turn dark for 12 hours to represent night-time.
Heard enough? We're impressed too so we've added a few fridge freezer models below at AO (more will be arriving soon with our other top retailers) where you can check this tech out some more and check out with it, too.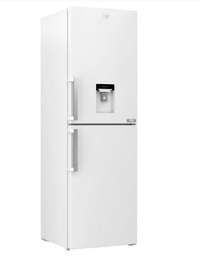 Beko HarvestFresh CFP3691DVW 50/50 Frost Free Fridge Freezer | £419 at AO
This upright HarvestFresh fridge freezer has a water dispenser, with no plumbing required, reversible doors to suit your kitchen layout and a frost free freezer so you'll never need to manually defrost again. Delivery from tomorrow.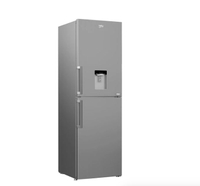 Beko HarvestFresh CFP3691DVS 50/50 Frost Free Fridge Freezer | £429 at AO
Wrapped in a complimentary silver hue, this fridge freezer is frost-free which means that air will be prevented from building up inside the freezer unit and turning into ice. It also has a built-in water dispenser, reversible doors and that fab HarvestFresh tech you've just been reading about. Delivery from tomorrow.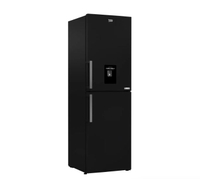 Beko HarvestFresh CFP3691DVB 50/50 Frost Free Fridge Freezer | £449 at AO
This black fridge freezer from Beko has a generous 313 capacity which means that it will keep fresh up to 17 bags of your shopping. It also has frost-free tech and a built-in water dispenser so cool, refreshing drinks within easy reach. Delivery from tomorrow.
Looking for more cooling advice?