This home security camera is a must-buy if you're often away on weekends, out at work all day – or just like to keep an eye on what's happening at home when you're out.
Why do we love it? Firstly: it's affordable; secondly: you can stream the footage straight to your smartphone; thirdIy: it's tiny so anyone scoping your house from outside won't spot it (come to that, neither will anyone inside).
We're not lying when we say it's mini. This camera has a diameter of 4cm and a height of 2.5cm, meaning it can very easily be disguised. It can also be used indoors or out, it has a wide-angle lens and it has night mode.
Already happy you have the best home security system? Or maybe you have a video doorbell or a smart lock installed and feel pretty pleased with your set up? We say, still take a look at this mini camera, which can also be popped on your car dashboard to avert potential break-ins or vandalism.
Or since it comes with a wrist strap, you could take it cycling or hiking with you to track where you've been. There's also the added benefit that it's magnetic so it can be easily moved around. Now you can find out who keeps eating all the best fridge snacks... Scroll to shop...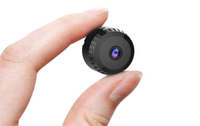 Aobo Mini Spy Security WiFi Camera | £40 at Amazon UK | $40.99 at Amazon US
Simply download the compatible smartphone app to see your home or office from afar, and you'll even get notifications from movement.