Worried about your home security when you're not at home but don't have the kind of budget to splash out on video doorbells, security lighting or an alarm system. This is why you need this particular burglar deterrent.
It's called a Fake TV, and it's unlike anything we've ever seen before. Simply put, it can simulate the flickering light of a TV, so all you have to do is place it in your living room and set it to turn it on while you're not home.
Before you ask, it doesn't eat lots of electricity – it consumes the same amount a normal night light would need, and some models have timers for when you're going away and want the device off from dawn, but on from dusk. Otherwise, we'd suggest matching a less versatile model with a basic plug-in timer. Sorted.
Interested? It's a great purchase if you want to give the illusion that you're home when you're not. The modest price tag makes it cheaper than installing a home security system, a video doorbell or a smart lock, too. Scroll for the best deals in both the UK and the US of A.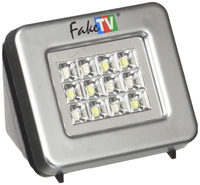 FakeTV FTV-11-US Extra Bright Burglar Deterrent | $39.95
If you're in the US, this is the best burglar deterrent you can buy. It'll ensure your home or apartment looks occupied in the dark, and it works on a simple one switch operation. It's also their brightest fake TV offering as it imitates the light of a 40in TV, making it ideal for larger living rooms. The feature we love the most is its timer for when you're on vacation.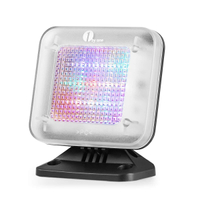 1 BY ONE Fake TV Simulator Anti-Burglar | £12.99
This super-affordable TV simulator is ideal for those in the UK. For just under £13, this device will confuse potential thieves. It can also be wall-mounted for your convenience and it features a timer so it can automatically turn on. Even better? It's eco friendly thanks to its low-energy consumption.