It's about this time of year that we start looking for bathroom lighting ideas. You know the feeling: you drag yourself to the bathroom in the semi-dark, switch on the light and behold your pallid complexion and even paler bathroom. Just us? Okay...
But there's no denying that, as the days get shorter, a bathroom that just about scrapes through in summer can begin to feel dingy, cramped and, well, disappointing – sometimes even that good decor can't quite rescue it. The answer, of course, are good bathroom lighting ideas. And if you're looking for a 'got everything covered', affordable range, think Ikea lighting.
Here, we take you through the very best of the range (to save that aimless website scrawl or sweaty in-store scrum), and have given you some handy tips on how to use it to best effect. For tons more inspiration and know how, go to our bathroom lighting ideas design gallery.
1. Create a focal point with this clever bathroom lighting idea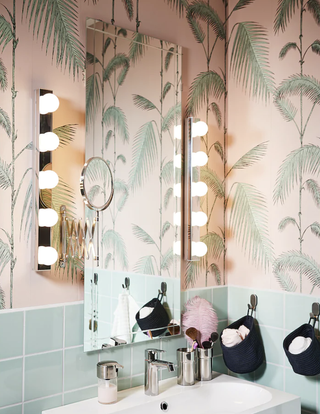 Every room needs a focal point to make it feel well-designed but that's not always easy in a bathroom. Ideally, it might be a gorgeous roll top bath placed centrally under a window with a view of rolling countryside... but that's not everyone's reality. The good news is that you can create it with a clever bathroom lighting like this: simply use the bathroom basin as your central piece, hang a large mirror over the top and place lights either side to give it real presence. These LEDSJÖ wall lamps are just as good in the bedroom as they are in the bathroom.
Buy LEDSJÖ in the UK for £40 each; and buy LEDSJÖ in the US for $59 each.
2. Add depth and visibility on shelves
These lights are, quite simply, genius. They can go anywhere – the clamp lets you move the spotlights to where they're needed – and they're battery-operated, so you don't have to worry about cables or installation costs. Putting them on shelves to illuminate what's there doesn't just make things easier to find, it will also add a welcoming pool of accent lighting, which can be really effective in an otherwise plain bathroom, PLUS doing so adds depth to the room, which can, in turn make it feel bigger. Bonus.
Buy the STÖTTA LED light in the UK for £5. In the US? Find a similar buy at Amazon.
3. Combine overhead lighting with over mirror lights
You know what we really hate? Bathrooms lit by one single overhead light. Do that in a living room, with all its soft surfaces, and the room will look stark. Triple that effect in a bathroom, with all its hard surfaces. So, over mirror lighting is a no-brainer to complement overhead lighting (if you ask us). This ÖSTANÅ range is our favourite: it'll fit into contemporary and traditional schemes and its shape has hints of Mid-century style, which is always a winner.
Buy the ÖSTANÅ wall light in the UK for £15; buy the ÖSTANÅ in the US for $19.99.
4. Choose a flush ceiling light with character
Ceiling lights in a bathroom are tricky: in an ideal world (again), we'd have high ceilinged rooms from which we could suspend glam chandeliers. In real life, bathrooms tend to be low ceilinged and too small for light fittings with real character. Enter Ikea's SÖDERSVIK ceiling light: it's a flush fitting, so ceiling height isn't a problem; it's an LED light, so it's energy efficient; and it's good-looking.
Last chance to buy the SÖDERSVIK in the UK for £65; buy the SÖDERSVIK in the US for $99.
5. Combine lighting and storage
Remember what we said above about bathroom accent lighting being used to create pools of light that in turn conjure up both atmosphere and depth in the room? How about this clever example? It's a light AND a shelf. Amazing! Yup, you can mount this lamp either above a mirror or bathroom cabinet to provide even and good lighting when shaving or putting on make-up – or use it as a wall shelf for extra storage and decorative downward facing lighting. We are in love.
Buy the GODMORGON light in the UK for £40; buy the GODMORGON light in the US for $59.