Heatwave = the need for all the garden party ideas! We are talking, Pimms and BBQ food, and great music, and just having a fab time with all your friends and family. And while all that can still go ahead, this strange semi-social distancing situation does mean we need to plan a head a bit when it comes to garden parties in order to be responsible.
And yay, there looks to be a heatwave this week, or at least for Friday, which is a great excuse to throw a little outdoor gathering. So we have rounded up some garden party ideas that are pretty and practical. And when we say practical we mean, they will help you keep those social distancing measures in place without creating a massive fuss. So just keep on reading for inspiration and head over to our garden ideas feature for more ways to get your outdoor space party ready.
1. Dot about plenty of seating to encourage social distancing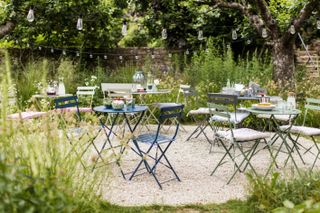 As with any garden party in normal times, seating is important, you want everyone to be comfy. But planning where your seating is going to go will make social distancing easy and less of a faff. Dedicate a seating area to each of your guest/group members of the same household at one table, then just make sure the tables are at least 1m apart, and there you go, social distancing made easy.
If you don't have enough separate seating for guests, we suggest investing in a few bistro sets , they are cheap, compact and always look lovely.
2. Plan how to serve food and drink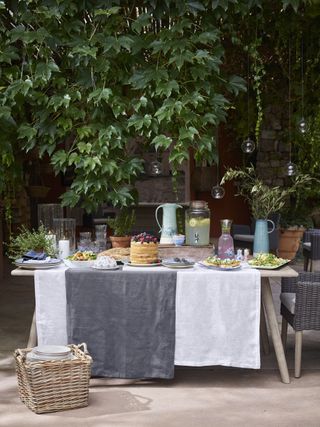 The rules on hosting are still fuzzy, and there's nothing clear about sharing food and drinks, but we think as long as you have been fastidious in preparing, serving snacks and drinks at your social distanced party is safe. Just be sensible about it, for example, have a bottle of drink on each table so nothing has to be passed around. Same goes for food, snacks that everyone can just help themselves to is a no go, so again just have food on each table so there is not going to be any cross-contamination.
God, this all sounds fun doesn't it... but we promise plan ahead so no one need feel anxious about breaking any social distancing rules and can just enjoy the party. Oh, and obviously serve everything in cute tableware!
3. Invest in some cute picnic ware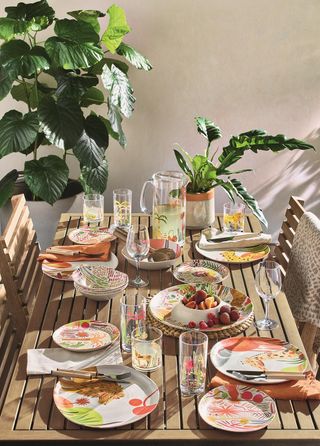 And in a similar vein you will have to be clever about what you serve your food on and with. We aren't saying go out and buy a load of disposable plates and cutlery, (think of the planet!) but you could pick out some nice picnicware that's suitable for use in the garden and can all be washed on a high temperature in the dishwasher.
M&S have some gorgeous picnic bits this year all at great prices too.
4. Create shaded areas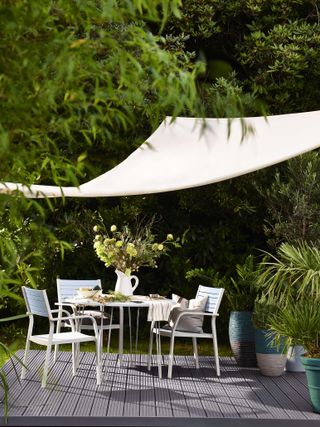 This week a shaded area will be to avoid the sun, but since it's UK we aren't expecting the weather to be like this all summer, so a waterproof shade that can shield guests from the rain too is a good idea. A parasol would do the job, but we are loving sail shades this summer, they are just so simple and stylish and add a bit of a beachy vibe to a garden.
5. String up the fairy lights and add decorations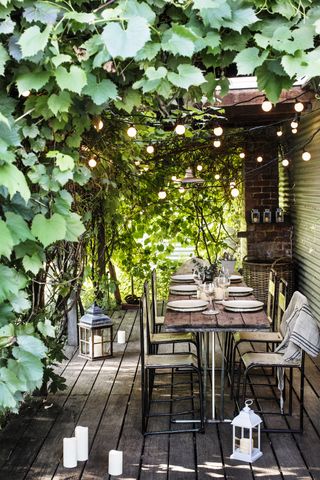 It's not all about avoiding 'cross-contamination' and keeping your 1m distancing after a few G&Ts, it's a party so make it feel like a party! For us, this means fairy lights and lots of them. Festoon lights are our fave at the moment, they look lovely layered with smaller fairy lights and candles too to create a nice soft glow in your garden.
For more of the best outdoor fairy lights head to our guide.
6. Make your garden cosy for evening parties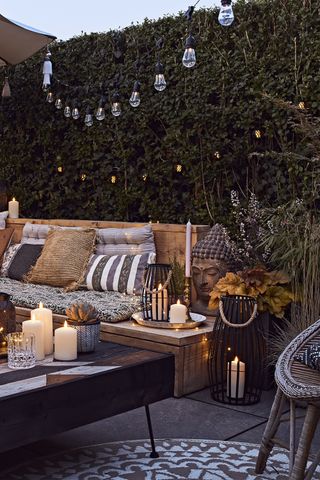 Remember, for the time being, you won't all be able to just pop inside when it gets cold so plan for when it gets a bit chilly in the evening. Dot about lots of blankets and cushions so everyone can get warm and comfy. You could also go all out with a fire pit to create a proper cosy atmosphere, there are some really affordable ones on sale at the moment too, so it wouldn't be a bit investment. Argos sell a firepit for just £30!
Read more: