Autumn and winter are wonderful seasons for watching wildlife in your garden, from birds to hedgehogs and bats. Conveniently, Amazon have a sale on a huge range of garden items that will help you entice more wildlife to your garden or support the wildlife you already have, for example in a garden pond.
From pond cleaning kits to bee hotels, here's what the team at RealHomes are buying for our wildlife gardens. Browse more garden ideas in our ultimate gallery.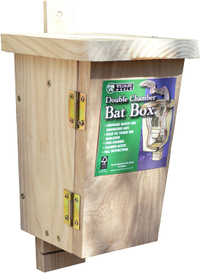 Wildlife World Original Bat Box | £23.99 £19.60
Bats need our help to roost as their roosting habitats have been eroded by human activity. This bat box can house up to 40 bats and can be attached to a tree, porch, or garden wall. The narrow entrance slot will discourage predators, and the box itself doesn't require any maintenance. Made without the use of harmful chemicals.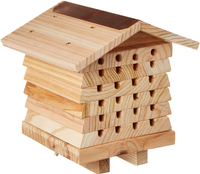 Wildlife World Solitary Bee Hive | £24.99 £20.30
This clever little bee hive is different from generic 'bee hotels', because it's been designed specifically to attract solitary bee species such as the Red Mason bee and the Leafcutter bee. These bees do not swarm and are non-aggressive, so you can observe them by opening the individual trays with your kids without the fear of being stung.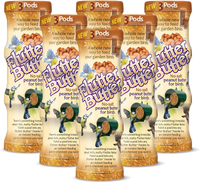 Jacobi Jayne Flutter Butter Original Pods, Pack of 18 x 170g |
£29.99 £20.80
This bird feed is nutritious and delicious for a wide range of birds that come to our gardens: it's basically unsalted peanut butter with added insects. Thanks to its solid format, it won't drop to the ground like seeds and won't be raided by squirrels. Compatible with any Flutter Butter pod.

Honeyfields Hanging Wild Bird Seed Feeder | £9.18 £6.90
This robust bird feeder is built to last, with a powder-coated steel base and tough polycarbonate tube. There are four small feedign ports ideal for wild birds, and Honeyfields make an excellent, sustainably sourced seed mix to go with the feeder.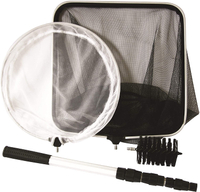 Supa 4 in 1 Pond Care Cleaning Kit | £25.99 £22.10
Autumn is the time to clean your garden pond – as the trees in your garden begin to shed their leaves, ponds can easily get clogged. This cleaning kit contains a skimmer net for removing leaves and twigs, and a pond brush for removing algae and slime.
Read more: