Amazon bedroom deals? You what? Yup, we like to pride ourselves as some kind of home experts and when we were asked to put together a load of Amazon Prime Day deals to transform a bedroom, we were somewhat taken aback. After all, Amazon's known for all sorts of useful home buys – including smart home tech, of course – but gorgeous interiors finds? Not so much.
However, if you delve, you can find some gorgeous and fantastic quality bedroom buys – all at great prices and, because they're Amazon Prime buys, all poised for delivery not that long after you've pressed 'buy now'.
So, to save you the legwork trying to find Amazon's best Prime Day bedroom buys, we've done the hard work. Enjoy.
For all other Prime Day deals, go to our hub page. Find more gorgeous bedroom buys, design advice and tips on our dedicated page.
1. A new mattress – at a Prime Day price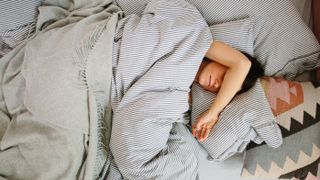 Forget looks for a minute. The one thing that is going to transform your bedroom is how your bed feels to sleep on. Take it from us – we've reviewed tons of mattresses – and a good quality mattress chosen to suit your sleeping position and the firmness level you like can totally transform your sleep, and how you feel about your bedroom.
Amazon sells tons of our best mattress picks, including Casper, Eve, Leesa, Emma and the AmazonBasics, to name but a few. The best deals live now are below. Or you can shop all Amazon mattresses now.
2. A new bed – at a bargain price
How great is this Prime Day bed by Coavas at Amazon? Its simple black frame makes it a perfect fit for bedrooms with a vintage feel, a retro vibe, an industrial finish or a contemporary look. You literally can't go wrong. It comes as a single and a double, so it's perfect for kids and adults. See the Prime Day deal below, and see all Amazon Prime beds here now.
Find more of the best bed deals for July 2019 on our dedicated page.
3. Bedside tables – loving the discounts
The centrepiece of a room? The bed (we refer you to above). The frame to that centrepiece? Bedside tables, of course. Amazon's selection is massive. There are contemporary, rustic, shabby chic, coastal, trad-looking ones all Prime-ready and budget-friendly. Our favourite is this cute little retro number from Woodluv, and we think it's a pretty good match for the bed. You can shop all of Amazon Prime's bedside tables here now.
Find all our best bedside table choices in our buyer's guide, too.
4. Bedside lighting that's a real steal
Of course, you could shop for any old bedside light, but we say, if you're going to do it, do it right. This Tomons Scandinavian swing arm table lamp has it all in terms of Scandi looks that can fit easily into any bedroom style, from contemporary to traditional. Why stop there? We think it makes a great reading light for a living room and it's obviously the perfect desk lamp for a home office.
Not your thing? Shop all Amazon Prime's bedside lighting here. And find more smart lighting buys and advice in our guide.
5. New bedding that's chic but cheap
Amazon is awash with bedding: duvets and duvet covers, pillows, bedlinen, and, of course, throws. This EHC herringbone throw in 100 per cent cotton is our very favourite find: it's good looking, works just a well on a sofa and will suit every room style, from trad to modern. This grey throw isn't on a live deal at the moment, but the same throw in a natural colourway is – and it's a good one. Details below. There are, of course, tons more Prime Day choices – you can find them all in the Amazon bedding section now. And find all the best bedding deals for July 2019 on our dedicated page.