Two of our favorite things in life, a Target sale and fall baking, have teamed up for an epic even this week: A big Target kitchen sale, which includes some of our favorite appliances for whipping up fall dishes.
For a limited time only, you can save big on dinnerware and appliances top from brands like Instant Pot, KitchenAid, and more. As far as we're concerned, this sale couldn't have come at a better time. There's something about fall that makes us want to stay at home and spend the entire day cooking. Thanks to Target's kitchen sale, it's possible to fill your cabinets with fancy new gadgets for less.
We know you don't have all day to shop, so we're sharing eight of our favorite deals below.
You can't do fall without a crock pot. Don't have one? Check our our roundup of the best slow cookers on the market.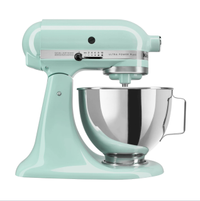 KitchenAid Ultra Power Plus 4.5qt Tilt-Head Stand Mixer|Was $349.99, now $279.99
Attention budding bakers: Target's taking $70 off KitchenAid's prized stand mixer. With a 67-point planetary mixing action and 10 speeds to choose from, this gadget is designed to mix your cookie dough or cake batter to perfection. If you want to get the best bang for your buck, KitchenAid has a bunch of attachments so you can use your stand mixer to spiralize veggies, ground meat, and make freshly squeezed juice.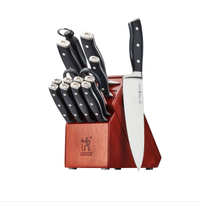 J.A. Henckels International Forged Accent 15-pc Knife Block Set|Was $574, now $169.95
No kitchen is complete without a great set of knives. This 15-piece set from J.A. Henckels has everything from steak knives to herb shears, so you'll have the perfect sharp edge for every meal. Oh, and did we mention Target's taking $400 off the asking price? We'll let that sink in a for a moment.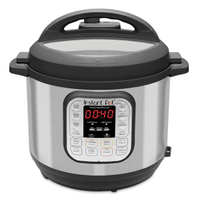 Instant Pot Duo 6qt 7-in-1 Pressure Cooker|Was $99.99, now $79.99
This fall, the Instant Pot Duo is bound to become the hero of your kitchen—and for good reason. With multiple settings to choose from, this gadget can make everything from hearty stews and chilis, to warm rice, to homemade yogurt. (Really!) Plus, with six quarts of space, you'll have plenty of leftovers. Using Instant Pot's Duo pressure cooker is easy: All you need to do is add your ingredients, select your setting, and it'll take care of the rest.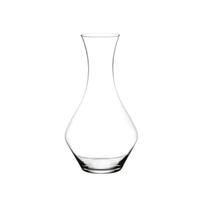 Riedel Classic Machine-Blown Fine Crystal Glass Contemporary Red Wine Decanter|Was $118.99, now $79
Take your virtual happy hour to the next level with a wine decanter. Not only will this option from Riedel look great on your bar cart, but it's also pretty practical. Uncorking your favorite bottle of vino and pouring it into a decanter will let the wine breathe, not to mention enhance all its nuanced flavors and aromas. Whether you're a self-proclaimed oenophile or want to make your virtual happy hour feel fancier, this decanter is well worth the investment. Cheers!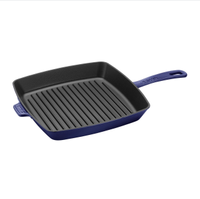 Staub Cast Iron 12-inch Square Grill Pan|Was $300, now $209.95
Staub is one of the finest cookware brands around, and thanks to Target's kitchen sale, you can save nearly $100 on one of the brand's cast iron pans. In case you didn't get the memo, cast iron is known for distributing heat evenly and efficiently. Plus, when cast iron is seasoned, it can add some extra oomph to your meal. With subtle grill ridges, this option is perfect for making burgers or brats.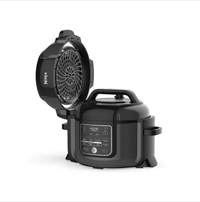 Ninja Foodi 6.5 QT Pressure Cooker that Crisps Air Fryer (Certified Refurbished)|Was $207.99, now $149.99
Looking for a guilt-free way to enjoy fries or chicken tenders? Feast your eyes on Ninja's Foodi pressure cooker and air fryer. In addition to searing, sautéing, and broiling, this gadget also uses hot air to fry your food. That way, you can enjoy a crispy dish with up to 75 percent less fat than traditional cooking methods.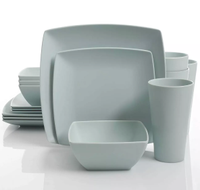 Gibson 16-Piece Melamine Reactive Glaze Dinnerware Set|Was $66.99, now $47.99
Anyone who wants to beautify their next dinner party—or, more realistically, elevate your takeout order—will find a lot to love about Gibson's 16-piece dinnerware set. Made with a durable melamine, this option is more durable than paper plates, but less delicate than your grandma's precious china. Plus, the square silhouette will give your dining room table a modern edge.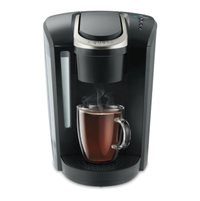 Keurig K-Select Single-Serve K-Cup Pod Coffee Maker|Was $129.99, now $109.99
Behind every productive, joyful day is a strong cup of coffee. If you don't want to spend time grinding coffee beans, consider adding Keurig's K-Select coffee maker to your e-cart. Perfect for small spaces, this machine simplifies the coffee-making process. Simply insert a K-Cup pod and you'll have a fresh cup of Joe in no time.
Read more: