Nowadays, a home office is one of the most important rooms of the house—and for good reason. As many professionals are set to work from home for the foreseeable future, it's important to have a space where you can take Zoom calls and focus on a project without being distracted by your kids, partner, or roommate.
That said, decorating your at-home workspace is easier said than done. Back when you worked in an office, you'd fill your cubicle with whatever supplies your office manager ordered. Now? Your office is where you spend all your waking and sleeping hours, so it should be equal parts practical and pretty.
Fortunately, good style doesn't have to cost you a small fortune. The Internet is filled will cute desk accessories that won't break the bank. To help, we're sharing 10 of our favorite finds you can buy for less than $25. Happy shopping!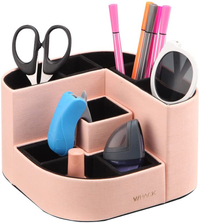 Vlando VPACK Magnet Desk Organizer|Currently $16.99
Why waste time searching high and low for your favorite pen when you can pick up Vlando's desk organizer? Covered in a faux leather, this handsome pick has plenty of space for your scissors, spare staples, and, yes, your favorite pens. Vlando's organizer is made of several smaller containers that are connected with magnets. (Translation: You can set up this modular to cater to your needs.)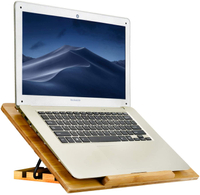 Wishacc Bamboo Laptop Stand|Currently $18.99
Let's be honest: Nobody wants to spend their days hunched over their computer. Not only is it uncomfortable, but it also result in some serious neck and back pain. Wishacc's laptop will bring your computer to eye level, plus the five adjustable tilting angles will make your screen time as comfortable it can be. This bamboo style also has cool, geometric carvings so it'll even look good when idle.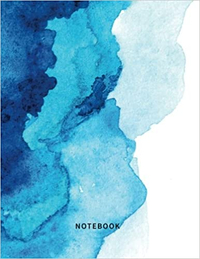 Pelloa Journals Notebook|Currently $7.99
No matter how digitized the workforce becomes, there's something incredibly satisfying about jotting down all of your great ideas in a notebook. If you want to give your smartphone a rest and keep things old-school, pick up this pretty option from Pelloa Journals. With 120 lined pages, this option has plenty of room to take notes, flesh out ideas, and, of course, doodle. Plus, the pretty, watercolor-inspired cover will receive a lot of compliments during your next Zoom meeting.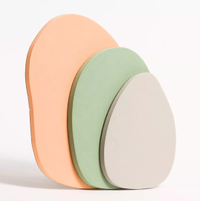 U-Brands 3pk Organic Shaped Double-Sided Cork Tiles|Currently $8.99
Cork boards might be an office staple, but they're not particularly stylish. Fortunately, U-Brand's cork tiles give this essential a modern flair. Available in three pretty colors, these egg-shaped tiles will look more like a piece of art than a cork board. But thanks to its porous material, you can easily attach inspiration quotes, receipts, and a paper with all your important passwords. All that for under $10? Consider us sold.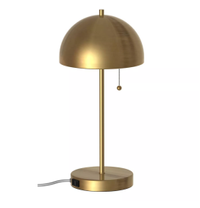 Project 62 Metal Dome Table Lamp|Currently $20
Burning the midnight oil? Well, you'll need to pick up a cute desk lamp first. Not only does this option from Project 62 offer a warm glow, but its mushroom-shape is reminiscent of a retro office or library. Reimagined in a trendy brass, this lamp is the perfect mix of old and new.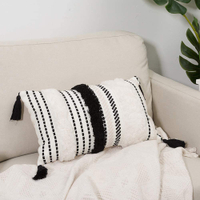 Blue Page Morocco Tufted Boho Throw Pillow Cover|Currently $16.99
There's a reason most office have ergonomic lumbar chairs; sitting in a stiff seat from nine to five is downright uncomfortable. Since traditional swivel chairs can be expensive, you add a lumbar pillow for some extra support. This boho-inspired cover from Blue Page is equal parts cozy and chic. Now all you need is a plush insert, which you can buy for a small, additional fee.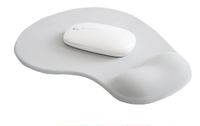 Demon Chest Office Mousepad with Gel Wrist Support|Currently $11.99
Never underestimate the power of a great mouse. Though there are so many options to choose from, the right one will stay in place, allow your mouse to seamlessly glide from point A to point B, and support your wrist. Fortunately, this ergonomic model from Demon Chest does it all—while looking good, too. Available in a handful of colors—ranging from lime green to a versatile black—there's an option to suit your personal style. (This gray hue, for example, will give your desktop a cool, minimalist edge.)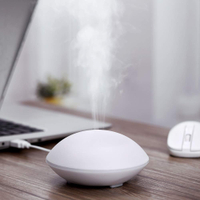 BBSKIN USB Essential Oil Diffuser|Currently $15.99
Just because you're working from the comfort of your home doesn't mean your job is any less stress. If you want to keep your calm during a particularly difficult workday, pick up this essential oil diffuser from BBSKIN. This pint-sized option hooks up to your computer's USB port, offering an easy, low-maintenance way to relax. Simply add a calming scent like lavender, turn it on, and this little diffuser will take care of the rest. Plus, its dome design almost will trick visitors into thinking its a piece of modern art.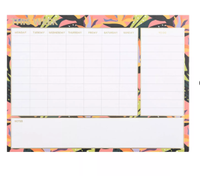 Yoobi 2020-21 Academic Wall Calendar|Currently $9.99
After spending months(!) working from home, it can be hard to remember what day it is. Keep your projects on track with this calendar from Yoobi. This option has 30 pages so you can jot down important deadlines, meetings, and special occasions. Plus, this colorful, botanical motif is bound to brighten up your day. While Yoobi's calendar is technically meant to be affixed to your wall, we wouldn't judge you if left it on your desk.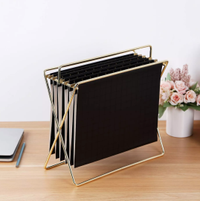 Project 62 Hanging File Holder with Folders|Currently $12.99
Keep your important papers organized and on-hand with this cute file holder from Target's Project 62. The slim, modern frame breathes a second life into the boring filing cabinets of yesteryear, while the black folders complement the gilded holder. Of course, this pick has more to offer than good looks. According to Target, each hanging file can hold three full file folders.
Read more: