What was your home like 10 years ago? Whether you embraced pared-back interiors or indulged in a feature wall, we'll bet it's had a makeover or two since then (if not, that's your 2020 project sorted). Perhaps you've even cycled through some of the most popular trends of the past decade in the process. Grey living room? Tick. Navy blue kitchen? Yep. More houseplants than you can cope with? Been there, done that.
Without further ado, these are the trends we've known and loved over the last decade, for better or for worse. How many of them can you check off?
Then see all the latest design ideas on our design hub.
1. 50 shades of grey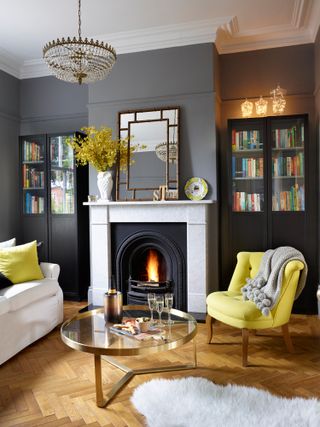 Let's kick off with one of the interiors world's favourite colours of the decade: grey. From light, minimalist hues to deep, moody tones, there were literally 50 shades of the colour – if not more. It's a nod to the pared-back interiors that dominated at the beginning of the decade thanks to the rise of minimalism, as well as that design stalwart of homes all over the country, Scandi style.
While grey could be found in living rooms all over the country in 2010, that doesn't mean to say it's gone away since then. We're still embracing it all over our homes, from silver to charcoal, and there's no sign of stopping. Want proof? Check out our grey living room ideas – we challenge you not to pick up a paintbrush as soon as you're done.
2. Copper accents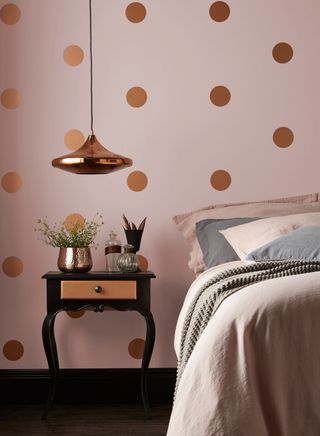 From the very start of the decade, copper captured the hearts of interiors lovers all over thanks to its warm metallic hue. It perfectly complemented a variety of schemes, from industrial to natural, making it a great material to use as an accent. So followed a steady stream of copper products, from side tables and floor lamps to clocks and mirrors.
Since then, we've moved away from the brash tones of copper towards more subtle colours like brass and brushed metal. Still, copper will always have its place in our hearts, and in our kitchen (after all, who doesn't love a homely set of copper saucepans?).
3. Matchy-matchy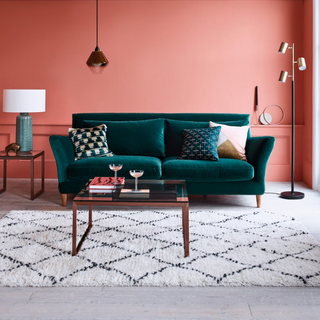 The matching bed, bedside table and chest of drawers set feels dated now, but at the start of the decade, we were still getting all our furniture from the same suite. Imagine!
Thanks to the rise of accessible online retailers like Made and Swoon – which allows us to click our way to our dream home from the comfort of our soon-to-be-replaced sofa – it's easier than ever to make your space feel original. It also means switching up a room is as simple as swapping out your battered old armchair for a fancy new velvet one. And the best thing? Even if it doesn't quite go, clashing is so on trend right now!
4. Industrial style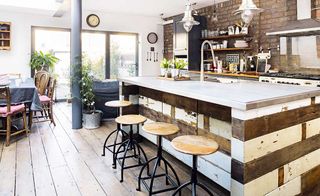 Ah, the industrial trend. Where were you when exposed brick walls exploded onto the interiors scene? Once the reserve of restaurants, industrial tropes like brick, concrete floors and stainless steel worktops have made their way into our homes, and especially our kitchens. The brick effect wall is so popular that you can buy wallpaper and murals to mimic the trend, and people have woken up to the practical benefits of these materials, too – a properly sealed concrete floor is extremely durable, for example, and stainless steel can withstand knives operated under the heaviest of hands.
Now, we're seeing industrial style mixed in with other trends, so kitchens look less like an extension of your favourite bistro and more like a home again. That doesn't mean we should say goodbye to industrial altogether, though. There's still nothing we love better than good reclaimed wood table rescued from a salvage yard.
5. Feature walls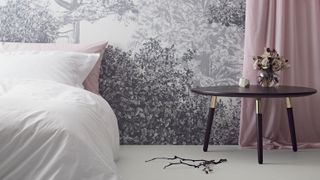 A tag-on from the 2000s, feature walls remain in our homes to this day. Created with a roll of wallpaper or a mural, it's an easy and cost-effective way to add a splash of colour or pattern to a room without giving yourself a headache.
Perhaps more significantly, the feature wall became the gateway to something more daring: maximalism. As people became more comfortable with exploring the boundaries of their style through pattern and colour, we started injecting more of it into our homes as well as our clothes – which means bold, patterned wallpaper and clashing designs are popping up in our homes more and more. Our prediction? It's a trend that's set to continue.
6. Metro tiles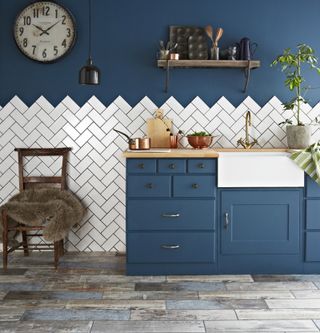 Easy, stylish and versatile, metro tiles have been a staple in bathrooms and kitchens for a decade. Recently, though, they've had challengers. From hexagonal tiles to mosaic and fish scale effects, there's plenty of new ideas on the scene – and they bring with them plenty of new and exciting ways to change up your tiled spaces.
But does this mean the end of the humble metro tile? Of course not! As the decade has gone on, people have found more and more interesting takes on the classic design. From chevron and herringbone to colourblocking, we've got plenty of inspiring metro tile ideas on what's set to be a long-term trend in the interiors world.
7. Gallery walls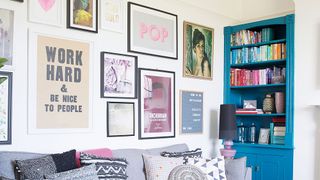 We couldn't write a round-up of the best trends of the 2010s and not include gallery walls, now, could we? We're attributing this one to Instagram, just so you know: almost all our favourite accounts have had a gallery wall in at least one location in their house. And why not? It's a great way to liven up a room and gives you the chance to create a truly personal display of the artwork, photos and quotes you love the most.
Still, trends come and go, and the long-reigning gallery wall is being slowly replaced. What by? Everything from single oversized pieces of art – consider hanging a favourite print on its own over your bed – to smaller sets of two or three. Perhaps it's time to switch up your walls yet again...
8. Navy blue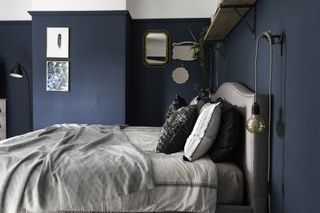 What started off as a bold trend for only the very daring on Instagram has slowly trickled down to the mainstream: we're talking about navy blue. Over the space of a couple of years, this specific shade of blue – best summed up by Farrow & Ball's Hague Blue – has extended its reach from our kitchen units to the walls of our living rooms, bedrooms and hallways.
But how did Hague Blue become the colour for living rooms towards the end of the 2010s? Partly, it's because we've become emboldened in our interior decisions, especially since we all joined on Instagram – see one person's moody blue living room and you want your own. It's also surprisingly versatile, just as its predecessor grey was, and it complements the other key trends of the moment: pinks, golds, natural materials and the bright greenery of houseplants (more on that later). There's signs of changes to come as we move towards new looks, but done right, Hague Blue and co. is a classic look that lasts.
9. Mid-century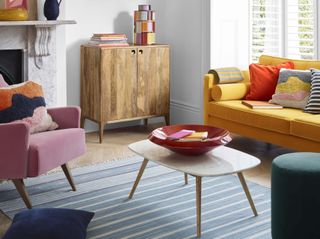 Has there been another furniture trend that's prevailed in the 2010s like mid-century design? Thanks to its ability to work with a variety of styles – it lends itself to Scandi interiors, but also works with darker, moodier schemes – it's proved popular among Instagrammers. There's really no going wrong when it comes to investing in classics for your home, which is why you'll spot the likes of Eames and Knoll in many well-to-do homes.
If you can invest, then great! You've got a classic piece that will last you for life. Thanks to the internet, though, there's also plenty of designs at more accessible price points for the rest of us. Swoon is the go to for a range of furniture to suit a mid-century scheme, while Cult Furniture does a brilliant Eames-style dining chair in a range of colours for less than £50. Who says classic style has to break the bank?
10. Houseplants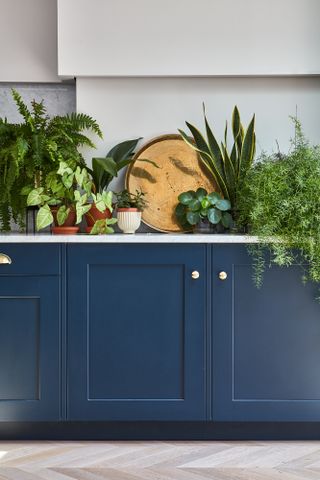 Hands up if you've bought more houseplants than you care to admit? Us too. Whether it's for the health properties (some plants help filter the air and decrease indoor pollution) or just because they look pretty, we're heading to our local garden centres in the masses to fill our homes with beautiful blooms. It's never been easier to buy plants either, thanks to houseplant delivery services like Patch . It seems our homes have never been greener.
The lust for houseplants also coincides with another huge trend of the last couple of years: environmentally-friendly homes. Not all of us can go all-out with solar panels and extra insulation, but we're doing our bit: switching your light bulbs to energy-saving ones, using a smart meter to cut your bills and even investing in a good-looking lunchbox and flask to save the packaging of your usual lunchtime Pret run all count. Here's to a new decade of eco-conscious living!
See more design trends: