The IKEA Billy bookcase is many book lovers' go-to when their collection of paperbacks outgrows their current book storage ideas. But one DIY lover has demonstrated just how versatile these budget shelving units can be by incorporating them into a stylish living room display.
See also: 35 DIY projects – easy ideas for beginners and budget-friendly to boot
The result is a stunning shelving unit of treasured items, which blends in perfectly with the rest of the room. It's the Billy bookcase but like you've never seen it before.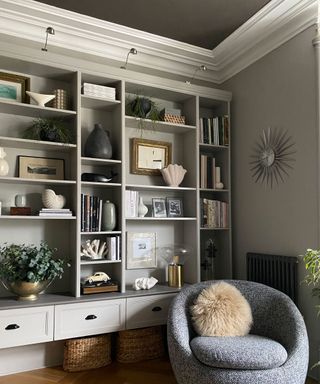 Malcolm from @designsixtynine tells us that when he moved into his new home, he knew he wanted some display shelving with practical living room storage ideas. 'As I had a tight budget, I knew that I would have to make or customize something myself,' he says.
To keep costs down, he decided to use Billy bookcases as a starting point. 'I chose two 800mm units and two 400mm units to give variation to the shelving spaces,' Malcolm explains.
For the lower cabinets, he used four 600mm kitchen bridging units. He also screwed batons into the framing of the wall at the top of the IKEA shelves, and the top of the base units to act as a secure anchor.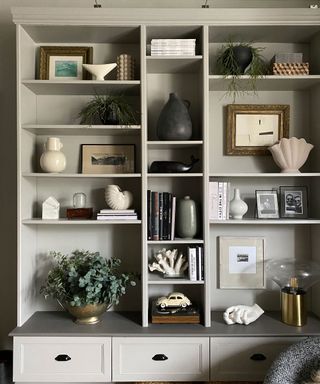 'I fixed the 'floating' base cabinets first, adding a wooden worktop, and then secured the BILLY bookcase after. They rest on top of the cabinets but the weight is taken by the wall fastenings,' Malcolm adds.
He attached the bookcases upside down with the top removed, and the bottom plinth acts as an area to attach the crown moulding to. Malcolm also used thin wooden beading to cover the joints between the bookcases, making a seamless finish.
The final step was to prime it with ZINSSER primer and paint it in a neutral tone to give it a cohesive look. This also helps make sure the decor pieces remain the focus.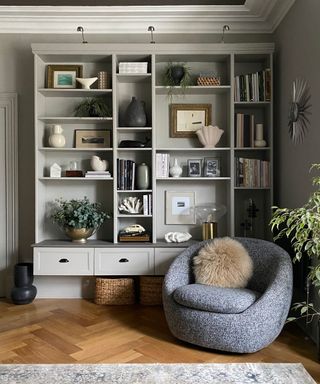 Once finished with all the DIY, Malcolm carefully curated a stylish display that looks like something out of Fixer Upper or Dream Home Makeover on Netflix. We're loving the calming palette and gold accents introduced through the photo frames, as well as the mix of textures and materials.
As far as IKEA hacks go, this is one of the most sophisticated we've seen. We recently wrote about one vintage Pyrex fan's colorful collection - also stored in Billy bookcases, this time with OXBERG glass fronts. It really is the IKEA piece that keeps on giving!
We're feeling incredibly inspired.