We are always on the hunt for easy craft ideas, the less effort and prep involved the better for us at the moment. So when we saw this little project from Rust-Oleum we had to share! You probably already have everything at home to give it a go this afternoon, all you need is paint, a small brush and an old (or new) vase – we'll talk you through the rest.
So keep on scrolling to find out how to turn old pieces of ceramics into trendy, terrazzo effect statements. For more craft ideas check out our feature. This craft was done by Hester of Hester's Handmade Home so check out her site too for more projects.
You will need: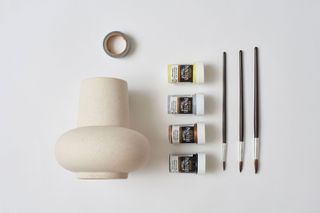 Step one: tape your first shape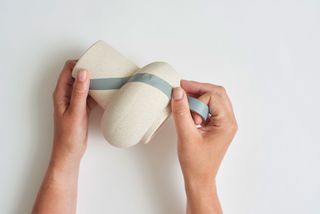 Begin by taping the triangle shape across your vase. To create the smoothest line, really press the tape down and check there are no gaps for the paint to seep through.
Step two: paint between the tape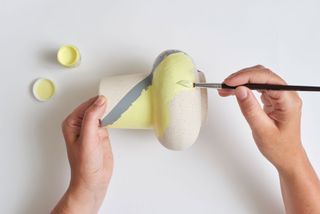 Taking a small brush paint in between the tape lines you have just created. Here Rust-Oleum Painter's Touch in Lemon has been used and we love the citrusy colour, but obviously you can go with whatever suits your style. Add a second coat if you need to and remove the tape.
Step three: create a smaller triangle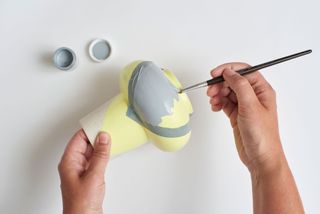 Within the larger triangle, create a smaller one with tape, making sure the paint is completely dry first. Then go in with a clean brush and paint the smaller triangle and then remove the tape once dry.
You can choose any shape you want to, by the way, you don't have to stick to the triangles.
Step four: add your pattern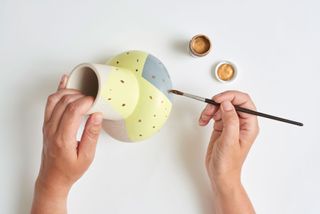 With a small paintbrush and choosing another colour (we love the gold used here) start painting random dots and strokes over the the top of your triangles. Imagine you are creating something similar to a terrazzo effect so it needn't be too neat.
Do the same with black paint (or whatever colour you choose) and then leave to dry. Then all that left to do is style up your new vase and find it a home.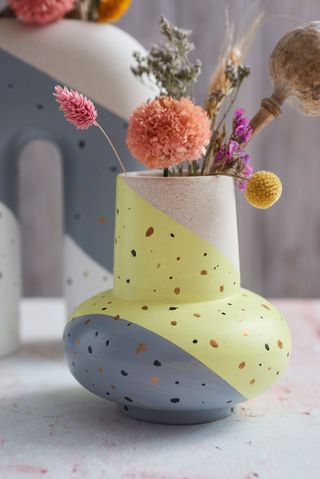 Read more: