No matter how skilled you are at fridge-tetris, it can be hard to fit a full shopping cart into your fridge-freezer. If you're fully stocked for social distancing mode, or you've been overly ambitious in your weekly shop, we've collected the best chest freezer deals to see you through a crisis.
Now's an ideal time to invest in a chest freezer. Their open layout means you can accommodate bulky or oddly-shaped items which may not fit into your upright freezer, and they can be stored in pretty much any room of your home, but most people tend to keep them in a utility room, basement, or garage. With many of us stocking up on everything we need to see us through the coronavirus outbreak, you might struggle to get through fresh produce before it goes bad, or be buying in bulk where you'd normally opt for smaller portions. Chest freezers let you store more food for longer, and they come in a variety of sizes and shapes for whatever space you have available.
Keep in mind, though, chest freezers are almost as in-demand as the food you're buying for them. We'd recommend you snap up one of these chest freezer deals while they last, so scroll down and get shopping.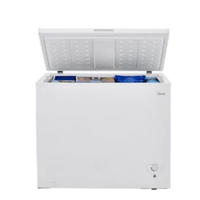 Midea 8.8-cu ft Manual Defrost Chest Freezer| Was $399 Now $279 at Lowe's
Save 30 percent- OK guys, this is the best saving of the bunch and we don't think it'll stick around for long. It holds up to 350lbs of food and removable storage baskets let you rearrange to fit in everything you need.
Looking for something a bit bigger? This Frigidaire model has 14.8 cubic feet of storage. If you consider the average shopping bag is one cubic foot, that might give you an idea of just how much this deep freezer can fit. Props to anyone who can carry in that many groceries from the car, but if you can, this is the chest freezer for you.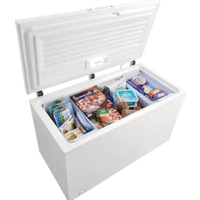 Frigidaire 14.8-cu ft Manual Defrost Chest Freezer| Was $598 Now $479 at Lowe's
Save 19 percent - Did we mention how much capacity this chest freezer has to offer? This model also has bright LED lighting and optional casters, making it easy to move and store. Because what's less fun than carrying 14.8-cu ft of groceries? Carrying the chest freezer that you've stored it all in.


Stockpiling for two? The mighty Fridigaire might not be for you, then. The Hotpoint 5.1-cu ft Manual Defrost Chest Freezer has the same adjustable temperature controls and removable freezer baskets, it's just a bit more modest in size. It's also $179, though, so if your grocery haul has hit your bank balance a bit too hard, investing in a chest freezer doesn't have to.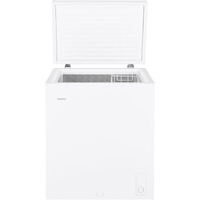 Hotpoint 5.1-cu ft Manual Defrost Chest Freezer| Was $239 Now $179 at Lowe's
Save 25 percent - This compact chest freezer will fit into smaller spaces with ease, and still packs a good punch in terms of storage. An affordable choice without some of the bells and whistles, but if you want to spend a little less, this is a great option.
Shop chest freezers from top retailers: