Using one of the best upright freezers will help to create more space for storing frozen food, whilst also not taking up too much floor or cabinet space, either.
Whether you prefer to have your fridge and freezer separate, or you need another freezer to house all that frozen food you've been stock piling, a separate upright freezer can cater for the whole family. And while upright options can provide plenty of storage for a large family's food shop, under counter versions can be handy for anyone with a small kitchen with limited layout options.
Like shopping for the best fridge freezers, there are many factors to consider when investing in one of these large upright appliances. Think capacity, storage compartments, build-quality, dimensions, price (and more!), so we understand that it can take some time to hone in on the best upright freezer for you. Keep scrolling to see our top picks – at the best prices – to help make the decision a little easier.
What is the best upright freezer?
Why you can trust Real Homes Our expert reviewers spend hours testing and comparing products and services so you can choose the best for you. Find out more about how we test.
If you want the best upright freezer (in our opinion) we wouldn't hesitate to buy the Samsung RZ32M71207F. It has a generous capacity, frost-free functions and a manual ice maker. Plus it looks good, and will look fab if stood next to the matching fridge.
Looking for an integrated model? Then we can highly recommend you buy the Bosch Serie 6 GIN81AEF0G. It also boasts plenty of storage space and is super energy efficient, too.
Our pick of the best upright freezers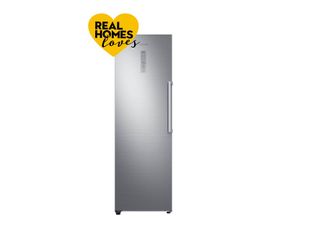 This Samsung model has everything you need, and more, to freeze as much food as possible, which is why it's our best upright freezer choice if you're after a freestanding model.
NoFrost
Samsung's True NoFrost feature is said to totally eliminate all frost and ice by circulating chilled air around the interior. This not only keeps internal temperatures consistent, but it also helps keep food fresh.
Large capacity
This humongous 315 liter model is clad in brushed steel which makes it look even more expensive than it is. Inside there are four huge drawers, a small flapped top shelf, two open shelves plus a Slim Ice Maker and a couple of door-mounted trays for smaller items.
Anything else?
The digital inverter compressor runs continuously, which is more economical and quieter than standard compressors that switch on and off at various intervals.
And, if you buy the matching fridge version, you can put them side-by-side to create one monster American-style fridge-freezer combo. In our opinion, this is the very best upright freezer you can buy.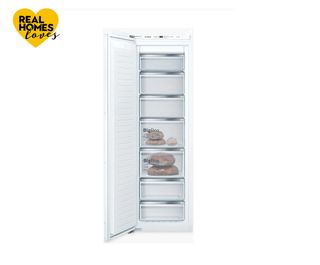 This freezer model from Bosch gets our vote for the best integrated upright freezer, so we've popped our lovely yellow Real Homes Loves badge on it too.
Large capacity
It offers plenty of storage space for the family with a 211liter capacity with two very large, BigBox compartments which are ideal for large items such as pizzas and gateaux's.
It also offers SuperFreezing as a function, which is kind of a boost, to freeze food faster and protect your already frozen food from defrosting.
Energy efficient
The freezer does all this and it's energy rating is just A++, so it's good for your monthly electricity bill and good for the environment.
Anything else?

This freezer is one of the quietest models on our top picks so you won't hear it as much whilst it's working to keep things cool. And it's an integrated model, so check that it'll fit the available space, you have doors to secure on to and you have plenty of air to circulate around it.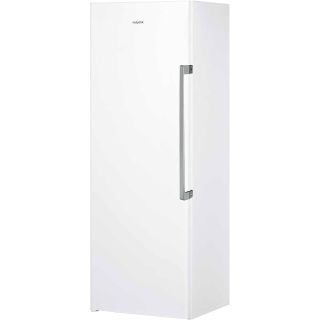 The Hotpoint UH6F1CW.1 will not only look the part in your kitchen, but it'll also play the part, too.
Storage capacity
Holding 12 bags of food shopping no hassle, this tall freezer is frost free, meaning you'll never have to manually defrost again. Inside, it has six compartments, there's a fast-freeze setting for when you need to cool a large amount of newly-introduced food quickly, and an open door alert.
Design
In terms of style, it's available in white or graphite to match your kitchen color scheme, and it has a reversible door to fit in with the layout of the room.
Anything else?
This model also comes with an ice cube tray, so you can enjoy cool drinks in the summer months, too. We think is is the best upright freezer if you're looking for something cheap and cheerful.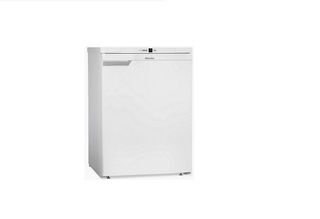 If you don't have much space but could do with a high-quality freezer, we highly rate this model from Miele, which also has a A+ energy rating.
Capacity
For a freezer which is just 55cm wide, you can hold up to six shopping bags-worth of food in this option. And if you need to freeze larger items, such as a pizza, you can remove the glass cold plates between the freezer drawers.
Easy to use
You can select the temperature on this freezer with a dial at the front, just peaking above the Miele badge.
Anything else?
The freezer will tell you when it is operating, and when / if the temperature has crept up too high (how cool is that?!)
And if you want further under counter appliances, see our guide to the best under counter fridges.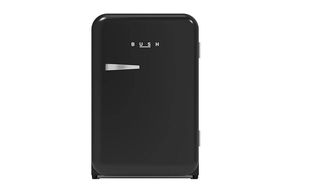 If you're after a compact, retro-styled freezer which comes in a choice of colors then this freezer from Bush is for you.
Capacity
This under counter freezer has a capacity of 74liters, which will hold around four shopping bags of frozen food, making it ideal for the smaller kitchen. It features three storage boxes for you to fill with foods you want to keep fresh, or enjoy at at a later date.
Energy efficient
Complete with an A++ energy rating and the QuietMark stamp of approval, this freezer will look after the pennies and the planet.
Anything else?
Make manual adjustments to the temperature so you can control how fast, and how long, your foods freeze. It's available in black or white colorways, too.
---
What to consider before buying an upright freezer
When you're looking into buying a new upright freezer to storage more frozen foods, or preserve fresh food, there are a few factors you'll need to consider.
Capacity
One of the most important things to note when purchasing a new freezer is its capacity. Depending on how many people the upright freezer will be catering for, you can choose from a tall freezer or an under counter model, with tall freezers ranging from 170 liters to around 300 liters, and under counter ones from 60 liters to 100 liters.
Size
Tall or under counter? For those who have a big family, we recommend a tall upright freezer to fit all your food in, as it's always best to be sure that you won't run out of space. However, if you live on your own, or need another upright freezer for a few extra bits like ice cream, ice cubes and some of the kids' food, you should probably opt for an under counter version.
Frost free?
Because no one wants to manually defrost their freezer every few months, a lot of tall models will have a frost free mode, but it's definitely worth being certain before you buy. If you're thinking of going for an under counter model, don't expect a frost free function, as very few have it, but don't let this put you off, as under-counter freezers are small, therefore much easier to defrost.
Noise level
Not a huge importance for some, but if your upright freezer will be living right next to your bedroom or your living room, it's worth checking its noise output in decibels before you buy. Anything around the 40dB mark or lower shouldn't make any noise that's noticeable.
You've reached the end of the page. Jump back up to the top ^
More large kitchen appliances recommendations: