On the lookout for a Staub sale? We don't blame you for wanting to save on Staub's classic cocottes or cast iron grill pans. While there's no denying the beauty and performance of cast iron cookware, it tends to be quite pricey.
Since its introduction in 1974, Staub is among one of the most recognizable makers of cast iron Dutch ovens and cookware, making it a sought-after investment piece from casual cooks to home chefs (and even pros, too!). Staub cookware is valued for its heat retention, durability, and ability to make meals come out just right. Plus, they get better with each use.
There is a certain art to each French-made vessel that makes Staub's handcrafted enameled cast iron and stoneware heirloom quality. Each pot is cast in an individual sand mold, which is heated to 800°F and destroyed after use. The exterior enamel coating is made with glass powder and mineral pigments and applied in two or three coats to generate the glossy colors that make them collector's items.
When cooking, the magic to the moisture control and retention is in the specially-contoured lid with an innovative and exclusive self-basting system that creates a continuous rainfall effect evenly over the cocotte's contents.
It's true, the best way to get a Staub of your own is to score it on sale. Many key pieces, from the brand's classic cocottes, to bakeware and cast iron grill pans, are on sale as we head into the end of summer, with some deals exceeding over half off— check out our favorite finds below.
For more deals on high-quality cookware, check out our round-up of Le Creuset sales.
Where to buy Staub
Latest Staub deals
The Staub piece you've been dreaming about will surely find its way on sale. Hopefully one of these great deals will pique your interest. At the time of publication, these deals are on sale and in stock!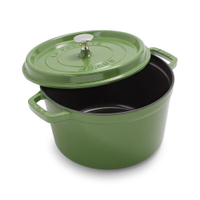 Staub Tall Cocotte, 5 Qt. | Was $486, now $199.96 at Sur La Table
Deal alert! Enjoy over 60 percent off this taller and perhaps slimmer 5-quart cocotte that has higher sides that prevent boil-overs and takes up less space on a crowded stovetop. The 5-quart size is perfect for feeding families and cooking up full-size meals, plus its available in a range of colors.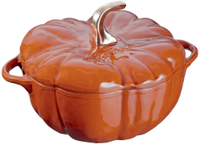 STAUB Cast Iron Pumpkin Cocotte Dutch Oven | Was $412, now $229.95 at Amazon
Another beloved cocotte style from Staub? Their collection of food-shaped vessels, like this 3.5-quart pumpkin design that will elevate your autumnal roasts and stew to perfection. After all, the fall harvest is here. Not only is it perfectly functional, it's one of those items that look splendid out on display when not in use, either housed on the back-burner or out on open shelving.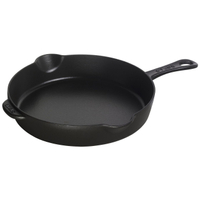 Staub Cast Iron 11-inch Traditional Skillet | Was $286, now $149.95 at Target
You'll be reaching for this versatile enameled fry pan for your daily cooking needs, from fried eggs that won't stick to the to excellently seared steaks come dinner time. The textured black matte enamel interior ensures exceptional browning while remaining extremely easy to clean without the need for seasoning.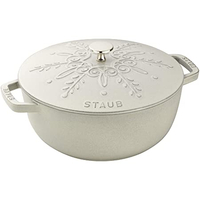 Staub Cast Iron 3.75-Qt. Essential French Oven with Snowflake Lid | Was 429.99, now $179.95 at Target
This exquisite French oven feels like a collector's piece with the intricately designed snowflake pattern on the lid. And right now, it's over half off! What tasty dish will the lid reveal?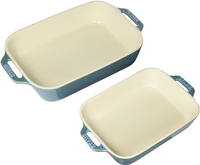 Staub Ceramics 2 Piece Stoneware Baking Dish Set | Was $120, now $49.95 at Amazon
Snag this two-piece non-stick stoneware bakeware set for under $50. The chic turquoise color looks so fresh going from oven to table. Stoneware gently retains heat and won't absorb moisture, producing delicious results for all of your favorite casseroles, lasagnas, desserts, and roasts. The set includes two dishes: a 7.5- x 6-inch and a larger 10.5- x 7.5-inch size.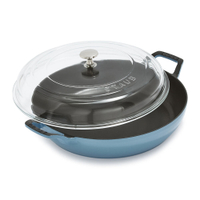 Staub Heritage All Day Pan with Domed Glass Lid Cast Iron, 3.5 qt.|Was $357, now $149.96 at Sur La Table
Save over 50 percent off this 3.5 qt. Braiser perfect for better browning, braising and roasting. The glass lid allows you to keep track of your food's progress while sealing in moisture. So versatile, you'll be reaching for this roomy piece on a daily basis.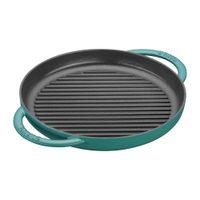 Staub Cast-Iron 10" Grill Pan | Was $159.99, now $99.95 at Wayfair
Sear steaks to seasonal vegetables to perfection from your stovetop with the deep ridges of the grill pan that leave the marks just like you were on the outdoor grill. Choose from Turquoise, Black Matte, Graphite, and Dark Blue.

Staub Ceramic Round Mini 4" Cocotte, Set of 3 |Was $115, now $49.99 at Bloomingdale's
The uses seem endless with this mini cocotte trio. The ceramic bakeware diffuses heat gently and retains heat exceptionally well and is oven, dishwasher, microwave, and freezer safe. Try your hand at personal-sized servings of desserts, soups, casseroles, and more.