Hidden at the back of my parents' living room sideboard is their coveted "best! cutlery. A 25-year-old wedding gift, it's only used only on Christmas and for dinner parties, and never put through the dishwasher. For '90s babies like myself though, gone are the days of the special-occasion champagne flutes kept at the back of the kitchen cupboards. We're marrying later (although that doesn't stop me from building up a dream wedding registry), not in a rush to buy spacious family homes, and we certainly don't have the space to store non-essential cookware for occasional use.
That doesn't mean we shy away from hosting though. I think of myself as Monica from Friends but without the rent-controlled apartment. Every piece in my small kitchen has to earn its place — I've got more friends than chairs, and I've been known to serve wine in coffee cups when I've used all my IKEA glassware. Perhaps the TikTok algorithm really just gets me, but I don't think I'm alone in this. From Galentine's brunches to cocktail nights in, it seems like Gen Z isn't letting small-space living get in the way of our hosting habits.
In fact, it's the kitchenware companies that are having to adapt. I spoke to a host of experts from some of my all-time-fave kitchen companies to give me some tips on how to make the most of your kitchenware when you're working with a small space. And if you're in the mood for some inspo, I've also added some products from my personal wish list, too.
1. Embrace multi-functionality
One brand I can't get enough of is Fable, a Certified B Corporation with a commitment to timeless and sustainable design. It feels like I'm the target consumer: an eco-conscious buyer who will save and splash a little more money on products with the right ethos — and the right look. I may not be able to invest in a spacious home, but I can certainly invest in the right products to make my small space work for me.
Some of Fable's kits include a Dinner With Friends bundle and a Hosting Essentials kit that includes a drool-worthy set of stacking salad bowls. While I may not be able to set aside the space to store these in my cupboards, Fable told me that its products are designed with multi-functionality in mind to help users get the most out of the tableware, even when they're not in hosting mode.
"Beyond just the dining table or kitchen shelves, our products are versatile enough to seamlessly transition into other areas of the home," says Christy Caza, the senior product development manager at Fable. "For example, The Little Bowls and Little Plates are great for jewelry on the dresser or soap in the bathroom, while The Carafe doubles as a vase. The Oval Serving Platter also functions beautifully as a coffee table tray."
Multifunctional pieces are a plus in every home, but Caza notes that these sets are "useful for those living in smaller spaces who benefit from using our products for different purposes at different times, be it hosting a dinner party or refreshing their decor."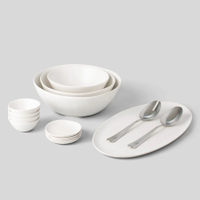 Fable Home Essentials Set: $315 at Fable
This stacking set is perfect for adding accents around your home — think earring holder for your bedside table, and/or soy sauce container for homemade dumplings.
Display your faves
Utilizing your kitchenware as a design feature is one way to keep it from cluttering up cupboards. Hence why my carafe is more commonly found as a stand-in for a vase when it's just me and my boyfriend in our two-bedroom apartment. It's a similar story for Our Place — you know, of Always Pan fame.
Shiza Shahid, co-founder of Our Place, channeled a small-space-friendly vision when creating the iconic Always Pan. By combining multiple functions into one product, she created a kitchen classic that keeps your cooking space clutter-free with enough style to sit on display 24/7. My Always Pan lives full-time on my stovetop, saving valuable cupboard space for my less aesthetic pots and pans. Shahid had the same multi-functionality in mind for the brand's latest tableware set, which I've actually invested in for my own home.
"Each of our durable stoneware tableware pieces packs a lot more function than meets the eye," she says. "A plate can easily become a lid on a bowl to save, and reheat leftovers (they are dishwasher, oven, microwave, and fridge safe). They're made to stack everything together for minimal storage or artful displays."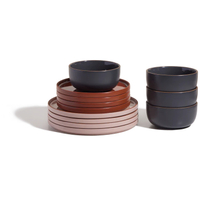 Our Place Tableware Starter Set: $145 at Our Place
Available in signature shades Spice, Char, Terracotta and Steam, this set has been a game-changer in my kitchen. Plus, being able to use plates as lids for leftovers in bowls means I've been able to throw out my crusty old food storage containers.
Getting stacked
While some things become a nuisance when stacked (food storage containers, I'm looking at you), there are some stackable items that can be major space-savers without costing you any convenience in the kitchen.
I adore my cast iron cookware, but I don't have the space to store a shallow cast iron pan for two-person meals alongside a hefty casserole dish capable of cooking up curries and pasta dishes for a crowd. That's why Staub's latest stackable set really wowed me when I spotted it online. Yes, it's a major investment piece, but it's ideal for those who love to host and serve up family-style meals in timeless cookware but who also don't have sizeable pantries to keep all the dishes required.
That's exactly what Staub's cast iron Stackable sets have been made for, according to Lydia Mallinson, content marketing manager at Zwilling and Staub.
"After an isolating few years when hosting was just not possible, we didn't want anyone to feel like they had to compromise on kitchenware that is both practical and stylish, just because of limited space," she says. "This especially applies to Gen Z, who are often in smaller properties or sharing with [roommates]. This age group is now cooking and entertaining more than ever, inspired by recipe content on social media platforms such as TikTok, Pinterest, and Instagram, so having access to high quality, compact cookware is a must-have."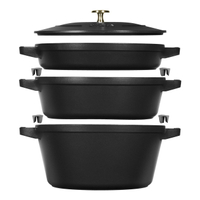 Staub Stackable Cast Iron Set: $499 at Zwilling
It might be a large investment to swallow at once, but this set has three quality cast iron pieces in one clever stack. Plus, it comes in some lovely colors.
Another brand that caught my eye is Aarke. It makes an awesome carbonator that's a design piece in itself. The brand recently brought out a line of "nesting" glasses, too, which fits four pieces into one smart design.
"When developing our Glassware collection, we set out to create the perfect everyday glass," Aarke told me. "We revisited the design several times, as simplicity often turns out to be the most difficult to achieve — the shape, how it is balanced in your hand, a heavy base combined with the thin sides — [with] everything in harmony."
Aarke also wanted to explore how liquid looks in a glass and although all of the glasses have the same volume, they each look different, which makes decorating with this set even more fun. "The four different diameters allow the glasses to fit in each other by being nested rather than stacked, and therefore cleverly optimize storage space."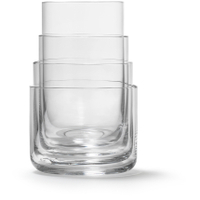 Aarke 4-piece Nesting Glasses Set: $49.50 at Saks Fifth Avenue
Space-efficient and totally gorgeous, this set is delicately made with a sturdy base, and despite being all different sizes, each glass has the same capacity.
Lean into mixing and matching
Although my grandparents would likely shudder at the idea of serving up a meal on a hodgepodge of plates, an eclectic, curated collection of tableware and glasses is actually pretty chic right now.
Caza told me, "We use neutral, classic colors that mix and match effortlessly so you can personalize your collection." It's a similar story to Our Place. Its tableware sets come in a range of colors to sit pretty next to its pans.
If you love a thrifted find, embracing the mix-and-match look is a big win for finding unique pieces, even if you can't fit a complete vintage set in your home. And that way, every plate has a story, which could make for some brilliant dinner party conversation starters.