Getting bored with dreary winter grays? Your apartment lookin' a li'l tragic? Give your space an instant facelift with these trendy spring decor ideas, ASAP. Whether you totally overhaul your space or make a few precise edits, you'll infuse all the good vibes into your surroundings.
If you're in a small space, like a studio apartment, keeping things fresh will stop it from feeling a little too cramped. I love making simple changes like swapping out my bedding, adding throw pillows and blankets, and refreshing my wall art.
"Spring is all about color, pattern, and lively interiors and decor," says Christy Biberich, founder and designer of Christy B Home. "We are seeing a lot of bold, even clashing, color combos and pattern-on-pattern decorating trends. There is a movement away from minimalist, monochromatic designs. People want to celebrate and bring joy into their homes. What better way than with fun colors and prints?"
I've shopped all the best spring trends to find the best Insta-worthy decor buys to see what's going to feel fresh this season. See my top picks below for plenty of ideas.
The prices below were correct at the time of publishing this article.
1. Pastel everything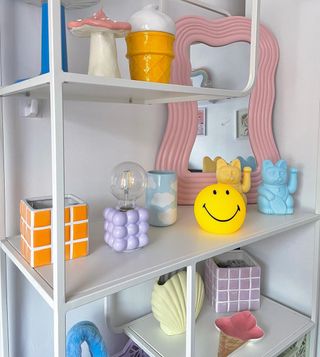 Looking to transform your space into a pastel paradise? Nothing says spring like soft pops of color. Everything from sage green to lavender to baby pink, pastels are an easy trend to tackle as you can incorporate them into just about any room. Try some new bedding, eye-catching storage containers, or a bold accent mirror.
"This season we are looking to bright and hopeful shades such as buttery yellow, pistachio green, Sakura pink, and open sky blue to welcome warmth and freshness," says Anna Vilhelmine Ebbesen, design director of Kvadrat brand Sahco.
If you're looking to take things up a notch, I'm also loving the all-pink everything Barbie-core trend. Fab!
2. Daisies for days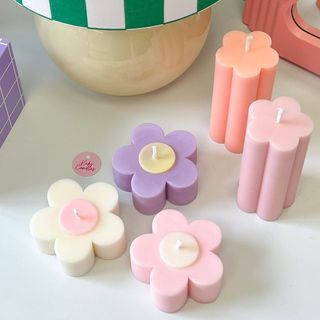 I don't know about you, but I've been seeing daisies everywhere this spring. Florals are obvi always a great choice this time of year. Match the fresh blooms outside with some seasonal touches inside. Add a fun pillow, toss in a vibrant throw blanket, or jazz up your daily iced coffee with blossoming cups. Flower power, bb.
"Florals have taken all manner of shapes and sizes in interior design, bringing color, fun, and a touch of nature to the homes," says wallpaper designer Sian Zeng.
3. Gingham linens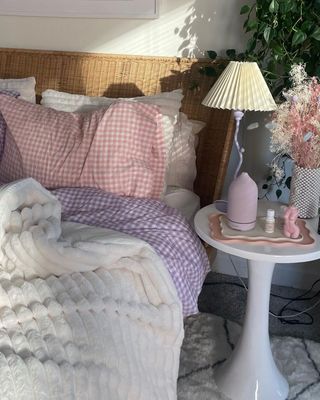 Channel some #cottagecore picnic vibes with a new set of gingham bedding. This soft pattern is a subtle way to add a springy touch to your bedroom. Splash out on a full duvet cover set or simply add a throw pillow or two. Gingham is also great for curtains, table runners, linen napkins, and more.
"Filtering across from the fashion sphere, gingham is the print of the moment," says Anna Cross, buying manager at Habitat. "What started as a must-have for picnic blankets and tablecloths is now popular across tableware and home accessories."
4. Statement vases
Showcase those fresh spring blooms with a stand-out vase. I'm loving iridescent and colorful glass options in abstract shapes, but design options are seemingly unlimited these days, with strawberry vases even taking off.
Getting a new vase is the perfect excuse to load up at the Trader Joe's flower section (or snag those viral faux tulips online). Plus, having a go-to spot for your fave blooms looks totally impressive, rather than just shoving them in a leftover mason jar (although I do love a thrifty upcycle myself). Adulting 101.
5. Chunky dishware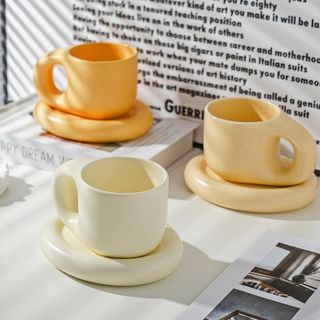 When it comes to dishware, more is more. The next evolution in bubblecore, these chunky bowls, dishes and mugs make a real statement on the dinner table. Bring the Danish pastel vibes to your kitchen with these bold dishes, inspired by Scandi bubble plates.
Big, puffy shapes are taking over everything from cloud couches to pillow mugs. I'm loving how thick and durable these mugs are — no more worrying about dropping delicate mugs and plates. Just make sure you have enough room in your kitchen cabinets because these are big boys!
6. On cloud nine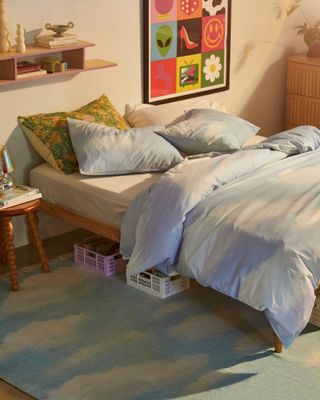 Get your head in the clouds with these adorable home decor buys. Adding puffy objects or blue sky-reminiscent items around the house is sure to up your zen, despite any gray weather outside.
"Bold patterns and colors are perfect for maximalist lovers," says Peti Lau, trend expert and interior designer at Kaiyo. "It's about the wow factor! Adding bold pops of color to your home is a fun way to bring excitement into your day, along with uplifting your mood and energy." Scan our picks from cute bookends to unique bathroom accessories. Dreamy.
How can I spruce up my space on a budget?
Saving up for incredible concert tickets or a dream vacay? Revamping your apartment for spring doesn't have to break the bank. You can simply move your furniture around and give your space a deep clean for a fresh feeling.
"Giving your room a spring refresh can be as simple as rearranging your furniture to feel new and fresh," says Farah Merhi, style expert for Designer Looks Furniture. "Plus, this allows homeowners to do a deep clean from the winter's build-up. If you find yourself having more space due to your room's new layout, you could add in a comfortable accent chair that matches the season."
If you're looking to add something new, try a couple small touches here and there. Adding an accessory with a striking pattern or interesting texture can really liven things up.