If you are buying a few new Christmas decorations this year but you also want to support small businesses (we made a vow to do the same!) then see our shopping roundup below. We've done some searching at both Not on the High Street and Etsy, to bring you the loveliest Christmas decorations from small businesses. Because supporting small is important now more than ever. And everyone knows that the things you buy from a small business are always the loveliest...
From tree toppers to personalised stockings, snack plates and lovely wreaths, we've listed eight top festive decorations we would 100 per cent have in our homes. See our dedicated Christmas page for all things food, drink, gifting and home decor.
10 lovely Christmas decorations to buy from small businesses
1. This personalised Skandi-style stockings for your fireplace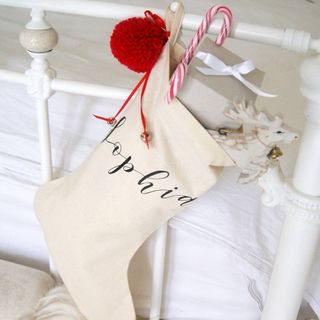 The Hummingbird Card Company Scandi Personalised Christmas Stocking | £14 at Not on the High Street
Whether you already have stockings but want to buy ones with names on so you don't get confused this year, or, perhaps you're yet to buy stockings? These beautiful personalised ones will fit in seamlessly to any style home. Hang them down your bannister, above your fireplace or on their bedroom doors on Christmas Eve. Lovely stuff.
2. This two-in-one decoration – a mistletoe wreath you can kiss underneath!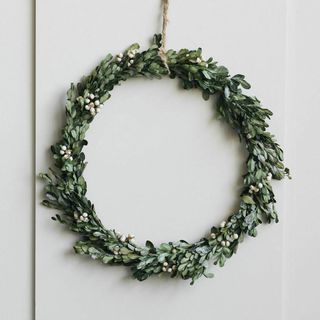 All Things Brighton Beautiful Mistletoe Wreath | £24.95 at Not on the High Street
Like the idea of having mistletoe in your home? Never know where to put it? This mistletoe wreath is perfect for indoor hanging – on a plain wall, on your bedroom door. It's also artificial so you can use it for years to come.
3. A Christmas doormat that reads 'Merry and Bright'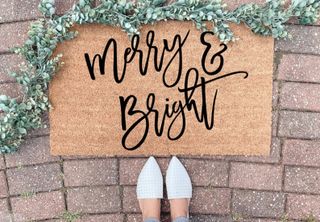 ShopByThePalms Christmas Doormat | £28.22 at Etsy
This sweet doormat is something you'll get use out of every Christmas, and it reads 'Merry and Bright' in a lovely font. Super Instagrammable, too!
4. These personalised (and reusable) Christmas crackers for your table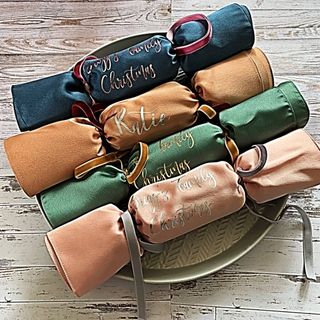 MatchIMony Personalised Fabric Reusable Christmas Crackers | From £12 at Not on the High Street
Love Christmas crackers but hate the waste? Wish you could pop your own things inside? Buy these reusable ones that can be personalised with names for a Christmas dinner to remember. Made with velvet fabric, simply fill them with whatever you like, tie the sides and pop them on your table. The more of these lovely crackers that you buy, the cheaper they are, too.
5. This family flag tree topper for your lovely tree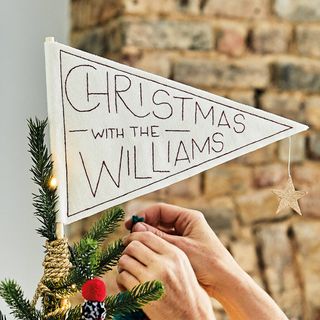 Emma Giacalone Textiles Personalised Pennant Flag Christmas Tree Topper | £48 at Not on the High Street
We've found that when it comes to tree toppers, they are either a mega eyesore or lovely and subtle. And we prefer the latter. Case A – this personalised flag topper. Pop your family name on it and pop it atop your tree with pride. Lovely!
6. A half wreath – for when the whole she-bang is too much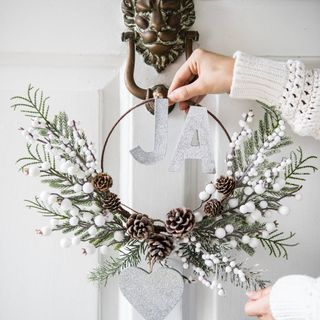 The Letter Room Personalised Half Wreath | £19.95 at Not on the High Street
Stylish and simple, this lovely half wreath is great for indoor or outdoor use. It screams (whispers) simplicity, while you can personalise it with your initials if you like. Decorated with faux pine cones and it has a wire frame.
7. A faff-free pinecone garland for your mantlepiece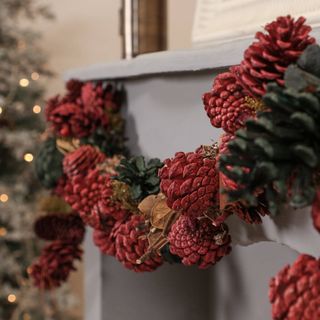 Dibor Traditional Pinecone Christmas Garland | £19.05 at Not on the High Street
Struggling to find a Christmas garland that's in-stock anywhere? Us too. This pinecone one is just as lovely, and it's eco-friendly. Brown,red and green, it's simple yet eye-catching. Very different!
8. A personalised wooden plate for your Christmas snacks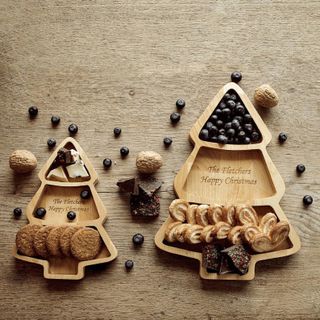 NaturalGiftStore Personalised Christmas Tree Snack Tray | £29 at Etsy
Christmas is allll about the snacks, especially the cracking nuts, Celebrations and Twiglets. So, why not buy a lovely, festive snack tray to serve to your guests this year? It has three sections to celebrate your crisps from your olives and your chocolate, while you can personalise it with your family name.
Also read: