Looking for a way to create healthy meals with minimal effort? We've got slow-cooker deals that will make it oh-so-easy. With social distancing being strictly enforced, we're avoiding stockpiling and excessive supermarket trips where possible. That means using up fresh produce with creative and healthy slow cooker recipes. If you're working from home and faced with replacing school lunches, slow cookers are a perfect way to bulk-cook and keep a crowd happy. You can zone in on work and not worry about cooking as these slow cookers and instant pots do all the hard work.
With the coronavirus pandemic taking off nationwide, you may not be able to visit your favorite restaurant. But not to worry, we've been covering delicious slow cooker recipes for comforting classics such as rice pudding to indulgent Moroccan lamb. These great slow cooker and instant pot deals will save you time, money and effort, and with many multi-functional models also on sale, the possibilities are endless.
Slow cooker savings: our top picks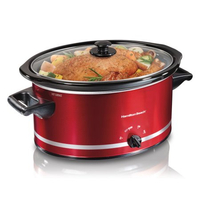 Hamilton Beach 8 Quart Large Capacity Slow Cooker | Was $39.99, now $29.99 at Walmart
Save $10 - When it comes to cheap, family-sized slow cookers, this is the best deal out there. The Hamilton Beach 8-quart has dishwasher-safe stoneware, and its 'Keep Warm' setting will let you prepare food in advance and serve at a moment's notice.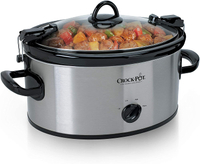 Crock-Pot Cook' N Carry 6-Quart Oval Manual Portable Slow Cooker | Was $49.99, now $29.99 at Amazon
Save $20 - Crock-Pot is the brand which has come almost synonymous with slow cookers. This model has a generous 6-quart capacity and a locking lid for easy spill-free storage.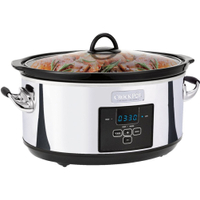 Crock-Pot 7qt Digital Slow Cooker | Was $59.99, now $39.99 at Best Buy
Save $20 - This platinum slow cooker is digital, meaning you can set a timer and it'll automatically switch to a 'Keep Warm' setting when it's done. Even more convenient than a manual slow cooker, but still with a great saving.
Instant Pot savings for even more options
What's the difference between a slow cooker and an instant pot? Well, instant pots (or multi cookers) come with slow cooking functions but also offer more programmable settings, such as rice cooker and pressure cooker options.
You'll get infinite options with a slow cooker, including the abilities to cook cake and cuts of meat, but instant pots will offer you even more. That means you'll pay a little more, but get even more cooking options. If that's a trade-off you'd like to make, we've got some stunning multi-cooker deals lined up for you.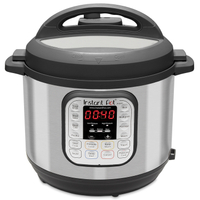 Instant Pot DUO80 8-Quart 7-in-1 Multi-Use Programmable Pressure Cooker | Was $149.99, now $97.96 at Walmart
Save $52 - This Instant Pot is a huge capacity, premium model which comes with pressure cooker, slow cooker, rice cooker, sauté, steamer, yogurt maker and warmer settings.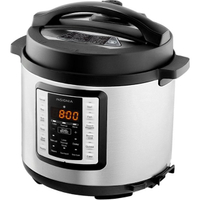 Insignia 6-qt Multi-Function Pressure Cooker | Was $59.99, now $39.99 at Best Buy
All the same functions of the highly sought-after Instant Pot, but for a much cheaper price. The Insignia has a 24-hour delay timer and dishwasher-safe pot.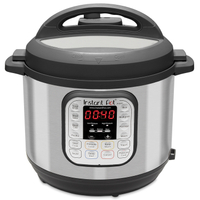 Instant Pot Duo Mini 7-in-1 Electric Pressure Cooker, 3-quart | Was $59.99, now $39.99 at Amazon
Save $20 - This 3-qt instant cooker comes with 11 one-touch programs and is smaller than most models, making it easy to store and ideal for a smaller household.