Dream Home Makeover star Shea McGee knows a thing or two about making the bed so it looks like a work of art. Anyone who's seen the hit Netflix show will have seen the last-minute fluffing - but she has also shared a fool-proof formula for an Insta-ready bed.
If your bed's just not looking quite right, you can't go too far wrong with the Studio McGee co-founder's tip. For a double bed, she recommends four sleeping pillows (so two on each side), two shams, and three decorative pillows - one of which should be a lumbar pillow.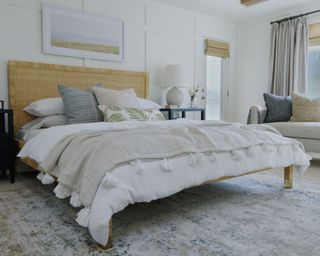 She sometimes veers from this, but it's a good, failsafe option if your bed feels like it's missing something. Speaking to Domino, she says, 'I always try to strike a balance between decorative pillows, shams, and sleeping pillows. But not so much that it feels like: "How am I even going to get into this bed?"'
For more tips on how to decorate a bedroom, head over to our guide.
But it's not just about having the right number of pillows - it's important to think about color. Head of Design at Christy, Lucy Ackroyd says, 'When dressing a bed, the color palette can set the mood for the whole experience so it's important to make sure you get it right.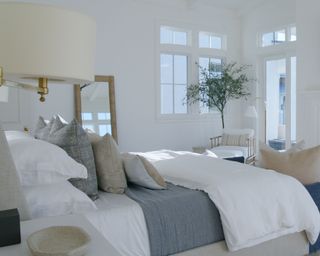 'The first option is to pick a bold design for your bed, such as botanical duvet covers with matching printed cushions, then use this as the stimulus to decorate the rest of your room, incorporating complementary paint colors and plants,' Lucy adds.
If you have statement walls, or just prefer neutrals, Lucy says you can't go wrong with white bedsheets. She recommends adding a textured knit throw and cushions 'in matching neutral tones, such as beige and mink, to bring a subtle splash of color to the room.'
As for pillows, Lucy says we should go for between three and six extra pillows (separate from our sleeping pillows) and group them together by size, with the largest at the back.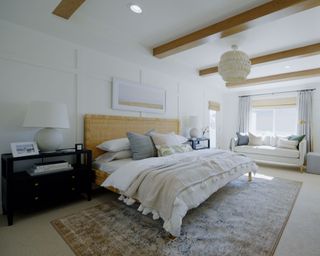 Pillows are great for adding depth, as Rebecca Leonard, Head of Customer Service at Soak&Sleep points out. She recommends 'mixing standard size pillows with square pillows' and adding some decorative cushions on top.
'For a luxury look, we would always suggest at least two pillows per person and opting for at least one pillow which is filled with down or a down alternative so you can plump it up,' Rebecca says.
'Stand one pillow against the headboard and rest the other one at an angle in front of it,' she adds. She also reminds us to make sure we're buying the right size for our bed, as standard size pillows on a super king-size bed won't cover the full width.
You'll find plenty of options for creating your dream boudoir in our guide to the best bedding, whilst to ensure your pillows feel just as good as they look, you can find our tried and tested favourites in the Real Homes guide to the best pillows.
Sweet dreams...