You'd never find a juicer in Carrie Bradshaw's kitchen. After all, the Sex and the City character famously admitted to keeping her sweaters in her stove. But in real life, Sarah Jessica Parker fills her kitchen cabinets with a bunch of practical appliances—yes, including a juicer.
According to People, the Divorce star loves to make freshly squeezed juices with her Focus Foodservice press. If you want to bring SJP's iconic style into your kitchen, you're in luck. Right now, Amazon is taking $20 off this star-approved appliance.
In an age when virtually every home appliance has a Bluetooth connection and boatload of features, buying a manual juice press feels incredibly old-school. However, this gadget is a surefire way to make sure you're making the most of each citrus. (Plus, there's something super satisfying about pulling the lever and crush an orange or lemon slice.) And, thanks to its cast iron and stainless steel design, this is one appliance you'll actually want to show off in your kitchen.
While Focus Foodservice's juice press normally costs $172, Amazon is currently taking over $20 off the asking price. If you want to quench your thirst in style, this juicer is definitely worth adding to your cart.
Stocking your kitchen? Check out our list of the best pressure cookers.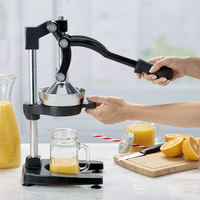 Focus Foodservice 97336 Jupiter Large Commercial Juice Press|Was $171.99, now $149.95
Never underestimate the power of a great orange juicer. Focus Foodservice's juice press might be simple in design, but it was designed with the utmost precision. This commercial-grade model features a removable, easy-to-clean strainer cone and funnel to keep seeds and excess pulp out of your drink. The juicer is coated in a durable enamel finish to combat corrosion, pitting, and pesky citrus acid.
Another perk? The wide base is decked out with sturdy suction cups, so you won't have to worry about your juicer sliding across the kitchen counter mid-press. That way, you can spend less time fussing with your juicer and more time enjoy your freshly squeezed beverage. Ahh!
Read more: