Cleaning guru Mrs Hinch – aka Sophie Hinchcliffe – has shared her order of cleaning products – and sent fans flocking to the Poundshop site. So many of her 3.5 million followers converged there to follow her cleaning lead that shortly after posting on Instagram Stories she revealed the Poundshop site had crashed as they rushed to snap up the cleaning bargains.
Fans of the cleaning influencer's advice won't be surprised to hear that she'd put plenty of her favourite cleaning products into her basket. But as she unpacked her box, Mrs Hinch revealed that even she hadn't remembered exactly what she'd ordered when she stocked up on the products she uses to keep her Essex home clean.
There were buys for her garden and for son Ronnie's first birthday among the haul, but when it came to cleaning what were the Mrs Hinch-recommended essentials? Here's the lowdown.
1. Zoflora
If you've ever checked out Mrs Hinch's Insta feed, this buy will be no surprise. She was delighted she'd found a big bottle online, and in her favourite Springtime scent.
Hinchers know that Sophie uses Zoflora for loads of cleaning tasks, including on kitchen worktops and in the kitchen sink.
We recommend using it to clean floors, as a spray for upholstery, curtains and mattresses, and as an air freshener – among plenty of other cleaning jobs. Definitely one to have in your under-sink cupboard.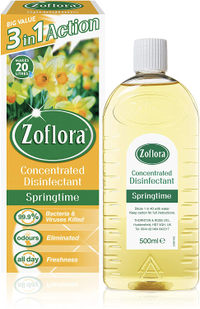 Zoflora Multi-Purpose Concentrated Antibacterial Disinfectant | £9.89 for 500ml on Amazon
Get yourself set for a whole host of cleaning chores with this 3 in 1 multipurpose bacteria and virus killer. What's more, this is Mrs Hinch's top scent.
2. Astonish Mould and Mildew Blaster
Mrs Hinch restocked on Astonish Mould and Mildew Blaster: her go-to shower screen, tile and plughole cleaner. It's a really nifty cleaner for tough stains, and promises to kill 99.9 per cent of bacteria.
Astonish Mould and Mildew Blaster | £6.47 on Amazon
Say goodbye to scrubbing at stains on walls, uPVC window frames, glass, plastic shower curtains, tiles, grout and more. Just spray, leave and wipe clean.
3. Harpic Active Fresh
It's another regular for the clean-fluencer, and Mrs Hinch kept up supplies of Harpic Active Fresh Cleaning Gel with her online order. She says it's one of the best toilet cleaners she's ever used. We like the freshness of the Mountain Pine scent, too.

Harpic Active Fresh Cleaning Gel Pine | £4.04 for 750ml on Amazon
You can get your loo clean, and keep it limescale-free, too, with this bacteria-blasting cleaner.
4. Stardrops White Vinegar Spray
Another cleaning essential Mrs Hinch took the opportunity to replenish her supply of? Stardrops White Vinegar Spray. She uses it to clean her jewellery – with impressive results – as well as in the kitchen.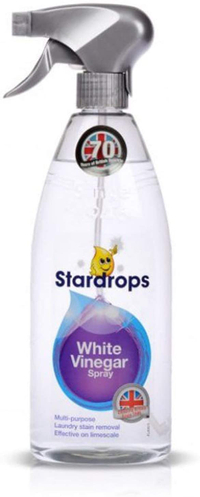 Stardrops White Vinegar Spray | £5.40 for 750ml on Amazon
You can follow Mrs Hinch's lead to get jewellery sparkling, but also tackle windows, mirrors, worksurfaces, baths, tiles and laundry stains with this little number.
5. Cif Outdoor Multipurpose Cream
Mrs Hinch bagged herself some Cif Outdoor Multipurpose Cream, and it's the ideal time of year to follow in her (pristine) footsteps so you can get garden furniture and the kids' play equipment clean.

Cif Outdoor Multipurpose Cream 450ml | £22 for eight on Amazon
Grease, grime, dirty marks... yup, you can crack down on all of them with this cleaner which smashed through common outdoor dirt and algae. Brings your uPVC window frames up something lovely.
6. 151 Adhesives Sticker Remover Kit
The 151 Adhesives Sticker Remover Kit Mrs Hinch included in her order was a find she was chuffed with, she revealed. She says she struggles to get stickers off jars, and hadn't been able to find a kit in the shops.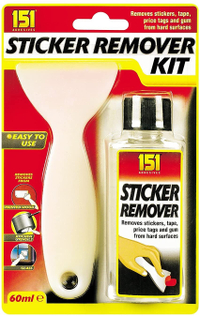 151 Adhesives Sticker Remover Kit | £2.99 on Amazon
Arm yourself with adhesive-removing solution and scraper tool, and not only can you tackle jars, but also stickers on painted wood and kitchen utensils.
More cleaning best buys: