In search of the best toilet cleaner? Smart thinking. Arming yourself with some quality toilet cleaner is crucial in keeping your bathroom as welcoming and hygienic as possible. Granted, no one gets excited about cleaning the toilet or toilet seat, but it's a job made far easier with the right gear. When your loo smells fresh as a daisy, you'll thank us.
Because there are so many different options out there to pick from, we've done the honours of rounding up the very best money can buy. Some of you might prefer the standard liquid option in a bottle. Alternatively, you might opt for a powder or tablet choice, both of which come in handy when taking down limescale-ridden toilets. Perhaps, too, you're after something that will keep the lavatory sweet and fragrant 24/7? In which case, a rim block, which works its magic every time you flush, could be ideal. And if you can't stand the cleaning process at all, there's a zero-effort option out there that slots into your toilet's tank.
Of course, all of this is down to personal preference, so we'll let you decide on your favourite. As you read on, be sure to check out some of our specs – what's best for what, cleaner type and size – as well as our pointers on what makes the product special and any potential downsides. Oh, and while you're here, why not complete your whole bathroom cleaning arsenal by checking out our comprehensive guide on the best bathroom cleaners? Squeaky-clean loos, this way...
The best toilet cleaner
Why you can trust Real Homes Our expert reviewers spend hours testing and comparing products and services so you can choose the best for you. Find out more about how we test.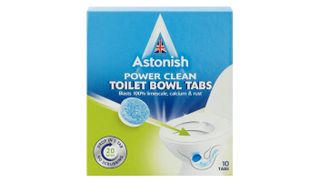 To be used as often or as infrequently as you like, the Astonish Toilet Bowl Cleaner Tablets will blast any limescale, rust or calcium in your toilet bowl so it looks (almost) brand new. They're cruelty-free and vegan, and no scrubbing is required to get good results. Simply remove the tablet from its packet, pop it in your toilet and leave for 20 minutes. Then, brush and flush. For a deeper clean, leave overnight or use two tablets together. It should be noted that you shouldn't allow the tablets to come into contact with any form of chlorine bleach.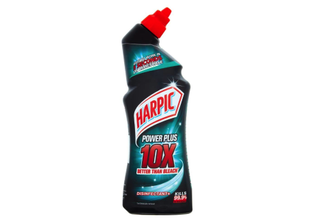 The best toilet cleaner for stains? It's the Harpic Power Plus Toilet Cleaner Gel. It can give your loo a powerful clean above and below the waterline due to the fact the liquid gel formula clings to the bowl, attacking germs and removing limescale.
It's also very simple to use, removing dirt and limescale with ease and it smells lovely too. With this toilet cleaner, buyers say there's no need for elbow grease as it does the job simply by being swilled around the loo. Also, it doesn't leave any marks after use, so you know it's got right into the dirt.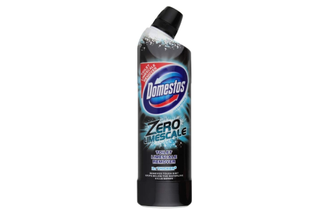 The Domestos Zero Limescale Ocean Toilet Cleaner is great at killing germs and leaving the bowl clean and limescale-free with a fresh scent afterwards. For maximum effect, squirt the toilet cleaner evenly under the rim, leave for 30 minutes then brush if needed. This fresh-smelling bleach works below the waterline for an all-over hygienic clean that kills bacteria while leaving your loo with a lovely fragrance.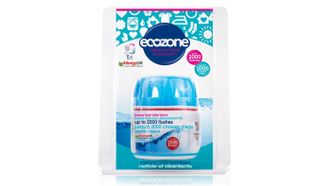 Lasting for up to 2,000 flushes, the eco-friendly and Allergy UK approved Ecozone Forever Flush 2000 Toilet Cleaner works wonders. Not only does it ensure your toilet bowl is sanitary, deodorised and protected against limescale and nasty stains, but it's cruelty-free and vegan, too. Pop one of the jars directly into your toilet cistern and your toilet water will turn blue, indicating it's clean. Once the colour has gone, it's time for a new one. It's that simple.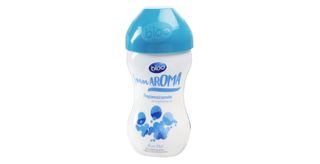 Filling your bathroom with fragrance from the first use, the Bloo Foam Aroma Ocean Mist Fragranced Powder is ideal if you have tough limescale on your toilet. A Mrs Hinch fave, simply pour a capful into your basin and watch it fizz and foam. Either flush after a few minutes or leave overnight for a deep clean. Be sure not to use it along with any products that contain bleach, though.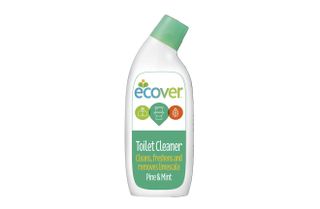 Plant-based, cruelty-free and completely biodegradable, this Ecover Toilet Cleaner is our top pick of the best eco toilet cleaner. Not only does it clean your toilet, but it makes sure it's also fresh, limescale-free and great-smelling. All you need to do is squirt some into your toilet bowl and flush.
Why not swap your current liquid toilet cleaner for this one to be kinder to the environment? It shows you don't need lots of harsh chemicals for a clean loo. Our only improvement would be a slightly less generous nozzle – it sometimes comes out a bit fast meaning you used more than you need.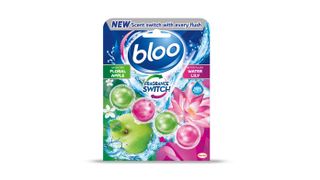 The best rim block toilet cleaner you can buy, the Bloo Fragrance Switch comes in a mixture of two different fragrances: water lily when you flushing and a fresh apple scent when it's dry. This rim block cleans the toilet with every single flush, preventing limescale and dirt build-up. To use, simply pop it on the rim of your toilet so it's facing into your loo. The only downside? In our opinion, it doesn't smell as fragrant as the others on our list.
Buy the best toilet cleaner in bulk
What is the best toilet cleaner?
We rate the Astonish Toilet Bowl Cleaner Tablets so much so, that we consider them the best toilet cleaner you can buy. They're cruelty-free and vegan, easy to use and they work wonders on any limescale, rust or calcium that may be in your bowl.
How to buy the best toilet cleaner
When it comes to buying the best toilet cleaner, the most important thing is that it kills germs and bacteria, so look for products that promise this at the very least. Some stamp out germs as well as tackling limescale and if you live in a hard water area, limescale is definitely your enemy so it's worth looking for a loo cleaner that can help with this.
Decide if you want something eco-friendly that uses plant extracts rather than chemicals – a good idea if you have a septic tank or to do your bit for the planet – and whether the smell is important to you. Most toilet cleaners have a nice fresh fragrance such as marine or floral notes, while others have a bleachy odour.
Check the thickness of the toilet cleaner and whether the bottle has an angled head so you can get right under the rim for a really hygienic clean.
How do you clean a badly stained toilet bowl?
Sure, it's not the most luxurious question we've been asked, but it couldn't be more important when keeping a home to be proud of. When it comes to tackling the dreaded bowl, there are many ways to approach the task. One smart method is to use a bleach-based cleaner to disinfect the toilet, beginning below the rim. Then, you'll want to start scrubbing the sides – be sure to wear gloves as you do so. Finally, spray the outside of the toilet bowl with a disinfectant, being careful to cover the lid, chain and tank, too. Once it has been left for 10 to 15 minutes, you can wipe it down using a clean sponge. Et voilà!
For more in-depth advice on bathroom cleanliness, be sure to check out our guide on how to clean a toilet.