Considering picking up a paddling pool in a bid to keep the kids occupied over the coming weeks? It's a great idea. Given that we're facing at least a few more weeks of 'lockdown' you may be on the hunt for easy ways to keep the kids entertained and – as simple as it may seem – a pool full of water could do the trick. Especially as the weather starts to pick up. Chuck in a load of balls and bath toys and they'll be entertained for hours.
Below you'll find a round up of incredible paddling pool deals, along with some of our favourite makes and models designed to keep the kids occupied for at least a few hours. Find more inspiration to keep you busy outdoors on our garden hub page.
Adult considering picking up a paddling pool? You might prefer our hot tub deals...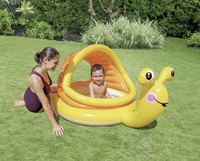 (opens in new tab)
Intex Lazy Snail Paddling Pool With Shade | £20 at Argos (opens in new tab)
Looking for a teeny tiny pool for a little one? This snail might just be the cutest little paddling pool we've ever seen. Plus, it offers plenty of shade to protect your little one from the sun while they splash about.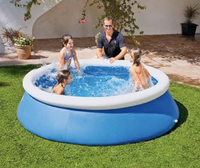 (opens in new tab)
Bestway Quick Up Round Family Pool | £40 at Argos (opens in new tab)
This 8 ft. pool offers plenty of fun for all the family. Quick to set up, it's deep enough that little ones will enjoy getting their goggles on and going for a little swim.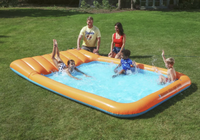 (opens in new tab)
Bestway Slide in Splash Pool | £40 at Argos (opens in new tab)
A great way to help them burn off all that excess energy, this splash pool is sure to provide hours of fun. And it's much safer than the make shift slip 'n' slides we've all seen on the internet.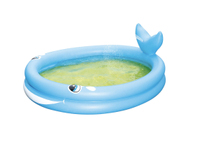 (opens in new tab)
Summer Waves Baby Whale Splash Pool with Sprayer | £12.99 at John Lewis & Partners (opens in new tab)
Another one for littlies, this whale inspired splash pool is perfect for keeping them cool as the weather warms up, is shallow enough to be a great first introduction to paddling pools and even gently squirts water from its tail for extra fun.
We're also doing everything we can to keep you entertained during the coronavirus outbreak over on our No Place Like Home hub.
Looking for more ways to keep kids entertained?